Going Slow in Bath
In the legend recorded by Geoffrey of Monmouth in the 12th century, the story of Bath begins not with the Romans but with King Bladud in around 863BC. As a young prince he contracted leprosy overseas. Cast out when he returned home to England, he took a job as a swineherd in the marshy Avon Valley and drove his pigs across the Avon. The herd contracted his disease but seemed to be miraculously cured when they rolled around in the mud where hot springs bubbled from the earth's surface. Amazed by what he saw, Bladud bathed in the hot mud too and was cured in his turn.
Free from stigma, Bladud returned home and became King of the Britons (and later father to King Lear, the very one immortalised by Shakespeare). Grateful for his cure, he founded the city of Bath and dedicated the thermal springs to the Celtic goddess Sul. Some 900 years later the Romans, hearing of the powers of the waters at Bath, came to worship the goddess and named the city Aquae Sulis, or 'Waters of Sul'. A statue of Bladud and one of his pigs stands in the Parade Gardens, next to the river.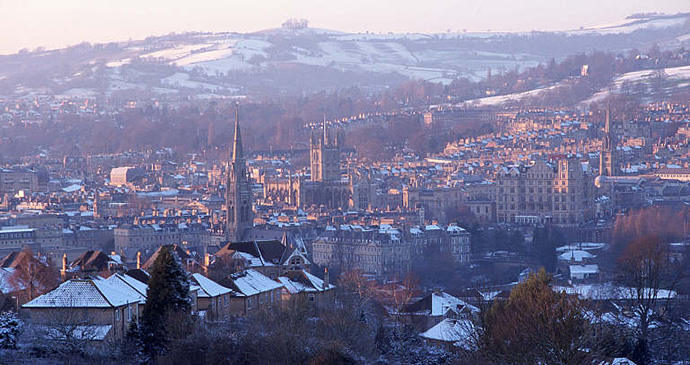 Bath in the snow © visitbath.co.uk
I've divided Bath into three areas here, taking a line roughly west from Bridge Street through Upper Borough Walls. 'Old Bath', covers the area south of this line, the Abbey, the Roman Baths and the medieval streets that surround them, such that there are, for the Georgians left little of the old city. To the north, 'New Bath' focuses on fashionable 18th-century Bath, the Royal Crescent, The Circus, and the Assembly Rooms, whose soirées came to life in the novels of Jane Austen.
'East of the River' takes in Pulteney Bridge, Great Pulteney Street, Sydney Gardens and the Holburne Museum. And finally, it covers the Kennet and Avon Canal and a few attractions that may take additional effort to get to, but shouldn't be missed, like Prior Park and the American Museum in Britain.
The author's story
There are few cities in the world that I would wish to live in, but Bath is one of them. As the birthplace of my mother and the city that launched my grandfather's career in music, I have affection for Bath. But then who doesn't? Its remarkable architecture and town planning, green spaces and attractive location, and associations with the Romans, Jane Austen, civilised living and restoring health maintain its draw as a fashionable city just as much now as it did in historical times.