Savouring the tastes of Bath
Accommodation
Savouring the tastes of Bath
One of the big attractions of Bath is making the most of its remarkable selection of places to eat and drink. The city is one of the places in Britain that made drinking tea fashionable and there are plenty of options for experiencing a civilised afternoon tea. Beware, though, as many tea rooms are either closed or stop serving tea by 16.00 in preparation for dinner service. The city also has numerous very hospitable pubs and excellent restaurants. You won't go hungry in Bath!
There's also a farmers' market held every Saturday morning at Green Park Station. If you're self-catering, or want a goody bag to take home, you can pre-order from Taste of Bath, who source all of their artisan produce from within 10 miles of the city.
Tea rooms & cafés
The Bertinet Bakery 1 New Bond St Place & 2 Brunel Square; 01225 445531; www.bertinet.com. A reputable artisan bakery in two locations producing breads, viennoiserie, pastries and savouries. Brunel Square also offers tea and coffee to take away while New Bond Street has the patisserie. Its world-renowned cookery school teaches novices how to make proper bread too.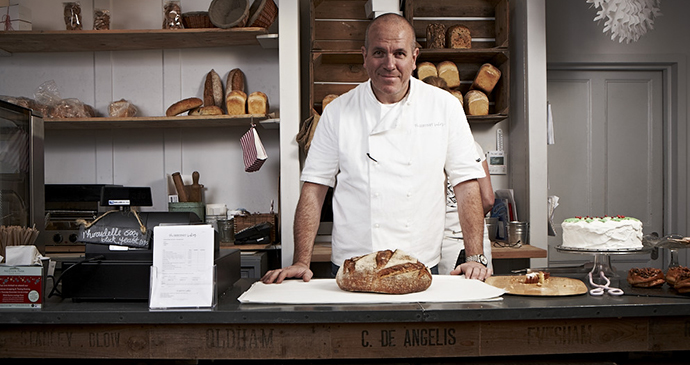 Richard Bertinet with his produce © visitbath.co.uk
The Green Rocket 1 Pierrepont St; 01225 420084; www.thegreenrocket.co.uk. A vegetarian café that also offers vegan and gluten-free options, along with organic coffee, freshly squeezed juices, wine and beer. Dishes include summer coconut and cashew curry, tomato, olive and baby spinach risotto and fresh linguine with porcini and tarragon cream sauce.
The Pump Room Abbey Churchyard; 01225 444477; www.romanbaths.co.uk/pump-room-restaurant. The Pump Room is an attraction in its own right and was considered one of the most socially desirable places to 'be seen' for over 200 years. You will often find a queue for morning coffee, lunches and afternoon tea; book for dinner in the summer months. Come here to try the spa water and the distinctive Bath bun. Listen to the Pump Room Trio or the resident pianist perform while you eat.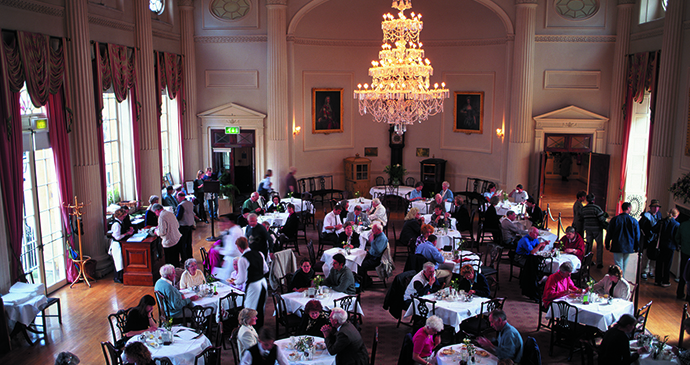 Afternoon tea in the Pump Room © visitbath.co.uk, Bath Tourism Plus
Pubs & restaurants
Coeur de Lion Northumberland Pl; 01225 463568. Promoted as 'Bath's smallest pub', the Coeur de Lion is also on one of Bath's narrowest, pedestrianised streets. With a long and celebrated history that includes much petition by locals to prevent the pub from being closed down in recent years, the Coeur de Lion is regularly included in CAMRA's Top 100 British pubs. Oozing character (and people) – it really is small and boasts stained-glass windows and a long bar, but little else owing to its size. It is owned by one of Bath's breweries, Abbey Ales.
Hall & Woodhouse 1 Old King St; 01225 469259; www.hall-woodhousebath.co.uk. Owned by the famous Hall & Woodhouse Brewery (Badger Original, Fursty Ferret, Tanglefoot, etc), this is a very large and magnificent bar-cum-restaurant. It offers superb food and drink and attentive service, but visit for the surroundings alone – choose from several areas, each with its own ambience: by the entrance, a winter garden conservatory-style area with shelves filled like an old grocer's store; to the rear, a large living room with sofas, coffee tables, rugs, a giant fireplace and bookshelf where you can help yourself to a book, copies of the Beano or a board game for the evening. Great with families and couples alike. Up the starlit staircase is a silver-panelled restaurant with glass chandeliers; you can watch the chefs at work here. Or head to the Manhattan-style rooftop terrace (open only occasionally) for views of the city. A place to take time and relax.
Pulteney Arms 37 Daniel St; 01225 463923; www.thepulteneyarms.co.uk. Five minutes' walk from Pulteney Bridge and Sydney Gardens, in a quiet residential area, the Pulteney Arms is this friendly pub with lots of character: exposed stone walls inside, together with period fireplaces and original gas lighting. There is a tiny rear terraced garden; guests also spill out onto the pavement, where additional tables and seating are provided. It is popular with the rugby crowd (Bath Rugby Ground is five minutes' walk away). Good home-cooked food; try the seasonal 'Taste of…' menus, serving local, in-season produce.
Salamander 3 John St; 01225 428889; www.bathales.com. Salamander is an unpretentious 'black-and-gold' town centre pub owned by Bath's brewery, Bath Ales. On the ground floor is the blackened-wood bar area (wooden bar and shelves, wood floorboards, wood bar stools) and upstairs is the supper room. Bath Ales are obviously the main tack to accompany the menu (pies with gravy and mash or light bites).
Sally Lunn's 4 North Parade Passage; 01225 461634; www.sallylunns.co.uk. This is a Bath institution. I've categorised this under restaurants rather than tea rooms because, while Sally Lunn's is celebrated as a place for morning coffee and afternoon tea, it's less known for its quiet candlelit dinners, and yet I've eaten extremely well here. In the quaint old terraced tea shop, full of ambience and friendly staff, you'll find very good, hearty food. Try the 'trencher' meals, served on the famous Sally Lunn Bun, a brioche-like bun from the 17th century; meat and gravy on a bun may not sound right but it really works. This is the only place in the world to buy the Sally Lunn Bun.
Accommodation
The Kennard 11 Henrietta St, Bath BA2 6LL; 01225 310472; www.kennard.co.uk. Superb location in the very centre of Bath, close to Pulteney Bridge and 5 minutes' walk from the abbey and Roman baths. A fine Georgian town house that has been sympathetically restored with period furnishings and plenty of attention to detail. Breakfast is served in the old kitchen, now resembling an elegant dining room with vibrant peacock green walls, swags at the windows, gilt mirrors and botanical prints plus a glitzy chandelier. Refined bone china and a breakfast menu serving produce from the Cotswolds. The owners, Mary and Giovanni Baiano, have also created a formal Georgian town house garden at the rear, with sources of inspiration for fashionable plants of the period coming from Jane Austen's writing. Free car parking permit for duration of stay.
Beckford's Tower Lansdown Rd, Bath BA1 9BH; 01628 825925; www.landmarktrust.org.uk. A quirky alternative to a B&B and a unique opportunity to stay in a landmark structure, Beckford's Tower sits on a hill to the north of Bath. Wealthy collector William Beckford, who was obsessed by towers and constructed several of them in his lifetime, built the tower in 1827 – he would retreat to it daily to indulge his passion for collecting artefacts. This ground-floor, 2-bedroomed (one double, one twin) apartment gives a flavour of his opulent, but reclusive lifestyle, with rich furnishings. Guests can climb the spiral staircase to the belvedere for sweeping views of Bath. A museum, open to the public, on the property is open from Easter to October. For anyone remotely apprehensive or excited by the prospect, William Beckford and his architect are buried at the foot of the tower.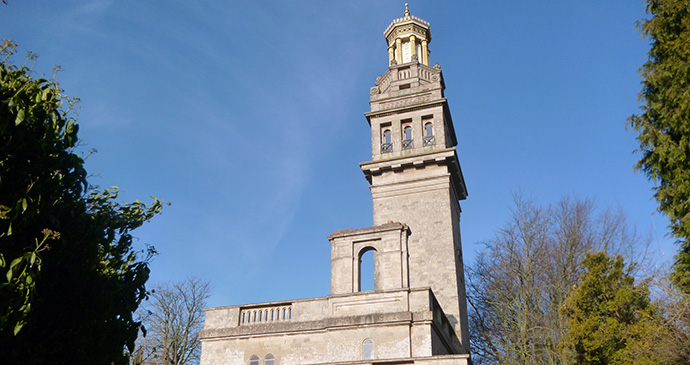 Beckford's Tower © Bath Museums
Bath Bell Tents 07503 916910; www.glampanology.co.uk. A tent rental company that will help you pick your perfect campsite in the area around Bath, pitch your luxury bell tent and supply all the kit you need. There's a basic package (tent and groundsheet only) or, if you want to glamp it up a bit, a luxury package with airbeds, bedding, soft furnishings (rugs and cushions), furniture, lanterns and tea light chandelier, plus all your cooking equipment.