Suggested places to base yourself
Getting there and around
Suggested places to base yourself
The places listed below make ideal bases for exploring The Chilterns & the Thames Valley.
The medieval church of St Peter and St Paul sits in the town centre of Tring – an excellent place to base yourself to explore the Chilterns © Chiltern Arts Festival
Amersham
Part of Metro-land, with plenty of smart eateries to enjoy.
Buckingham
Charming, once the county town and an excellent base for northern exploration.
Dunstable
Henry I's international business hub, with wonderful countryside on the doorstep.
Hambleden
The quintessential English village – as seen in the movies and on TV.
Henley-on-Thames
Quirky, independent-minded and host of a world-renowned annual regatta.
Streatley
Follow Three Men in a Boat and mess about in this perfect Thames-side village.
Thame
A country town well preserved, unlike some of the victims of Midsomer Murders, filmed here.
Tring
A demure market town at the junction of ancient ways.
Waddesdon
A small village, but home to one of England's most extravagant country houses.
Windsor
Home of the world's most famous castle.
Getting there and around
Slow travel favours using public transport or leg power, to minimise damage to our environment and to give yourself the best chance of seeing the sights at the right pace. The closeness of London and links with other major cities such as Birmingham are a major advantage. Various rail networks, including the London Underground, offer the opportunity to reach your destination by rail within an hour or less, and then to use that as a starting point for short or long walks or cycling trips. The Grand Union Canal, several shortrange heritage railway lines and the opportunities to take a boat along the Thames all give you excellent prospects for enjoying Slow (in the sense of traditional) travel.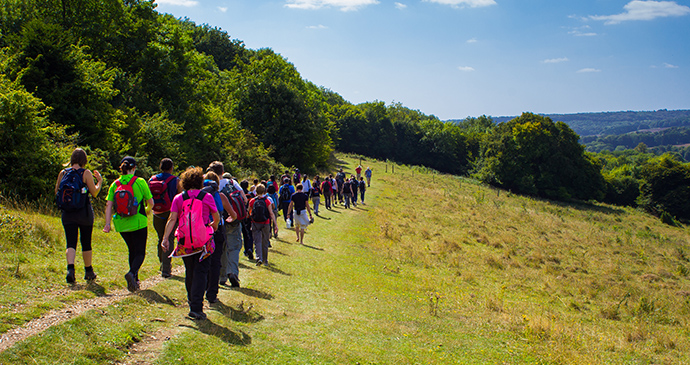 Slow travel favours using leg power to get around the Chiltern Hills © mikecphoto, Shutterstock
The prospects for public transport within the Chilterns, Thames Valley and the Vale of Aylesbury are more challenging. As we're covering multiple counties, that inevitably means a multiplicity of contractors in terms of rail and bus services, and the latter in particular have been in a state of some flux in recent years. For general information and updates, two websites are particularly useful: www.buckscc.gov.uk/travelinfo and www.travelinesoutheast.org.uk. The principal rail providers are Chiltern Railways, Great Western and West Midlands. The main bus companies are Arriva, Carousel and Redline. If you're in the mood for a scenic bus ride across the region, we recommend Arriva's 800/850 High Wycombe–Reading service which passes through Marlow, Medmenham and Henley-on-Thames.
Even if you're travelling by car (as you will need to do for some locations), adopt a 'Slow' approach. Take your time, avoid main roads where you can and enjoy the scenery you're passing through.
For walkers, the Chiltern Way (220 miles) offers a circular route around the region, comprising an original 134-mile route, a northern extension, a southern extension and a Berkshire Loop. Thirty footpath maps to help you plan your part of the walk are available from the Chiltern Society. If you prefer your walks to be riverside affairs, you could try part of the Thames Path, which in total is a 184-mile walk between its source in the Cotswolds and the Thames Barrier. Windsor, Bourne End and Henley-on-Thames are some of the locations you can visit this way. Or you can follow the Ridgeway, an ancient trackway described as Britain's oldest road, which forms part of the Icknield Way, an ancient trading route from Norfolk to Dorset. The route was adapted and extended as a national trail in 1972. The Ridgeway National Trail follows the ancient Ridgeway from Overton Hill near Avebury to Streatley, then follows footpaths and parts of the ancient Icknield Way through the Chiltern Hills to Ivinghoe Beacon. The Chilterns Cycleway (170 miles) offers a circular alternative for cyclists. Several 'gateway towns', including Wendover, Henleyon-Thames and Wallingford, offer excellent facilities for cyclists. The Chilterns' excellent rail links with London, Birmingham and elsewhere are a boon for cyclists, who can carry bikes on trains outside rush hour (10.00–16.00) and at any time on Bank Holidays or at weekends. Over 95% of the cycleway is on-road and the undulating route, with some steep climbs and descents, offers plenty of interest and challenge.