Savouring the tastes of The Chilterns & the Thames Valley
For our authors' selection of recommended places to eat see Slow Travel The Chilterns & the Thames Valley.
It's a toss-up whether there are more walking routes or choices of excellent food and drink in our region; you'll need to use the former, in order not to put on too much weight from sampling the latter.
There isn't a single food or dish synonymous with the area in the same way as a Lancashire hotpot or a Devon cream tea – though we're fond of a bacon badger. But some traces of local food heritage remain. Aylesbury ducks are its noisiest manifestation. This distinctive bird is on the menu (order it when you book your table) at the King's Head in Ivinghoe. Sadly, most of the cherry orchards have disappeared, but examples of heritage cherries remain at the Chiltern Open Air Museum and there's an annual Cherry Pie Fair in Seer Green, near Beaconsfield. Keep your eyes peeled, too, for the Aylesbury prune, a blue-black variety of damson plum. The chalk streams in which the region is so rich enabled the growth of the watercress industry, and you can find and taste the produce of the last operating commercial watercress centre in the country.
Happily, there's a small army of local independent producers across the region today, working hard to bring you a range of wonderful taste sensations. The fifth and sixth generations of Darvells are a mainstay of Chesham with their handmade bread and cakes; Zanni's, an organic farm based just outside Aylesbury, specialise in sourdough products that sell in shops and farmers' markets across the region. Wobbly Bottom Farm near Hitchin is well known for its soft and hard goat's cheeses; Nettlebed Creamery near Henley has won awards for its St Bartholomew and Bix cheeses since starting production in 2015; and we have a soft spot for Marlow Cheese Company's produce.
You might find it hard to walk past the Pangbourne Cheese Shop without sampling their extraordinary range of stock. If you're a fan of pickles, chutneys and other preserves, Jim and Jules Big Adventure of Cheddington will probably have just the thing. For a sweet or savoury nibble, Just Biscuits from Stoke Mandeville are hard to beat, as are the salamis and air-dried meat of Chiltern Charcuterie, who use pork, beef and lamb from local independent farms. Boarstall Meats use their own onfarm butchery to prepare beef, lamb, pork and poultry, while Chiltern Farm Food in Coleshill, near Amersham, specialises in traditional breeds of sheep and pigs, with their 130-acre farm also providing rabbit, venison and pigeon and a seasonal shoot supplying pheasants, duck and partridge.
On a sweeter note, if you're in a local cinema or theatre, you'll probably find ice cream from Beechdean, founded in 1989 and now the UK's third-largest ice cream manufacturer. Local cafés, farm shops and other outlets frequently stock ice creams, sorbets and gelato from Chiltern Ice Cream Company; their rhubarb ripple ice cream is well worth seeking out.
Local farm shops are an excellent source of these and other artisan foods, including their own products. We always enjoy visiting P E Mead near Tring, Peterley Manor Farm in Prestwood, The Herb Farm and Orchard View Farm near Princes Risborough. The Buckmoorend Farm on the Chequers Estate focuses on pork, beef and lamb, while the Littlecote Farm Shop near Winslow supplies duck and goose eggs, oils, preserves and much else. The Royal Windsor Farm Shop sells meat and eggs from the Windsor Estate; it may also be the only farm shop where you can buy a toy corgi. Or you can pick up produce at one of the many farmers' markets around the region.
Local producers
The food and drink scene in the Chilterns wouldn't be complete without the local independent producers which make it something really special. There are good quality makers of sweet treats and desserts all over the region. Anne and Ian Scott, owners of the luxury ethical chocolate company Auberge du Chocolat, sell their delicious products out of their shop based in Chesham, and they also offer an exciting range of chocolate crafting workshops. Nanna's Christmas Pudding, near Dunstable, produce traditional puddings and cakes following tried and tested family recipes passed down over three generations. Other regional highlights include Victoria Bell's hand-crafted fudge business Peaches and Cream Fudge and Blossoms Syrup, a good quality supplier of fruit syrups.
Drinking The Chilterns & the Thames Valley
An impressive array of breweries and micro-breweries has established itself across the region. The Chiltern Brewery is probably the oldest, having started in 1980 when micro-breweries were rare nationally as well as locally, while Malt the Brewery is one of the newest, opening in 2012 on a farm in Prestwood. Potten End near Berkhamsted is home to the self-styled 'unhinged beers' of Mad Squirrel, with additional venues in Amersham, Berkhamsted town centre, Chesham and High Wycombe. You could opt for the produce of Rebellion Beer in Marlow or the Tring Brewery, whose range includes the intriguingly named Side Pocket for a Toad.
If wine is your tipple of choice, there are several options. In the wonderful setting of the Hambleden Valley, the Chiltern Valley Winery & Brewery produces both beer and wine. White, rosé and sparkling wine are produced and bottled on site at Frithsden Vineyard, where the first vines were planted in 1971. The Daws Hill Vineyard just outside High Wycombe specialises in sparking white and red wines and cider.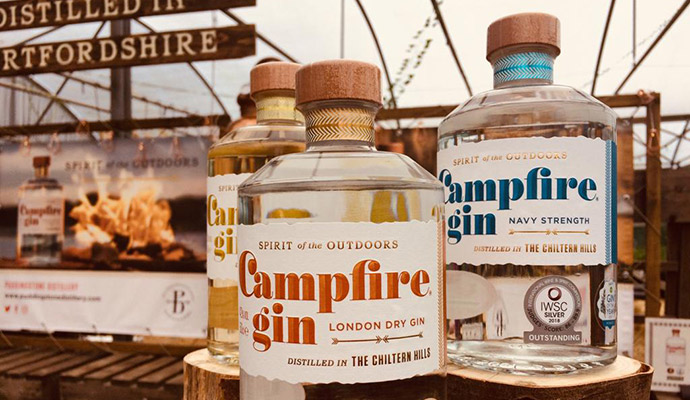 Recent years have seen the growth of gin and spirit enterprises in the region. Puddingstone Distillery near Tring, the first gin distillery in Hertfordshire, attempts to capture the spirit of the outdoors with its Campfire Gin, while Griffiths Brothers, based in Penn Street, uses cold distillation as the basis for their production.
The Foxdenton Estate in north Buckinghamshire, home to the Radclyffe family for over 500 years, focuses on English fruit gin liqueurs using raspberry, damson, rhubarb and plum, and London dry gin. By way of contrast, the 17th-century science of apothecaries is the inspiration for Seedlip, which Ben Branson founded in his kitchen in the heart of the Chilterns. The company describes its products as the world's first distilled non-alcoholic spirits.
Tours, tastings and the chance to stock up in the brewery shop are a common feature of many of these outlets. You can also find many of the products listed above in local – and sometimes national – shops, cafés, pubs and restaurants.
Accommodation
Northern Chilterns
Central Chilterns: Wendover to Jordans
Central Chilterns: Stoke Poges to Hambleden
Along the Thames: Runnymede to Marlow
South Oxfordshire & East Berkshire
Vale of Aylesbury
The accommodation recommended below is a snapshot of places to stay in the Chilterns, the Thames Valley and Aylesbury Vale. It's a personal selection – places with some distinctive characteristic, whether that relates to its history, architecture, location or simply that we believe it follows the Slow Travel philosophy in some way.
Northern Chilterns
Hotels
Champneys Tring Chesham Rd, Wigginton HP23 6HX; 01442 291000; www.champneys.com. Britain's first health spa, created in 1925 from the vision of eccentric naturopath Stanley Lief; recent additions include a manicure and pedicure salon and the Marine and Wellness Spa. Set in 170 acres just outside Tring. Rooms in the manor house offer traditional charm, with more modern rooms in the garden wing.
Hitchin Priory Tilehouse St, Hitchin SG5 2DL; 01462 420500; www.chartridgevenues.com/hitchin-priory. Over 700 years old, once a Carmelite monastery and now Grade I-listed with some original features including cloisters. Set in 19 acres. Many of the 52 en suite rooms have views over the grounds and Hitchin, just a short walk away.
Luton Hoo Hotel, Golf & Spa The Mansion House, Luton LU1 3TQ; 01582 734437; www.lutonhoo.co.uk. A mansion house on the border of Bedfordshire and Hertfordshire. Features include an award-winning restaurant, a Robert Adam courtyard, formal gardens designed by 'Capability' Brown and 1,000 acres of parkland, meadows, woodlands, lakes, rivers and nature trails. Individual rooms with period features.
Old Palace Lodge Church St, Dunstable LU5 4RT; 01582 662201; www.oldpalacelodge.com. Originally built as Kingsbury Palace for Henry I, later an Augustinian priory. Ivy-clad, wood-panelled splendour opposite the Priory Church in the heart of Dunstable. The 85 bedrooms are a mixture of twins and doubles.
Pendley Manor Cow Ln, Tring HP23 5QY; 01442 820036; www.pendley-manor.co.uk. Originally a manor owned by William the Conqueror's brother-in-law, restored in the late 20th century as a country house hotel and recently renovated. Offers 72 large, well-appointed rooms. A theatrical bent; runs an annual Shakespeare Festival and murder mystery dinners.
B&Bs
Lodge Farm Kings Walden, nr Hitchin SG4 8LL; 07584 667520; www.lodgefarmbandb.co.uk. A guesthouse with a secret garden among its surrounding 20 acres. Equidistant between Hitchin and Luton. Accommodation ranges from singles to deluxe king rooms, all with TV and DVD player, free Wi-Fi and tea- and coffee-making facilities.
Pub with rooms
The Bell London Rd, Aston Clinton, Aylesbury HP22 5HP; 01296 632777; www.thebellastonclinton.co.uk. A stylish pub, bar and restaurant in the quiet village of Aston Clinton. Comfortable rooms with contemporary design.
Camping & glamping
Town Farm Ivinghoe LU7 9EL; info@townfarmcamping.co.uk; www.townfarmcamping.co.uk. Camping facilities, opened 2009, on a working farm run by the Leach family since the 1930s. Electric hook-ups for caravans and motorhomes. Glamping option in new fully furnished 6-metre bell tent.
Central Chilterns: Wendover to Jordans
Hotels
Bedford Arms Rickmansworth WD3 6EQ; 01923 283301; www.bedfordarms.co.uk. A Victorian house converted to a hotel in the 1930s and upgraded at various points since then. New wing of eight bedrooms added in 2005 to complement ten rooms decorated in traditional style. Two restaurants including an oak-panelled room for formal dining; pub with exposed beams and open fire.
The Crown Inn 16 High St, Amersham HP7 0DH; 01494 721541 www.thecrownamersham.com. Elizabethan Grade-II-listed coaching inn with period features including inglenook fires and a cobbled courtyard. Fine dining restaurant recently awarded two AA rosettes. Accommodation comprises 45 rooms, options include No 40 Townhouse 100 yards from the hotel, sleeps six.
Kings Arms 30 High St, Amersham HP7 0DJ; 01494 725722; www.kings-arms-hotel.com. In the heart of Old Amersham, a 15th-century coaching inn, as featured in Four Weddings and a Funeral. Carefully designed range of 34 rooms including a family suite split across two levels. Complimentary access to Red House gym and spa.
The Nag's Head London Rd, Great Missenden HP16 0DG; 01494 862200; www.nagsheadbucks.com. Award-winning 15th-century contemporary styled pub run by the Michaels family. Each en-suite room is individually designed, some featuring original wood beams and all boasting modern fittings. Views look out onto the surrounding countryside and the Nag's Head's own large garden.
Red Lion 9 High St, Wendover HP22 6DU; 01296 622266; www.redlionhotelwendover.co.uk. Family-friendly 16th-century coaching inn right in the heart of Wendover, a short walk from the railway station. Choice of 23 rooms including family room for two adults and two children. Varied menu uses fresh ingredients from local suppliers.
B&Bs
Missenden Abbey London Rd, Great Missenden HP16 0BD; 01494 866811; www.missendenabbey.co.uk. A 12th-century Augustinian abbey, now a popular conference and wedding venue. En suite rooms include flatscreen TV, broadband and tea- and coffee-making facilities. Purpose-built accessible room with dedicated parking close to the abbey.
Self-catering
Wendover Windmill 79 Aylesbury Rd, Mill Yard, Wendover HP22 6JJ; 01282 444198; www.wendoverwindmill.co.uk. Believed to be England's second-largest windmill. Sleeps up to ten over five octagonal-shaped floors. Central heating, ample parking space, suitable for babies and toddlers.
Camping & glamping
Chiltern Yurt Retreat Church Ln, Wendover HP22 6NL; 07809 153590; www.chilternyurtretreat.co.uk. Eco-friendly glamping in an excellent location for watching birds and wildlife. Stay in a handmade Turkmen yurt, tabernacle-style Badger's Bower or retro-style caravan. Well-equipped kitchen, luxurious shower room.
Hostels
Jordans YHA Welders Ln, Jordans HP9 2SN; 0345 371 9523. A tranquil retreat in a woodland setting, but only 5 minutes from the London Underground. Two four-bedded and two five-bedded rooms, all ground floor. Bell tents available for glamping from May to September.
Central Chilterns: Stoke Poges to Hambleden
Hotels
Crazy Bear Old Town, Beaconsfield HP9 1LX; 01494 673086; www.crazybeargroup.co.uk/beaconsfield. Opened in 2008 to spectacular international reviews, including Condé Nast's Hot List for the best new hotels in the world. The oldest documented building in Beaconsfield, a 15th-century coaching inn, it has been meticulously restored and elaborately designed to provide dramatic architecture and uncompromised luxury. All 45 bedrooms are individually designed.
Rye Court Hotel 141 London Rd, High Wycombe HP11 1BT; 01494 450101; www.ryecourthotel.co.uk. A recent and welcome addition to accommodation options in High Wycombe, within ten minutes' walk of the town centre. 17 en suite bedrooms available. Discounted day passes for local gym.
Stoke Park Park Rd, Stoke Poges SL2 4PG; 01753 717171; www.stokepark.com. A stylish five-star hotel with over a century of heritage. 49 bedrooms and suites. The Mansion bedrooms are more traditional in style, while the Pavilion bedrooms are more contemporary but equally luxurious.
B&Bs
Chiltern Valley Winery & Brewery Old Luxters Vineyard, Hambleden RG9 6JW; 01491 638330; www.chilternvalley.co.uk. A good choice whether visiting for a tour and tasting, or just as a base for exploring the Hambleden Valley. Options include a historic 17th-century barn. For a touch of luxury try the Pool Room, overlooking the vineyard and with its own private 40-foot swimming pool, hot tub and sauna.
Dovecot Studio B&B Dovecot, Bolter End Ln, Bolter End HP14 3NB; 01494 880853; www.marlowboutiquebandb.co.uk. Luxurious accommodation in a charming historic farmhouse. Three en suite rooms decorated in style by the artist owners. Can also be rented on a weekly self-catering basis.
St Katharine's Parmoor, Frieth RG9 6NN; 01494 881037; www.srpf.org.uk. A tranquil estate with an unusual and eclectic history, in a quiet setting encouraging relaxation and reflection. There are 13 rooms, the doubles and twins all with en suite facilities. Holistic therapy sessions available.
Pubs & restaurants with rooms
The Frog at Skirmett Nr Henley-on-Thames RG9 6TG; 01491 638996; www.thefrogatskirmett.co.uk. An 18th-century coaching inn set within the rolling hills of the Hambleden Valley. Three overnight rooms, en-suite facilities, views of the valley. High-quality pub restaurant, child-friendly garden.
The Stag & Huntsman Hambleden RG9 6RP; 01491 571227; www.thestagandhuntsman.com. Situated in the centre of one of the Chilterns' most picturesque villages. Nine en-suite bedrooms with indulgent bathrooms. A dog-friendly place to stay.
Self-catering
Old Rose Cottage School Ln, Turville RG9 6QX; 07793 097520; www.chilterncountrycottages.com. A Grade II-listed four-star AA-rated brick and flint cottage ideally situated in the heart of Turville, in a little row of terraced cottages near the village green and church. Two bedrooms, one double and one twin. Oak beams, inglenook fireplace, well-equipped kitchen.
Camping & glamping
Chiltern Retreat Marlow Rd, Lane End HP14 3JP; 01494 840243; www.chilternretreat.co.uk. A working farm of over 1,000 acres just outside High Wycombe. Camping arrangements can be personalised to your requirements, eg: private meadows, tenting parties. Bring your own horse or pony to explore some of the many bridleways nearby.
Home Farm City Rd, Radnage HP14 4DW; 01494 484136; www.homefarmradnage.co.uk. Camping and caravan site, with the Ridgeway and Icknield Way nearby. Glamping bell tents, complete with chandeliers and champagne ice buckets. Electrical hook-ups for tourers and motorhomes.
Along the Thames: Runnymede to Marlow
Hotels
Bel & the Dragon High St, Cookham SL6 9SQ; 01628 521263; www.belandthedragon-cookham.co.uk. One of England's oldest coaching inns, around the corner from the Thames Path. Ten timelessly styled bedrooms, including a family double en suite. The Cottage, a newly renovated five-bedroom annexe, is close to the main building.
Danesfield House Hotel and Spa Henley Rd, Marlow SL7 2EY; 01628 891010; www.danesfieldhouse.co.uk. An impressive country house hotel in 65 acres with wonderful views of the Thames and beyond. 79 bedrooms and suites, each individually designed, some with additional space laid out over two floors.
Macdonald Compleat Angler Marlow Bridge, Marlow SL7 1RG; 01628 484444; www.macdonaldhotels.co.uk/our-hotels/macdonald-compleat-angler. The location and view of the Thames are hard to beat. Choose a stylish Classic room, or upgrade to a river view with an Executive room. Feature rooms and Four-Poster rooms are romantic havens full of individuality.
The Oakley Court Windsor Rd, Water Oakley, Windsor SL4 5UR; 01753 609988; www.oakleycourt.co.uk. Multiple award-winning country house hotel, with 118 bedrooms … and its own polo team, apparently. Mansion House Deluxe rooms provide designer luxury with river-facing views. Complimentary use of the leisure facilities including the swimming pool, steam room, sauna, gym, tennis courts, golf and bikes.
The Runnymede on Thames Hotel and Spa Windsor Rd, Egham TW20 0AG; 01784 220600; www.runnymedehotel.com. Contemporary four-star hotel ideally located a short walk from historic Runnymede. Dog-friendly rooms including dog pillows, bowls and doggy treats. Use of the hotel's spa, gym and indoor and outdoor pools.
B&Bs
Manor Cottage 11 Datchet Rd, Old Windsor SL4 2RJ; 01753 856075; www.manorcottagewindsor.co.uk. A delightful 18th-century house between Windsor Great Park, Runnymede and the River Thames. Three bedrooms available, plus an 1880s gypsy caravan. Breakfast includes eggs from the owners' chickens.
Park Farm St Leonards Rd, Windsor SL4 3EA; 01753 866823; www.parkfarm.com. Comfortable family-run B&B. Double, twin and family rooms. Self-catering two-bedroom apartment also available.
Savannah B&B Luddington Av, Virginia Water GU25 4DF; 01344 843579; www.savannah-bandb.co.uk. Close to Virginia Water village and the railway station. Four en suite rooms available. Children- and pet-friendly (excluding snakes!).
Sunny Cottage Manor Ln, Maidenhead SL6 2QW; 01628 770731; www.beadvr.wixsite.com/sunnycottagebandb. A Swiss-run guesthouse and B&B. Three en suite rooms. Extensive choice of items for breakfast, special diets catered for if requested.
Pubs & restaurants with rooms
The Dog & Badger Henley Rd, Medmenham SL7 2HE; 01491 579944; www.thedogandbadger.com. A friendly pub/restaurant within a short walk of the river, perfectly placed between Marlow and Henley. Gillman's Cottage is a beautiful, quintessentially English cottage adjacent to The Dog & Badger. This Grade II-listed former Ale House believed to date back to 1550 has been sympathetically refurbished and converted into six luxurious en suite rooms, three with steam rooms.
Gilbey's Bar & Restaurant Eton 82–83 High St, Eton SL4 6AF; 01753 854921; www.gilbeygroup.com/restaurants/gilbeys-eton. Positioned beautifully between Windsor Castle and Eton College. Studio suite now supplemented by three new guest bedrooms. VisitEngland have awarded five stars and a Gold Award.
The Hand and Flowers 126 West St, Marlow SL7 2BP; 01628 482277; www.thehandandflowers.co.uk. The only UK pub with two Michelin stars. Eleven rooms are on offer in three cottages; one is next door to the pub and the other two are close by. Huge beds, vast baths, rain showers.
The Waterside Inn Ferry Rd, Bray SL6 2AT; 01628 620691; www.waterside-inn.co.uk. A world-renowned restaurant with rooms in a delightful setting by the Thames. Eleven bedrooms, either in the main bedroom or in neighbouring cottages. Continental breakfast served in your room.
Self-catering
Windsor Luxury Cabin The Barn, Willow Court Farm, Oakley Green Rd, Windsor SL4 4PZ; 07949 194125. Holiday home 2½ miles from Legoland. Dining area and kitchenette. Garden with sun terrace, barbecue and free private parking.
South Oxfordshire & East Berkshire
Hotels
The Elephant Church Rd, Pangbourne RG8 7AR; 0118 984 2244; www.elephanthotel.co.uk. Possibly the only hotel in the region to offer 'a return to the opulence of Empire'. A definite Asian vibe to the design, the handcrafted furniture and the speciality teas available in your room. Oh, and there's an elephant outside the hotel, too.
The Great House Thames St, Sonning RG4 6UT; 0118 969 2277; www.greathouseatsonning.co.uk. A rural retreat of self-conscious eccentricity on the edge of the Thames. Pictures of deer and hares dressed for a hunt adorn the walls, while the bedrooms press the retro switch with nostalgic selections of mini fridges and telephones – not to mention a good selection of old paperbacks. The Coppa Club restaurant offers all-day dining.
Phyllis Court Hotel Marlow Rd, Henley-on-Thames RG9 2HT; 01491 570500; www.phylliscourt.co.uk. A manor house with a heritage going back to 1301, now a private club. Book one of the 17 individually styled bedrooms to become a temporary member for the duration of your stay. Enjoy the view on the finish line of the Henley Regatta.
The Swan at Streatley High St, Streatley-on-Thames RG8 9HR; 01491 878800; www.theswanatstreatley.com. Enviably located in the dreamy riverside village of Streatley. Rooms are spacious and of contemporary design, with power showers and flatscreen TVs among the facilities. Dog-friendly hotel.
Swan Hotel Upper High St, Thame OX9 3ER; 01844 260399. A combined pub/restaurant in central Thame. Four double rooms, contemporary design. Free Wi-Fi, tea- and coffee-making facilities.
B&Bs
The Courtyard at Wainhill Thatched Cottage, Wainhill OX39 4AB; 07815 562921; www.wainhill.co.uk. Located on the Ridgeway walking trail (turn left for Ivinghoe Beacon). Spacious en suite rooms within a newly built timber lodge. Breakfast includes apple juice from the owners' own trees and eggs from their chickens.
The Peacock Country Inn Penton, nr Chinnor OX39 4AH; 01844 353519; www.peacockcountryinn.co.uk. Owner Martin Roberts came across the Peacock while walking the Ridgeway in 2004. The accommodation includes B&B and self-catering options (five self-catering apartments).
Warborough Bed & Breakfast 102 Thame Rd, Warborough OX10 7DG; 01865 858657. A short walk over the bridge from Wallingford, this B&B features a beautiful mature garden. Choose from the Rothko Room, the Moroccan Room or the Gold Room. Kitchen hosts regular cookery classes.
Pubs with room
The Coachmakers Arms 37 St Mary's St, Wallingford OX10 0EU; 01491 838229; https://brakspear.co.uk/pub-finder/coachmakers-arms/. One of Wallingford's oldest buildings, a pub for almost 200 years. Three en suite rooms available, one of which can be configured as a double, twin or triple. Well-behaved dogs are welcome.
The Miller of Mansfield High St, Goring RG8 9AW; 01491 872829; www.millerofmansfield.com. Cosy, characterful inn managed by ex-Fat Duck team members. En suite rooms where modern facilities meet 18th-century architecture. Original wooden floors, marble bathrooms, modern décor and period furniture.
Self-catering
Abbey Farm North Weston, Thame OX9 2HB; 01844 212051; www.abbeyfarmchilterns.co.uk. A 270-acre farm just outside Thame, with convenient close access to footpaths, cycle paths and a bridleway. Red Kite Cottage is the self-catering facility; Kites Nest Shepherds Hut gives you a glamping option.
Cosy Cottage 98 West St, Henley-on-Thames RG9 2EA; 020 7096 0758; www.henleycottage.co.uk. Traditional brick and flint cottage with two bedrooms, close to central Henley. There is a large family bathroom on the first floor with fully sized bath and separate shower cubicle. Courtyard garden.
Henry VIII Cottage 74 New St, Henley-on-Thames RG9 2BT; 0207 096 0758. Holiday home with a garden in the heart of Henley. Three double bedrooms, one en-suite shower room and a family bathroom. Free Wi-Fi throughout.
The Old Barn White House Farm, Church Ln, North Stoke OX10 6AF; 07849 178523. A 200-year-old barn close to Wallingford. Accommodation on the upper floor, offering amazing views of the countryside. Two en-suite bedrooms, each with king-size bed, bath and power shower.
The Pool House Upper Farm Henton, Chinnor OX39 4AQ; 07476 082142; www.upperfarmhenton.co.uk/the-pool-house. Newly refurbished pool house chalet, on a 30-acre working farm on the outskirts of Chinnor. Main studio room, kitchen, bathroom, boot room, swimming pool, hot tub spa and garden. Secure private parking, superfast broadband and Wi-Fi, dogs welcome.
Camping & glamping
Bridge Villa Camping and Caravan Park Crowmarsh Gifford, Wallingford OX10 8HB; 01491 836860; www.bridgevilla.co.uk. Just over the bridge from Wallingford, close to the Thames Path, the Ridgeway and Route 5 of the National Cycle Routes (Thames Valley section). Camping and caravanning facilities, plus new room-only ground-floor accommodation. On-site facilities include a shop stocking basic provisions, and also toilet and shower facilities.
The Chilterns View Ewelme Down Farm, Ewelme OX10 6PQ; 01491 836353; www.thechilternsview.co.uk. Luxury lodge accommodation, using the latest eco-friendly technology, ten minutes' walk from Ewelme. Each lodge comes complete with a king-size bed, a hot tub, en-suite wet-room-style shower, a wood-burning stove and kitchenette. Each lodge also has its own private veranda.
Swiss Farm Touring & Camping Marlow Rd, Henley-on-Thames RG9 2HY; 01491 573419; www.swissfarmcamping.co.uk. Conveniently located on the road into Henley. All-weather, fully serviced and grass touring pitches for caravans and motorhomes. Four types of camping pitch. Two cedar glamping cabins in a private area.
Hostels
Streatley Youth Hostel Reading Rd, Streatley RG8 9JJ; 0345 371 9044. Comfortable Victorian house 5 minutes from the Thames. Private rooms are available. Free Wi-Fi and cycle store.
Vale of Aylesbury
Hotels
Five Arrows Hotel Waddesdon HP18 0JE; 01296 651727; www.fivearrowshotel.co.uk. At the gates of Waddesdon Manor, formerly a Victorian coaching inn, a delightful Victorian mix of half-timbering, elaborate Elizabethan chimneys and wrought ironwork. Winner of Best Small Hotel for 2018 from bestlovedhotels. Rooms named after Rothschild wines, and decorated with wool and linen. Tickets to Waddesdon Manor grounds included during seasonal openings.
Hartwell House Hotel & Spa Oxford Rd, Vale of Aylesbury HP17 8NR; 01296 747444; www.hartwell-house.com. Jacobean and Georgian house set in 90 acres of grounds designed by 'Capability' Brown. 48 rooms and suites all individually designed in a traditional country house style and superbly furnished with antiques and fine paintings. Includes the Old Rectory with its own two acres of private gardens within the grounds.
Villiers Hotel 3 Castle St, Buckingham MK18 1BS; 01280 822444; www.villiers-hotel.co.uk. Over 400 years of history; (re)named after James I's favourite, the first Duke of Buckingham. Individually styled rooms from singles to suites. Dukes Bar & Restaurant is a long-time AA rosette holder.
B&Bs
Ivy Cottage Main St, Chackmore MK18 5JE; 01280 812130. Peaceful village just outside Buckingham. Tastefully appointed rooms, honey produced by the owner is available for sale. Pets welcome.
Just So Cottage 11 The Walk, Winslow MK18 3AJ; 01296 714548; www.justsocottage.co.uk. A 400-year-old listed historic building offering boutique accommodation. Sleep in an oak-beamed en-suite bedroom and enjoy an award-winning garden. Breakfasts feature free-range local eggs and local artisan breads.
The Lion 70a High St, Waddesdon HP18 0JD; 01296 651227; www.thelionwaddesdon.co.uk. A Victorian coaching inn opposite Waddesdon Manor. Accommodation includes a fully equipped disabled double bedroom with an adjoining double guest bedroom for friends/carers.
Skies Call St Michael's Way, Steeple Claydon MK18 2QD; 01296 730398; www.skiescall.co.uk. Beautiful location in easy reach of Waddesdon Manor, Stowe and Claydon House. Rooms designed to be comfortable, practical and contemporary. Choose from either a king-size double or twin bedroom for both double and single occupancy.
Pubs with rooms
The Broad Leys 8 Wendover Rd, Aylesbury; 01296 399979; www.thebroadleys.co.uk. On the outskirts of Aylesbury, a renovated pub with 300 years of heritage. En-suite bathrooms, king-size beds, thermostatically controlled heating. Includes Walton Cottage, a boutique home from home.
The Mole and Chicken Easington, nr Long Crendon HP18 9EY; 01844 208387; www.themoleandchicken.co.uk. Country pub and restaurant with outstanding views across two counties. Five en suite rooms, recently refurbished in simple, elegant style. Multiple award winner from VisitEngland and enjoyEngland.com.
The Pheasant 39 Windmill St, Brill HP18 9TG; 01844 239370; www.thepheasant.co.uk. Perched on a hill with views over the Brill Windmill and neighbouring counties. Four double rooms with en-suite bath or shower. Additional family facilities available in one room.
The Pointer 27 Church St, Brill HP18 9RT; 01844 238339; www.thepointerbrill.co.uk. Award-winning pub and restaurant serving produce from adjacent 200-acre farm and kitchen garden. Four new luxurious guest rooms in a redbrick cottage opposite. Country-chic vibe, using a muted palette of greys and whites along with exposed oak beams.
Self-catering
Folly Farm Shepherd Hut Buckingham Rd, Padbury MK18 2HS; 07843 727868; www.visitsoutheastengland.com/accommodation/folly-farm-shepherd-hut-p1445451. Luxury self-catering accommodation for two adults on a farm, based on a traditional shepherd hut design but featuring all modern-day facilities. A garden for relaxing and dining outside on summer days and evenings. Quiet spot on the farm where countryside sounds can be heard like bird song and sheep; beautiful starry skies can also be observed while relaxing in the garden.
Gothic Temple Stowe MK18 5EQ; 01628 825925; www.landmarktrust.org.uk. Built in 1741 for Lord Cobham. Circular rooms with moulded stone pilasters and plaster vaults, the main vault gorgeously painted with heraldry, and a belvedere with a fine view over Stowe Landscape Gardens. Adjacent parking, dogs welcome.
Weatherhead Farm Leckhampstead, Buckingham MK18 5NP; 01280 860502; www.weatherheadfarm.co.uk. Based on a working farm in a stunning rural location. Recently converted old stables or newly built annexe to choose from. Ideal for families with children, dogs welcome. B&B option also available.
Camping & glamping
Abbotts View Farm Off Moat Ln, Aston Abbotts HP22 4NW; 07970 692550; www.abbottsviewalpacas-cl.co.uk. Alpacas, peace and quiet, wonderful sunsets. All electricity and hot water is produced from renewable energy (wind and sun).
Hill Farm Slapton, Leighton Buzzard LU7 9DD; 07761 903628; www.hillfarmandorchard.co.uk. Superb location adjacent to the towpath of the Grand Union Canal, with breathtaking views of Ivinghoe Hills Nature Reserve. Four luxury en-suite wigwams within a mature orchard. Each wigwam sleeps up to four and includes en-suite facilities and outside decking area with light.
Wingbury Farm Upper Wingbury Farm, Wingrave HP22 4LW; www.wingburyfarmglamping.co.uk. Situated on the edge of a family-run farm. Three luxury en-suite pods with heat and hot water provided by ground-source heat pumps. Well insulated and well equipped, the pods come with a large decked area, brick barbecue and steel fire pits.