Going Slow in Cheshire
Cheshire is a county that confounds expectations. Visitors who come expecting it to be totally flat (most have heard of the Cheshire Plain) find instead that it has a wide variety of landscapes. Yes, there is indeed a central plain, but beyond that the land rolls and rises to the hills and moors of the Pennines and Peak District in the east and to surprisingly dramatic sandstone ridges in the west. Those who expect Cheshire to be landlocked are forgetting the Wirral peninsula, flanked by the major estuaries of the rivers Mersey and Dee, flowing into the Irish Sea.
Most people have heard of the county's famous dairy industry, so are unsurprised to find a largely rural landscape: Cheshire fields are filled with not just grazing cattle but also flocks of sheep and crops of grain – three golden wheatsheaves feature on the county's coat of arms. Less familiar, perhaps, is the industrial and scientific heritage, ranging from Bronze Age mining sites to the internationally important astronomical observatory at Jodrell Bank, the UK's nominee for UNESCO World Heritage Site status in 2019.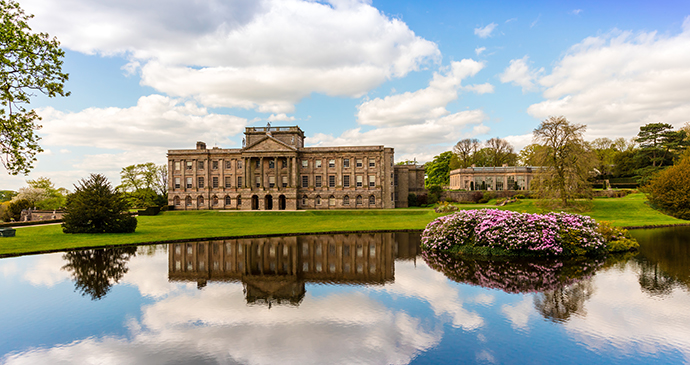 What Cheshire excels at is beautiful historic buildings, like Lyme Park © Debu55y, Shutterstock
Those who come expecting bling (the county has become known for its multi-millionaire footballers, WAGs and Real Housewives) can certainly find it in the many affluent villages where the super wealthy have made their homes, but they'll also discover this is a part of the country with much to offer lovers of Slow travel. It's a land of market towns, meres and marshes, farm shops, forests and falconries, a place where people are happy to stop and chat to strangers and where you can easily find a deserted corner of woodland or moorland to yourself, or pick up flowers and fresh-laid eggs from a country-lane honesty stall.
The county town of Chester has a fascinating history, unique double-decker shopping arcades that date back to the Middle Ages and the most complete Roman and medieval city walls in Britain. Elsewhere, there are the ruins of ancient castles and reminders of the salt and silk industries that helped shape the county's fortunes. Some of the UK's loveliest gardens are here (home to several National Collections), as are many of the finest black-and-white mansions. You could make a literary pilgrimage around sites associated with local authors such as Lewis Carroll, Elizabeth Gaskell and Alan Garner, or follow in the musical footsteps of artists as diverse as Handel and Harry Styles. You can visit unique museums housing quirky collections and experience equally eccentric customs, from the world worm-charming championships at Willaston to fig pie rolling at Wybunbury.
Local legends abound, too, from the mermaid that appears in one of the county's many meres every Easter and the ghost of Britain's last professional jester dancing along country lanes to the sleeping knights and their milk-white steeds who lie beneath the Cheshire countryside, ready to wake and save England in her hour of greatest need. These are the kind of things you discover when you travel round Cheshire the Slow way. It's not simply about abandoning the car wherever possible in favour of more sustainable modes of transport (though it's certainly true that travelling around by bus, train, bike, boat or on foot is a better way to get beneath the county's skin). It's also about abandoning any preconceptions and expectations and travelling with an open mind, not just admiring Cheshire's obvious beauties but taking the time to head off the beaten track, unearthing treasures in unexpected places as well. There are plenty to find.
Authors' stories
Cheshire is where Kate Simon grew up, first in Alsager and later in Nantwich. When she moved to London to pursue a career in journalism, she kept strong links with friends and family in the area but it was an invitation from Visit Cheshire in 2010 to write a food and drink trail for them that marked the beginning of her rediscovery of her home turf. A new view opened up to her as she travelled across the Plain to the foothills of the Peak District in one direction and the shores of Wirral in the other, seeking out the county's best food and drink producers and providers. It sparked a desire to tell more stories about this often disregarded county and led directly to this book, for which she persuaded her co-author to join her.
Suzanne King, too, grew up in Cheshire (in Poynton, Cheadle Hulme and Alderley Edge) and since returning ten years ago to her northwest roots, she has been relishing the 'Slower' pace of life it offers. For both of them, co-authoring this guide provided the perfect chance to revisit old haunts and discover new ones as they walked the county's hills and towpaths, explored its gardens and stately homes, and stocked their cupboards with fine local produce from the many excellent farm shops.