Visas
Getting there and away
Getting around
Visas
For a long time a bureaucrat's dream, Uzbekistan is opening up fast and dispensing with Soviet-era red tape. There's no need now for a Letter of Invitation to get a tourist visa – increasingly, there's no need for a visa at all (if you do need one, in many cases this can be done online).
Unless your country is on the visa-free list, you will need a visa (paper or electronic) before you fly. The easiest option is to apply for an e-visa at www.e-visa.gov.uz, which costs US$20 and is valid for 90 days from the date of issue for a single entry and a stay of up to 30 days in Uzbekistan (but not beyond the expiry date of the e-visa).
Even if your country is on the visa-free list, a standard visa is required if you wish to visit other countries and return to Uzbekistan, or if you wish to stay in the country for more than 30 days. To get one, fill out the online application form at www.evisa.mfa.uz and print it. Be sure to sign it in black ink as this box is easily overlooked. Submit the form with two passport photos, a photocopy of your passport and the passport itself to the embassy.
Getting there and away
For somewhere so centrally located geographically, Uzbekistan can be surprisingly challenging to reach. There is a shortage of direct flights from Europe and the US, land borders open and close on a whim, and arriving by train requires a passport full of transit visas and the patience of a saint.
By air
The vast majority of visitors arrive in Uzbekistan on a flight to Tashkent and this is, on balance, the easiest way to travel. With the exception of Uzbekistan Airways, direct flights to Uzbekistan tend to come only from the Middle East, Russia and the other CIS countries. Otherwise, you'll probably have to get a connection in one of the regional hubs (Almaty, Istanbul or Moscow).
By rail
The stations of the Tashkent metro are beautifully decorated; each has an individual theme © Lukas Bischoff Photograph, Shutterstock
There is a certain romance attached to train travel, and if you have the time to sit and watch the world pass by at a leisurely pace (very leisurely in the case of the old Soviet rail network), it is still a viable way to reach Uzbekistan. Depending on your nationality, you may need transit visas for the countries en route.
Ticket classes are categorised in the Russian style. First-class accommodation (Spalny Vagon; SV or es-veh; also known as deluxe) buys you an upholstered seat in a two-berth cabin. The seat turns into a bed at night. Second class (Kupé) is slightly less plush, and there are four passengers to a compartment. Third class (Platskartny) has open bunks (ie: not in a compartment) and lots of interaction with fellow passengers. Bring plenty of food for the journey, and keep an eye on your luggage, particularly at night, as theft is sadly commonplace.
There are three trains a week between both Moscow and Tashkent and Almaty (Kazakhstan) and Tashkent. The Moscow service (train numbers five or six depending on the direction of travel) takes 62 hours, with tickets starting from US$166. The Almaty service is a modern Talgo train which takes 16½ hours, with tickets starting from US$14. There's also a weekly train from Bishkek (Kyrgyzstan) to Tashkent, passing through Kazakhstan (20hrs 40min; tickets starting from US$55); it actually starts from Balykchy (formerly Rybachye), a resort on Lake Issyk-Kul. From Tashkent, weekly trains also run to Ekaterinburg, Novosibirsk and Ufa in Russia.
The train timetable for the whole Russian rail network (including central Asia) is online at www.poezda.net. The Uzbek Railways site, parts of which are in English, is www.uzrailpass.uz. The Man in Seat 61 also has detailed information, including personal reports, about train travel in the former USSR.
By road
Personally, we prefer to reach Uzbekistan overland, not because customs and immigration make it a particularly easy or pleasant experience, but because of the freedom having your own transport gives you once you finally make it inside. If you are bringing your own vehicle into Uzbekistan (regardless of the entry point) you will have to declare it on the usual customs form, plus fill in additional paperwork to be entered on to the computer system. Theoretically at least, you will not be allowed to leave the country unless you take the vehicle with you. You may be told that right-hand-drive vehicles cannot enter Uzbekistan; this is not true so hold your ground. Expect to have the vehicle thoroughly inspected, sluiced with disinfectant, and to have all of its contents (sometimes right down to the jack and spare wheel) passed through the X-ray machine.
Getting around
Uzbekistan is a large country, and though road infrastructure between the main cities is steadily improving, travelling from A to B by road can still take up a significant proportion of your time. This is particularly true if you plan to travel from Tashkent to Khiva, Nukus or other sites in Karakalpakstan. If you are short on time, consider a domestic flight or overnight train journey. However you choose to travel, look out of the window and try to enjoy the views. It's all part of the big adventure.
By air
Uzbekistan Airways has domestic flights connecting Tashkent with other major cities in Uzbekistan; Samarkand, Bukhara, Nukus and Urgench are served on a daily basis, while Andijan, Fergana, Namangan, Navoi and Termez see between two and four flights weekly. All these flights take around an hour (1 1/2hrs to Nukus or Urgench). Poor Karshi has just one return flight a week, as does the Samarkand–Nukus route. Fares are not high – from Tashkent it costs US$10 to fly one-way to Samarkand, or US$49 to Nukus.
By rail
High-speed trains make it very easy to travel from Tashkent to Samarkand, Bukhara and Khiva. Slower (but still perfectly decent) trains also run on the same routes, although buses, minibuses and shared taxis cost much the same and may be faster. For longer-distance journeys (from Tashkent to Nukus, Termez, Urgench and various other cities), flying is the fastest option, but travelling by train is cheaper, more spacious and allows you to save on overnight accommodation. Journeys are listed on the Uzbekistan Railways' website, where you will find an up-to-date schedule for the entire network and ticket prices, which are updated on a regular basis.
Uzbekistan's railway network has seen a lot of recent investment, especially on the main tourist axis from Tashkent to Samarkand, Bukhara and Khiva. The most useful train is the high-speed Afrosiyob service, which links Tashkent, Samarkand, Shakhrisabz, Bukhara and Khiva and is targeted at tourists, though locals make use of it as well. It is more expensive than the slower trains operating the same route, but makes a day trip to Samarkand possible.
By road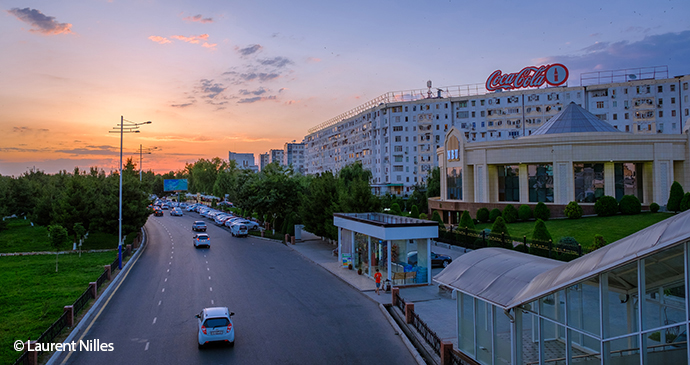 Although your journey may take time, you will witness some spectaular scenery, like this stunning sunset © Laurent Nilles, @societyofexploration
Wherever you want to go in Uzbekistan, getting there is half the fun. Hitchhiking and riding around in the back of a truck are still distinct possibilities in remoter areas, but in general things are getting easier: the new multi-lane highway under construction between Bukhara and Khiva should be completed during the lifespan of this edition, greatly reducing driving times to the west of the country. It is, however, a big project and progress is slow. There's a distance marker every kilometre along the main highways, along with a reasonable number of road signs in Latin script.
However close your destination, you should allow plenty of time to get there. Snowfall and avalanches stop even the most determined of drivers in mountainous areas, and it's not uncommon for vehicles to run out of fuel. The journey may take a while, but you will get there eventually, inshallah (God willing). Bad roads and cramped buses can be physically very wearing, so make sure you factor in as much time as you can between long trips for recharging your batteries.
One thing to bear in mind when travelling by road is dust. Even on predominantly paved roads there is plenty of sand and grit. Keep a scarf or bandana handy to protect your nose and mouth and keep anything that might get damaged (specifically electronics) inside the vehicle with you, as any bags on the roof will look like they've been through a dust storm.
By bus
Uzbekistan's buses fall into two categories: the relatively modern, usually Chinese-made buses that serve set, inner-city routes and take approximately as many passengers as they have seats, and the marshrutka: mostly overcrowded Damas minibuses built in Urgench. These minibuses, sadly, are by far the more common, and if you are travelling between smaller cities they'll be the most frequent form of transport. You are not guaranteed a seat, and will likely spend much of your journey with someone else's shopping on your lap and their elbow in your face. Buses and minibuses operate between all of the major cities and towns in Uzbekistan. As a rule of thumb, you will pay around US$0.50 per hour of bus travel, and US$0.70 per hour of minibus travel. The minibuses drive much faster, so the cost of a ticket to any destination tends to be roughly the same.
By taxi
Most towns have taxis. Drivers instantly mark up their fares for a foreigner, so be prepared to haggle. Th ere are two types of taxi: professional taxis, which may even have a sign on the roof and can sometimes be summoned by calling a central taxi-dispatch office (around US$1 for 2km), and general motorists who are happy to pick up passengers and drop them at their destination for a few thousand som. In both cases you will need to agree a fare at the start of your journey and be prepared to stop and ask directions en route. Having a map and the name of any landmarks close to your destination will certainly help, as will writing down the address in Uzbek.
For longer drives it is often possible to hire a car and driver (who will not, as a rule, speak English). Again, you will need to confirm the price in advance, though remember the final price may depend on the distance driven. To give a rough indication, you can expect to pay US$60–70 a day for a week or US$70–80 a day for a few days. Ordinary taxi drivers may consent to being hired for several days, otherwise approach a local tour company or hotel.
Self-drive
Having your own vehicle gives you the ultimate freedom to travel where you want, and we would thoroughly recommend it. The key to safe driving in Uzbekistan is to constantly look out for cars stopping suddenly to the right (as every car is potentially a taxi) and to the left, as they try to make a swift U-turn through a gap in the central barrier. Surprisingly perhaps, drivers also stop on the flashing green phase that precedes the amber and red lights and give way to traffic entering roundabouts (ie: there is priority to the right). They pass breathtakingly close to other vehicles, and you can assume they're all on their phones.
Road surfaces vary greatly, with a gravel surface suddenly giving way to a kilometre of deeply rutted tracks. A 4×4 is not essential for overlanding, but it certainly makes a more comfortable ride on bad roads. In more remote areas, particularly in the mountains mud and landslips can be a challenge, especially in spring, while rocks, pot holes and random obstacles can blow a tyre at any time of year. You will need the extra power to keep yourself from getting stuck. The Land Rover is still the vehicle of choice for most overlanders, but getting parts in Uzbekistan is nigh on impossible: you'll need to bring your own spares, or compromise and get a Toyota Hilux, which local mechanics will be more familiar with.
Petrol (benzin) is sold by the litre and is usually available as 91 or 92 octane – 95 octane is much rarer. Diesel (80 octane) is significantly cheaper and has the added advantage that you can always siphon some off a truck (with the driver's permission) if you run low in the middle of nowhere. Along with fuel, carry as much water as possible, both for yourself and to cool your engine in case of overheating. Most local vehicles use gas (methane or propane), far cheaper than petrol or diesel but it doesn't last long – every journey over a couple of hours requires a fill up (when all passengers have to get out and wait at the petrol station's exit). There are now no shortages of fuel for cars (although lack of fuel for heating houses leads many to move from villages to city apartments for the winter), and petrol stations are fairly easy to come by.
You need to be well prepared and do your research beforehand (the encyclopaedic Vehicle-dependent Expedition Guide by Tom Sheppard and The Adventure Motorcycling Handbook by Chris Scott stand out) but Uzbekistan has some spectacular drives and some out-of-the-way destinations it would be a pity to miss out on just because of lack of your own transport.