Climate
When to visit
Highlights and suggested itineraries
Climate
The climate of Tibet is cool and dry. With an average elevation of 4,500m, the weather in Tibet can best be described as extreme, oscillating from searing heat to freezing cold – sometimes in the course of a single day. It is possible to be simultaneously hot and cold, if a person's head is in the shade, but his or her legs are in the sun. Climatic conditions vary with elevation and exposure: there is little moisture in the atmosphere and intense UV rays can be problematic.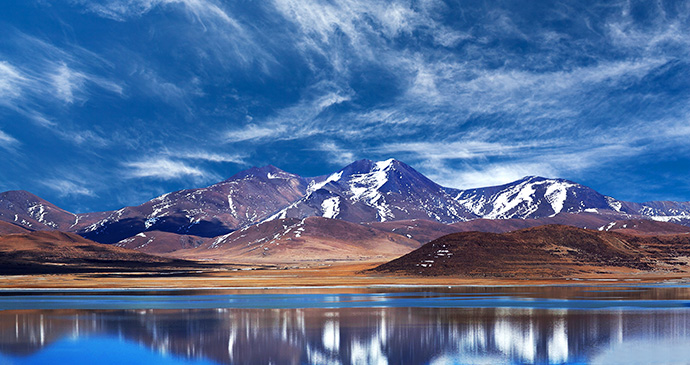 Fed by glacial meltwaters, Peiku Lake is surrounded by snow-capped 6,000m peaks © Zzvet, Shutterstock
There is no best time to visit Tibet: the weather is unpredictable and, no matter which season, there are extreme conditions to deal with. Few travellers visit during the winter, however, because of treacherous road conditions, because access flights often close down for this period, and because Nepali hotel and restaurant managers head back to Kathmandu for the winter season.
Spring
March to May. Strong winds are possible and can whip up dust storms and sandstorms. However, this is one of the better trekking seasons, when conditions are not too hot.
Summer
June to August. In this period are higher temperatures, which are conducive to staging festivals such as horse-racing fairs. Most of Tibet's rainfall occurs during July and August. In southern and eastern Tibet, the Himalaya form a barrier against the rain-bearing monsoons, so Tibet does not experience heavy monsoons like Nepal, Sikkim or Bhutan. However, in Tibet rainwater build-up combined with glacial meltwater can result in rampaging rivers and flooding in the autumn.
Autumn
September to November. As a result of the aforementioned rampaging rivers, travel in autumn is prone to delays due to mudslides, flooding and bridges that have been swept away. Otherwise, it's not a bad time to travel, and it can be sunny.
Winter
December to early March. Severely cold conditions and snowfalls can shut down high passes to traffic. The Tibetans call the plateau Kangjong (Land of Snows), but the sun is quick to melt off snowfalls in the central Tibetan region. February and March are good festival months: Losar (Tibetan new year) falls in this period and during this time there are many nomads in Lhasa.
When to visit
April to October is the best time. November is starting to get cold. December and January can be freezing, with heavy snow blocking high passes and poor driving conditions. February is Tibetan New Year and though cold it can be lively, if you can get in. April can be windy; there's a rainy season around July and August, when flooding can cut off roads and wash out bridges. Because Tibet is so large, climate conditions change from east to west and with the elevation. Because of these elements, Tibet is really only open to foreigners for seven months a year, from the start of April to the end of October. Read on to find out why March is likely to be closed.
Timing, festivals and sensitive periods
Rules and regulations concerning travel in Tibet change as often as the weather does with El Nino, so the following sections may be out of date by the time you plan your visit. If so, make adjustments. There are several times of year when it is difficult or impossible to get into Lhasa. Winter is an obvious one – there are no flights from Kathmandu and fewer from Chengdu. The Chinese may be nervous if some military bigwig or political leader is visiting, and they might just shut the whole of Tibet down for a few weeks. Nothing is guaranteed in Tibet, and no guidebook written in stone. Allow for changing information.
The Tibetan calendar is filled with unofficial anniversaries, and security is tight at these times, with Chinese troops on alert ten days before and after the sensitive period. You may have trouble getting into Tibet or travelling around at these times. The easiest travel months are April, June and August (however, June to August is the most heavily booked period for flights into Lhasa). Among the 'hot' times are:
Losar Tibetan New Year, around February
5 March Commemorating major protests in 1988–89
10 March Anniversary of 1959 Lhasa uprising, and marks the start of the Tibetan spring – protests across the entire plateau in 2008
14 March Commemorating riots of 2008 uprising
23 May Marks the 1951 surrender to the Chinese with the 17-Point Agreement
6 July Dalai Lama's birthday
27 September Start of 1987 riots
1 October 1987 protest in which Tibetans were shot dead
10 December International human-rights day, which sparked a protest in 1988
Tibetans sometimes gather at countryside locations to picnic and throw tsampa in the air to mark special occasions. In Lhasa, this practice has been banned by Chinese authorities.
Because the Chinese are nervous about large gatherings of Tibetans, traditional festivals are low profile – indeed, for a number of years, festivals were banned outright. If you get a chance to see something more formal, like a festival in the countryside, go! If you're lucky there might be a horse-racing festival in progress at Damxung (Damshung) or Gyantse, or a tanka-unfurling ceremony at one of the monasteries within reach of Lhasa. There used to be festivals at every full moon in Tibet, but many were abolished by the Chinese authorities. The festivals that survive are based on the lunar calendar, which is complex and unpredictable (usually only announced in February, at Losar or Tibetan New Year). Ask around when you arrive in Tibet to confirm if there are likely to be any festivals in progress.
Highlights and suggested itineraries
A key factor in route planning is addressing this question: what do you want to see? What piques your interest? It's a good idea to pinpoint places of high interest to determine where this takes you on an actual map. Photocopy maps from this guidebook, get a colour felt pen, circle destinations of high interest – and start joining the dots.
Highlights are subjective – they really depend on your interests. Some travellers see two or three monasteries and get 'templed out', while others seem to have an unlimited capacity for looking at monasteries. The key to visiting is to vary the sights – take in a temple or fort, go on a day hike or visit a hot spring. Sometimes you luck out and find these all in the same locale. The following is a shortlist of personal favourites, which is bound to be biased, of course. My bias is very simple: I favour things Tibetan – which may sound odd, but after you've been in Tibet a week or so, that comment will make perfect sense. Travellers come to Tibet looking for Tibet, not China. All too often what they get is a bull in a second-hand China shop. The main highlight of any visit to Tibet will be meeting the people. There are two guaranteed places you will see and meet lots of Tibetans: at festivals and at key pilgrimage sites. Tibetans have their own version of top sites, and these are sacred pilgrimage destinations such as Mount Kailash – the trip of a lifetime.
Top pilgrimage sites
You will find temple tripping much more enjoyable if you mingle with Tibetan pilgrims. Important pilgrimage sites are great for seeing people from all parts of Tibet. And interacting with them. Shiny-eyed pilgrims turn out in throngs at the most sacred spots, including the Potala, Jokhang and Barkor (Lhasa); Tashilhunpo (Shigatse); Kailash (west Tibet); Kumbum; and Labrang (Amdo).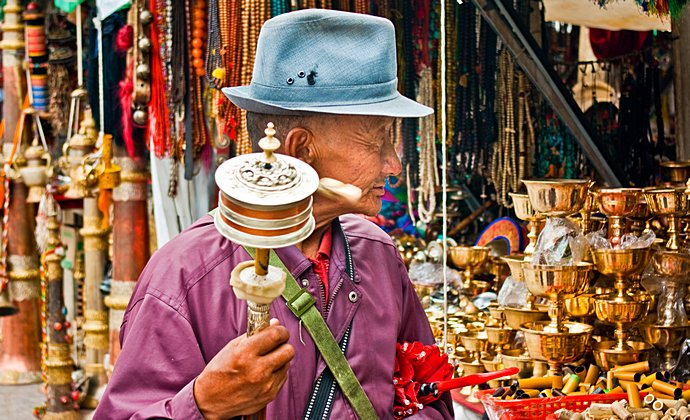 Barkor is one of several sites across Tibet popular with pilgrims © Antoine Taveneaux CC-BY-SA
Tibetan town architecture
Distinctive Tibetan style can be found in these places: the Tibetan Quarter, Potala, Norbulingka (Lhasa); Gyantse (Kumbum, fort, plus Pala Manor); Samye; and Xiahe (Labrang). It's becoming harder to find areas of pure Tibetan architecture due to encroachment by bland Chinese concrete-andkaraoke architecture.
Best atmosphere
Certain villages and small towns have a strong Tibetan ambience, with minimised Chinese influence, which means they are great places to stay longer and absorb. These places are more likely to be backwaters. In central Tibet, they include Tidrom hot springs, Samye and Gyantse. In west Tibet, the Kailash region is excellent. This is old Tibet – Tibet lost in time – where the Tibetan pulse runs strong.
Best forts
The majestic administrative centres of old Tibet. Most have been destroyed but these remain: Gyantse Dzong (used in the battle against British forces in 1904) and Yumbulagang (a rebuilt fortress-temple near Tsedang). The Potala in Lhasa is a prime example of fortress architecture. These castles in the sky are testament to the supreme stone-masonry skills of Tibetans.
Top active temples
Chanting, rituals and monastic life (even monastic debating) can be experienced at the Jokhang (the most revered temple in Tibet), Sera and Drepung (Lhasa), Ganden, Samye Monastery (the oldest in Tibet), Tashilhunpo (Shigatse – magnificent statuary), Sakya (Mongolian fortress-style temple with grand chanting hall) and Labrang (entire monastic citadel in Xiahe, Gansu). Sera Monastery in Lhasa sees regular afternoon debating.
Best hot springs
Tidrom Nunnery, Lhasa Prefecture – beautiful valley with Tibetan village and three enclosed hot springs for bathing.
Best day hikes
Back of Sera Monastery in Lhasa; hike to Hepo Ri viewpoint in Samye; hikes around Sakya; hike to top of Shining Crystal Dzong ruins in Shegar.
Top ruins
Guge Kingdom, in Zanda, west Tibet – though mostly destroyed, excellent murals can still be seen. Set in entrancing desert terrain riddled with caves.
Mountains, top treks
Kailash, sacred mountain – three- to four-day pilgrim circuit in a stunning setting. Everest, north face – a three-day trek into the base camp (you can also drive there); from here the highest trek in the world (without crampons) leads to advanced base camp at over 6,400m. Closer to Lhasa, the five-day Ganden–Samye trek is popular.
Yarlung Tsangpo Grand Canyon
Nothing comes close to this wonder of nature: it is more than double the depth of Arizona's Grand Canyon. Opening to Chinese tourism, but very difficult for foreign hikers or rafters to access. Closest approach is via Bayi and Linzhi in east Tibet.
Sacred lakes
Turquoise classics include Yamdrok Tso (with backdrop of peaks in Bhutan); Manasarovar (Kailash in background); Lake Namtso, with 7,000m peaks as backdrop; and Basum Tso, east Tibet. Pilgrims undertake koras (walking circuits) around sacred lakes. You can ride horses part-way along some circuits, such as Namtso and Manasarovar.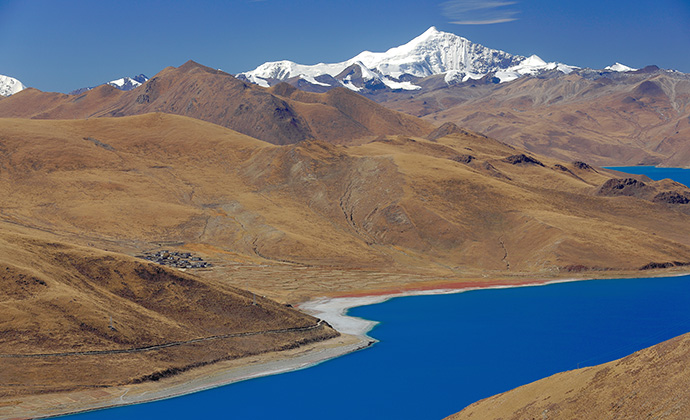 Yamdrok Lake: like mountains, lakes are considered sacred by Tibetan people © Rweisswald, Shuttesrtock
Nomads and grasslands
Nomads are being rapidly settled across the Tibetan plateau, but pockets of pastoral nomadism survive. The best place to see traditional yak herding is the Kham region around Tagong and Litang, where you can make extended visits for several days, hiking or on horseback, and arrange homestays in traditional stone buildings.
Adventure sports
Multiple-day camping trips can be organised from Lhasa –for rafting, kayaking, trekking or mountain bike forays. On your own, there are super trekking and mountain bike opportunities in Kham and Amdo.
Great road trips
Lhasa to Kathmandu route; Lhasa to Chengdu or Kunming; Lanzhou via Labrang to Chengdu (Amdo); Kunming via Litang to Chengdu (Kham); Chengdu via Tagong to Xining; and the Karakoram Highway. These are among the greatest road trips in High Asia. Excellent for mountain biking too.
Festivals
These follow the lunar calendar, and timing is unpredictable as they're often not announced. If you get a chance, go – festivals offer great people encounters. Summer (June to August) sees horse-racing fairs in Gyantse and other locations. However, Nagqu and Yushu horse-racing festivals both take place in a stadium, not on the grasslands. Litang horse-racing festival is among the most spectacular. Monasteries occasionally stage tanka-unfurling ceremonies or annual Cham dances.
Give it a miss
Avoid places where you see fake palm trees sprouting up. The worst town architecture prize goes to Tsedang, a complete Chinese town of the bathroom-tiling school of architecture, complemented by the odd fake palm. The town of Bayi in eastern Tibet is sprinkled with fake palm trees and mini-brothels. The most shocking experience in Lhasa is seeing Chinese high-rises – and fake palm trees on Yuthok Road.