Visas
Getting there and away
Getting around
Visas
This may sound odd, but the best place to get a long Chinese visa is within China – in Hong Kong. Hong Kong, since the handover, operates as a Special Administrative Region (SAR), with the Chinese Embassy simply altering its name to PRC Visa Issuing Office. The office is located in the China Resources Building in Wanchai – you can approach this office yourself, but travellers usually go through agents for convenience. In short order, in Hong Kong, you can pick up a one-month visa (can be processed next day, HK$350/US$45). Multiple-entry visas are possible, valid for one month each entry. Some travellers, especially Americans, may only be granted a one-month visa. A three-month visa for HK$350/US$45 was previously available but now seems elusive. The Chinese Embassy insists on receiving passport photos taken with a light blue background: the travel agency can arrange this.
There are certain things with which you should be careful when applying for a visa. Do not mention Tibet or Xinjiang as destinations. Travellers have had their visa application knocked back solely for doing this, and been told they need special permission to travel to those places. Safer destinations to mention are Beijing and Shanghai. Reason for visit: tourism. Your job: do not put reporter, journalist, writer, photographer, missionary, diplomat or politician, as your visa will not be processed. These people require special permission to travel in places like Tibet – this involves a complex procedure that may not succeed. Travel agents in Hong Kong will advise you how to fill in the application.
Visas have a coding on them: the L visa (luyo) designates a regular tourist; the F visa (fangwen) is a longer 'business' visa, also issued to cultural exchange students – this visa can raise eyebrows if you stray into Tibet; the Z visa is issued to those working in China. A visa issued in Hong Kong may start running immediately (from the date of issue), which means you'll lose a week or so just getting to Tibet. Visas from other embassies usually start from the date of entry into China, and will give you a two- or three-month leeway to get there.
According to the Chinese, Tibet is an integral part of China. When you apply for the visa, however, do not mention you want to go to Tibet. While a Chinese visa is good for Tibet, authorities there may not extend your initial visa in Lhasa without fulfilling demands like joining a tour. Therefore get the longest visa you can – two months, three months – at the point of origin. Not all Chinese embassies abroad are created equal. Some will grant you three months, others two months maximum, and still others only one month.
Embassies closer to China are the most liberal in issuing longer visas, it seems. Hong Kong is good (three-month visa or longer is possible); Hanoi is not bad (two months possible); Islamabad offers a two-month visa; the Delhi embassy may provide a two-month visa if prodded (but otherwise will only issue one month); the Bangkok embassy normally issues visas of only one month. You might try your home country to see if you can wangle a three-month visa. Explain that China is a big place and you need a long time to see it all. Visa extensions are dodgy within Tibet, but may be possible in big cities in China.
Applying for a Chinese visa in Kathmandu is troublesome, because the Chinese Embassy there is in the habit of only issuing visas for the length of a tour to Tibet booked through an agent in Kathmandu. You cannot apply to the embassy as an individual: you can only approach them through a travel agent. If you already have a Chinese visa issued elsewhere and apply for a short Tibet tour in Kathmandu, the embassy in Kathmandu is likely to cancel it and reissue another visa valid for the length of the tour. If you do not want this to happen, argue the case that you want to fly on from Lhasa to Beijing after their tour and need the extra visa time.
Getting there and away
Getting into Tibet is a two-, three- or four-part operation. First you need to cue up arrangements well in advance with an agent for the TAR itinerary. Then you have to make it to a staging-point such as Bangkok, Hong Kong, Kathmandu or Chengdu. Then you wrangle with more paperwork and ticketing, run the gauntlet of Chinese officialdom into China, and strike for Lhasa. Think of this exercise as 'hitting the roof ' – an oblique reference to the way you will feel when you deal with Chinese officials. It's also what will probably happen to you when you ride in a rental vehicle in Tibet.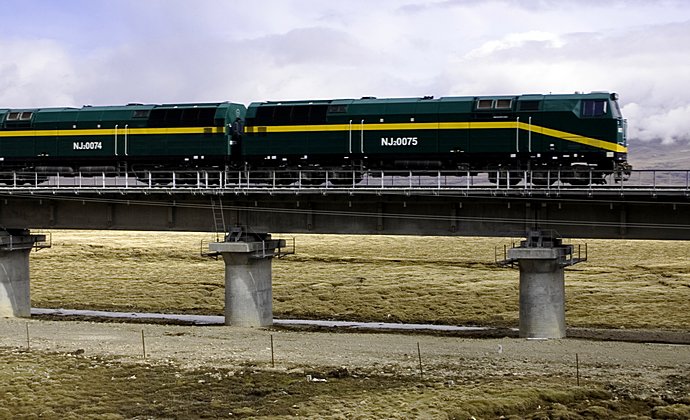 The Qinghai–Tibet railway includes the highest-altitude section of railway in the world © Jan Reurink CC-BY
Route strategies
Direction of travel becomes very important in Tibet. Getting in from Kathmandu to Lhasa is a killer (problems with permits and altitude), but exiting from Lhasa to Kathmandu is a piece of cake. Because Nepal to Tibet is an international arrival, it leads to many more visa and red-tape complications. Travellers obsessed with getting to Tibet go to great lengths: having found their route stymied in Kathmandu, some travellers have flown all the way back to Hong Kong and back to Chengdu, and then back to Lhasa! (There's also a direct Kathmandu–Chengdu flight, but it is very expensive). If you look at the map, you can see why that rerouting costs a small fortune as opposed to a direct Kathmandu–Lhasa flight. Occasionally Chengdu is blocked too – possibly because of some Chinese official visiting Tibet – and travellers have proceeded all the way up to Golmud by land, and then overland to Lhasa.
More than in most places, you need to think about your route to and from Tibet because of visa complications. There's only one consulate in Lhasa – the Nepalese (you actually don't need a Nepalese visa as you can pick it up on arrival). That's fine, but what about going overland to Kashgar, via Xining, and then exiting on the Karakoram Highway into Pakistan? The nearest place for a Pakistan visa is Beijing. The overland travel situation is much easier in Kunming, which has consulates for Vietnam, Laos, Burma and Thailand. Visa acupuncture points for Asia include Kathmandu, Hong Kong, Bangkok, Hanoi, Singapore, Beijing, Islamabad and Delhi. Some visas are readily available upon arrival by land or air: these include the Nepalese visa, Thai visa, and Hong Kong entry visa.
Getting around
All roads lead to Lhasa. Sooner or later, you will end up there. Getting around the towns in Tibet presents little problem: they are mostly small enough to walk around. Larger cities like Lhasa, Shigatse and Tsedang have public buses plying the streets, and fleets of Volkswagen taxis roving around (you can also hire these by the day or half-day). Another taxi-like option is using the motorised three-wheelers and foot-powered trishaws as transport. Renting a bicycle is another excellent way of getting around, if you can find one (easy in Lhasa). In Shigatse, you can take a walking-tractor – a tractor with handlebars controlling the engine up front, and a carriage at the back – across town for a small tariff.
Permits and prefectures
Within Tibet you are classed as an alien, and you require an Alien Travel Permit (ATP). Various annoying pieces of paper with fancy chops (Chinese signature markers) and seals dog your movements into and around Tibet – this is not like mainland China where you can virtually travel without restriction. Apart from ATPs, other permits are issued: TTB, military, Foreign Affairs, Cultural Bureau permits. Foreigners are usually never shown these documents, nor allowed to keep them – they're classed as secret. The guide will keep the permits (you could try to get a photocopy). To get an overview of the complicated situation for permits, consult the map (see above) showing prefectures of the TAR with area codes. The TAR is divided into seven prefectures, each with its prefectural capital or seat, and each with its own telephone area code. Permits are normally only issued in the prefectural capital, although permits for any destination can be issued in Lhasa through agents.
By rental vehicle and guide
The Chinese insist that the only way you (as a foreigner) can get around Tibet is in a hired vehicle (usually a Toyota Landcruiser or similar means of transport, such as a Hyundai van, Buick van, Toyota van or Mitsubishi Pajero) with a driver and guide. This works out to about US$230 a day which, split between four paying passengers, is less damaging. Most of the operators are connected to Chinese channels – routes may be monopolised by TTB-connected vehicles. Vehicle hire is the greatest expense you'll incur in Tibet. Many vehicles operate on the Lhasa to Kyirong run (to the Nepalese border). You can possibly find them in Shigatse (but don't count on it). Most make use of Lhasa as the home base. One peculiar phenomenon you will have to deal with in Tibet is called 'hitting the roof '. This is when the vehicle (which has no seat belts) hits a rut and launches those in the back seat straight into the roof. It hurts! To soften the impact, think about wearing a wool hat or something similar. The idea of padded interiors has not caught on yet.
By taxi
Taxis are intended to be a mode for getting around larger towns like Lhasa, Shigatse or Tsedang. However, they also commute from Gongkar Airport into Lhasa, a distance of around 75km, so think about this: they're much cheaper than hiring your own transport. Taxis are viable if the road is paved and in good condition: you can also hire a taxi by the half-day or full day and use it as your touring vehicle, which makes sense if three or four travellers get together to share the rental.
On your own
You need considerable stamina, perseverance and devious ingenuity to mount your own trips in Tibet and break away from the vehicle and guide syndrome. In the pre-2008 days of Tibet travel, when permits were lax, travellers hitchhiked on trucks and took local buses, or proceeded on foot. Crazy dreamers have found ingenious ways of getting around inside Tibet. Back in the early days of independent travel in Tibet, in the 1980s, two Americans transported their kayaks up to Lake Manasarovar and started paddling the Yarlung Tsangpo – they made it part of the way. A young Englishman managed to bluff his way through the Nepal–Tibet border with a motorcycle, and he was out by the Great Wall by the time the authorities caught up with him. Others have rented (or bought) yaks or donkeys to carry their gear, and headed off on long hikes, and have indulged in camping and horse racing combination forays.
If you have money coming out your ears, of course, you can arrange to realise any dream you want through official channels. All the paperwork and aggravation might take some of the joy out of it, though. I've met several trios of motorcyclists from Europe who've been all over Tibet and Xinjiang on their imported bikes. They would not, however, divulge the cost of the entourage of vehicles accompanying them (with national guide, local guide, translators, medic, etc). A high-end hotel in Lhasa quoted a price tag of Y12,000 for each motorcyclist on a five-day sortie to Everest base camp (based on three riders, with BMW 800cc motorcycle supplied).