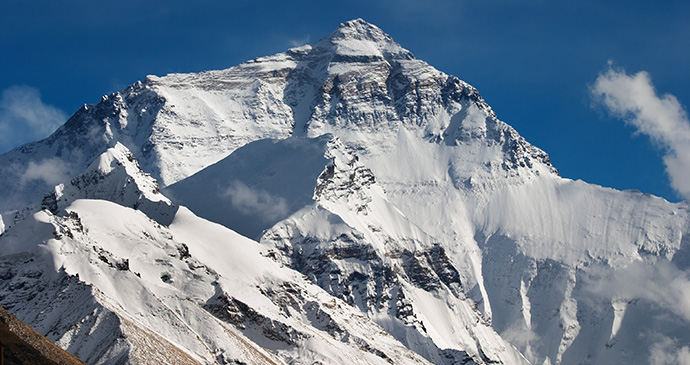 Everest's world record 8,848m summit is shared with neighbouring Nepal © Dmitry-Pichugin, Shutterstock
Mount Everest base camp: the awesome north face of the world's highest peak will blow you away.
In 1921, the Tibetan government opened the Himalaya to the British. The first nine expedition attempts on Everest were made from the Tibetan side in the 1920s and 1930s, because Nepal was inaccessible to Europeans at the time. None of these teams succeeded. Early expedition climbers wore woollens, thick tweeds, Norfolk jackets and studded leather boots. The only hardware was ice axes and primitive crampons, but oxygen tanks were also lugged along.
From Rongbuk (or from your tent camp) you can walk or take the 'eco-friendly' bus for the final stretch on the dirt track out to the North Face base camp (aka EBC), at an elevation of 5,150m. The 'eco-friendly bus' is operated by tourism authorities for the April–October season and costs Y25 a person. Then it closes down, so you can take your own 4×4 for the final leg in the late October to early April low season. The base camp is 8km from Rongbuk and 4km from the tent camps. This might better be termed 'Everest Tourist base camp', as the real base camp for mountaineers lies further on. The tourist base camp is a motley collection of tent teahouses and other temporary structures. You can stay in a teahouse for under a dollar a night. Tibetan vendors pursue visitors and try to sell them fossils and cheap jewellery. The area is a glacial moraine – a bleak and desolate place – but awe-inspiring because it is so close to the Big E. It is also home to the highest post office in the world, a kiosk run by China Post, where for an extra fee you can drop a postcard or two that will be franked with an Everest postmark.
At the edge of the tented area is a sign that says you are not allowed to proceed further, on risk of paying a fine of US$200. Trekking beyond EBC to Advance Base Camp is possible but must be arranged well in advance, like all travel in Tibet. The four-day trek would take you out to the real mountaineering base camp and back.
Beyond base camp lies a trek described by Gary McCue (Trekking Tibet) as 'the Highest Trek in the World … an incredible journey to Camp III (6,340m) and to the base of the North Col via the East Rongphu Glacier'. McCue says that the ascent is possible without climbing gear, though it would be advisable to have items such as crampons when traversing the glacier. You need excellent trekking and sleeping gear, and you need to tackle considerable logistics to undertake such a strenuous –and potentially hazardous – journey.