Getting there and away
Getting around
Visas
Unless you are a CIS national, you will almost certainly need a visa to enter Tajikistan. The Ministry of Foreign Affairs now offers an electronic visa for tourists that can be processed online through a special website. The process usually takes two business days, requires a scanned copy of your passport (with at least 6 months' validity remaining) and planned itinerary, and costs US$50, plus an additional US$20 if you wish to visit the GBAO. Otherwise, you should apply in good time (at least two weeks ahead of your intended arrival), and ideally in your country of residence (if it has a Tajik consulate).
If your country does not have a Tajik consulate you can send your passport to a consulate in another country, apply in person in another country or, occasionally, arrange with a travel agent to collect your visa on arrival at Dushanbe airport. Visas will not be issued on arrival to the nationals of countries where there is a consulate, and will not be issued to anyone at the land borders.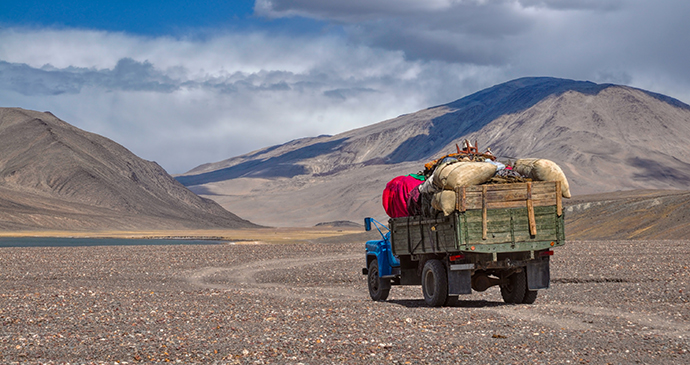 The visa application process is relatively straightforward. A letter of invitation (LOI) is not required for the standard 45-day tourist visa, so if you do not wish to apply online, you can simply download the visa application form from the Ministry of Foreign Affairs website and fill it in. If you require a double or multiple-entry visa, be sure to tick the correct box. You will need to submit it with a photocopy of your passport, a passport photo and a printout of your airline ticket or other proof of onward journey. The last is a recent requirement. A copy of your planned itinerary is also advisable. Submit all the paperwork along with your passport and the appropriate fee. Processing usually takes one week, though some consulates can fast-track the processing for an increased fee.
It is important to note that while the standard tourist visa grants up to 45 days in Tajikistan, the GBAO permit is only good for a maximum of 30 days. If you want to stay longer in Tajikistan but are coming to the end of your visa, it is possible to get an extension in Dushanbe at the Ministry of Foreign Affairs. You will need a photocopy of your passport and two passport photos and, having paid the requisite fee at the designated bank, your passport should be ready for collection two working days later. It may also be possible to get an extension at an Office of Visas and Registration (OVIR) but you should allow longer for this: in Khujand we were quoted ten days.
Getting there and away
However you choose to travel, Tajikistan is not a particularly easy country to reach. Land borders open and close somewhat erratically, flights are irregular at the best of times and cancelled at the first sign of bad weather, and wherever you arrive from by train you'll require a passport full of visas and the patience of a saint.
By air

The vast majority of visitors arrive in Tajikistan on a flight to Dushanbe and this is, on balance, the easiest way to travel. Unless there are extenuating circumstances, you will need to have a visa before boarding the plane and may be prevented from flying if you do not.
The safety record of many of central Asia's airlines, including Tajik Air, is such that they are prevented from flying in European airspace. Tajik and Somon Air do, however, serve a number of more localised routes, including to Moscow and Istanbul. Aircraft are typically far older than those in service elsewhere, and they have not always been maintained to international standards. It is likely, therefore, that if you take a flight originating in Europe or the USA you will need to get a connection in one of the regional hubs (Almaty, Istanbul or Moscow). Direct flights to Tajikistan tend to come only from the Middle East, Russia and the other CIS countries.
The arrivals procedure is relatively straightforward. When you enter the terminal building collect an immigration form (a long, thin slip usually covered in advertising for the Beeline mobile phone network), fill it in and then wait in the immigration queue. Everything will get stamped, and part of the slip will be returned to you. Don't lose it as you'll be expected to hand it over when you leave.
By train
There is a certain romance attached to train travel, and if you have the time to sit and watch the world pass by at a leisurely pace (very leisurely in the case of the old Soviet rail network), it is still a viable way to reach Tajikistan. Regardless of where the train originates, you will need to ensure you have a valid transit visa for every country en route, as well as a visa for Tajikistan.
Ticket classes are categorised in the Russian style. First-class or deluxe accommodation (spets vagon) buys you an upholstered seat in a two-berth cabin. The seat turns into a bed at night. Second class (kupe) is slightly less plush, and there are four passengers to a compartment. Third class (platskartny) has open bunks (ie: not in a compartment) and, if you are really on a very tight budget indeed, a fourth-class ticket (obshchiy) gets you an unreserved and very hard seat. Bring plenty of food for the journey, and keep an eye on your luggage, particularly at night, as theft is sadly commonplace.
There is a certain romance attached to train travel, and if you have the time to sit and watch the world pass by at a leisurely pace (very leisurely in the case of the old Soviet rail network), it is still a viable way to reach Tajikistan.
There are three main train routes to Tajikistan. There are two trains a week in each direction between Moscow and Dushanbe, a weekly service between Moscow and Khujand, and a twice-weekly service between Samara (Saratov) and Khujand. All these services pass through Tashkent; the Dushanbe train also passes through Samarkand. Tickets to Moscow (second class) start from just over US$145 and the trip takes four days.
The train timetable for the whole Russian rail network (including central Asia) is online at www.poezda.net. The Man in Seat 61 also has detailed information, including personal observations, about train travel in the former USSR.
By road
Our preferred way to enter Tajikistan is through a land border, not because customs and immigration make it a particularly easy or pleasant experience, but because of the freedom having your own transport gives you once you finally make it inside.
The information given below was correct at the time of going to press. However, border crossings open and close regularly, often with little warning, and some crossings are open only to locals and not to foreigners. Keep your ear to the ground and, if in doubt, contact a tour operator or Tajik consulate before confirming your travel plans. We have previously ignored our own advice, with the result that we had to drive overnight from Panjakent to the Oybek crossing north of Khujand to leave Tajikistan before our visas expired. We would not recommend you follow suit.
Reaching Tajikistan from Afghanistan tends to be fairly straightforward, as diplomatic relations between the two countries are generally good. The two main border crossings are between Kunduz and Dusti at Panj-i Poen (Khatlon province), and at Ishkashim on the northern side of the Wakhan Corridor.
To enter Tajikistan at Ishkashim you will require a GBAO permit in addition to your Tajik visa. Pedestrians can also cross the suspension bridge over the Panj at Khorog and, if you have a transit visa for Uzbekistan, it would also be convenient (and a relatively quick drive) to cross from Afghanistan into Uzbekistan at Termez, then cross into Tajikistan at Denau.
Our preferred way to enter Tajikistan is through a land border, not because customs and immigration make it a particularly easy or pleasant experience, but because of the freedom having your own transport gives you once you finally make it inside.
These borders loosely operate 09.00–16.00 and are officially closed on Sundays and public holidays, though certainly at Ishkashim we've managed to look so downtrodden and miserable that the guards got the relevant officials out of bed and opened the border specially (there's not much to do in Ishkashim, perhaps). If your arrival happens to coincide with lunch you'll have to wait, but any food, drink (non-alcoholic if you're on the Afghan side) or cigarettes you have to share will certainly liven the experience.
Relations with Uzbekistan are a little more unpredictable, and hence at the time of going to press the most useful border between the two countries, the crossing between Samarkand and Panjakent, was closed. There is currently no discussion of it opening in the foreseeable future.
The Tursunzoda–Denau crossing west of Dushanbe remains open, and this is currently the best option if you are going to or from anywhere other than Tashkent and the northeast of Uzbekistan. It is well served by minibuses running in both directions, and providing you're not stuck behind a busload of returning migrant workers carrying all their worldly possessions, processing is fairly quick. The border guards are reportedly hyper-vigilant about searching through medications and your collection of digital photographs.
Getting around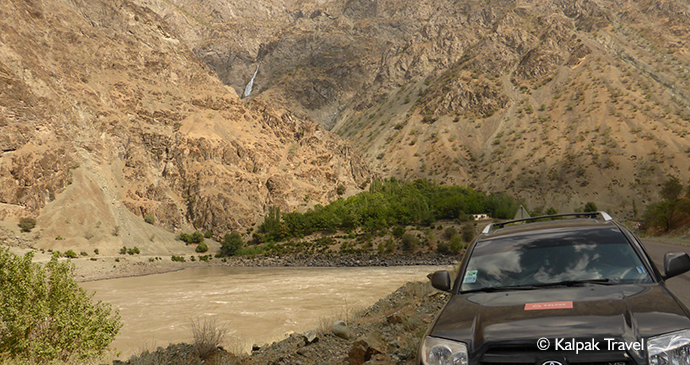 Tajikistan is not an especially large country, but the lack of infrastructure is such that travelling from A to B will always take up a significant proportion of your time. The best approach is to consider the journey itself as part of the adventure and, however you choose to travel, look out of the window and try to enjoy the views.
By plane
Tajik Air and Somon Air have domestic flights covering various destinations in Tajikistan, but the only two routes that fly regularly are those between Dushanbe and Khujand, and Dushanbe and Khorog. The timetable is movable at best, and flights are liable to be changed or cancelled at short notice, especially if the weather is poor. The availability of tickets for the Khorog flight is particularly unreliable as there is a maximum of 16 passenger seats on each flight, and one trekking party or NGO delegation can easily book out the whole lot. 
You should be aware that many of the planes in use are old and have not been maintained in accordance with international standards. The terrain and unpredictable weather conditions also make for challenging flying conditions. Weigh up the pros and cons of flying, sit next to the emergency exit if you have the choice, and if you are walking across the runway to the plane, do not walk in front of the propellers. Even at a distance of 20m it is possible for things to get sucked into the blades.
By road
Wherever you want to go in Tajikistan, getting there will be half the fun. Riding around in the back of a truck is still a distinct possibility, but things are getting easier: the amount of sealed roads has greatly increased, new tunnels are cutting the number of nail-biting mountain passes, and road-clearance crews work to keep the main highways clear of rockfalls and other debris.
However close your destination, you should allow plenty of time to get there. Taxi and minibus drivers may appear to be in a rush, but they're also the most likely to get flat tyres or to break down entirely. Snowfall and avalanches stop even the most determined of drivers. The journey may take a while but you will get there eventually, inshallah (God willing – you will hear this a lot!). Bad roads and cramped buses can be physically very wearing, so make sure you factor in as much time as you can between long trips for recharging your batteries.
By bus
Tajikistan's buses fall into two categories: relatively modern, usually Chinese-made buses that serve set, inner-city routes; and the mashrutka, overcrowded minibuses in varying stages of decay that are driven by devils on speed. Private bus company Asian Express offers services in large, air-conditioned coaches throughout southern Tajikistan from its main hub in Dushanbe.
Minibuses, however, are by far the most common, and if you are travelling between smaller cities in Tajikistan they'll be the most usual form of transport. You are not guaranteed to get a seat, and will likely spend much of your journey with someone else's shopping on your lap and their elbow in your face.
By taxi
Most towns have taxis. Drivers instantly mark up their fares for a foreigner, so be prepared to haggle. There are two types of taxis: professional taxis which may even have a yellow taxi sign on the roof, and general motorists who are happy to pick up passengers and drop them to their destination for a few somoni.
In both cases, you will need to agree a fare at the start of your journey and be prepared to stop and ask directions en route. Having a map and the name of any landmarks close to your destination will certainly help, as will writing down the address in Cyrillic script.
Self-drive
Having your own vehicle gives you the ultimate freedom to travel where you want, and we would thoroughly recommend it. You need to be well prepared and do your research beforehand but Tajikistan has some of the most remarkable drives in the world, and it would be a pity to miss out just because of a lack of transport.
A 4×4 is highly advisable for overlanding in Tajikistan, particularly if you want to get away from the main roads. You can frequently find yourself driving over mud and rock and through riverbeds, particularly in the spring, and will need the extra power to keep yourself from getting stuck. The Land Rover is still the vehicle of choice for most overlanders, but getting parts in Tajikistan is nigh on impossible: you'll need to bring your own spares, or compromise and get a Toyota Hilux, which local mechanics will be more familiar with.
Whatever your vehicle, there are several important points to consider. Fuel and water are top of the list. Carry as much fuel as you can to increase your range. Away from the large towns, fuel can sometimes be hard to come by and the quality is often low. It's worth filtering fuel through a specialised filter or piece of gauze to prevent the crud blocking the fuel lines. Make sure your spare container is kept topped up.
Petrol (benzene) in Tajikistan is sold by the litre and is usually available as octane 91 or 92. The 95 is much harder to come by. Diesel (80) is significantly cheaper and has the added advantage that you can always siphon some off a truck (with the driver's permission) if you run low in the middle of nowhere.
Along with fuel, carry as much water as possible, both for yourself and to cool your engine in case of overheating. Other essentials to carry are a comprehensive toolkit and manual for your vehicle, key spare parts and tyres (the locals often carry two), and a first aid kit. If you plan on doing any off-road driving, sand mats or chicks and a tow rope are strongly recommended.
By bicycle
Tajikistan is a popular destination for cyclists pitting themselves against the challenges of the Pamir Highway or passing through the country on a multi-country trip. It is not unusual to see Lycra-clad foreigners sweating their way up long and lonely hills, and they inspire both curiosity and confusion in the local population.