Visas
Unless you are a CIS national, you will almost certainly need a visa to enter Tajikistan. The Ministry of Foreign Affairs now offers an electronic visa for tourists that can be processed online through a special website. The process usually takes up to five business days, requires a scanned copy of your passport (with at least six months' validity remaining) and costs US$50, plus an additional US$20 if you wish to visit the GBAO.
As of 1 March 2020, you can now apply for an e-visa with multiple entries, which is ideal if you're planning a wider trip through central Asia and need to enter Tajikistan more than once.
Getting there and away
However you choose to travel, Tajikistan is not a particularly easy country to reach. Land borders open and close somewhat erratically, flights are irregular at the best of times and cancelled at the first sign of bad weather, and wherever you arrive from by train you'll require a passport full of visas and the patience of a saint.
By air
The vast majority of visitors arrive in Tajikistan on a flight to Dushanbe and this is, on balance, the easiest way to travel. Unless there are extenuating circumstances, you will need to have a visa before boarding the plane and may be prevented from flying if you do not.
Direct flights to Tajikistan tend to come only from the Middle East, Russia and the other CIS countries, although national carrier Somon Air is starting to open up new routes, including a new direct flight to New Delhi. It is likely, therefore, that if you take a flight originating in Europe or the USA you will need to get a connection in one of the regional hubs (Almaty, Istanbul or Moscow).
The safety record of many of central Asia's airlines is such that they are prevented from flying in European airspace, although Somon Air does serve a number of more localised routes, including to Moscow and Istanbul.
By train
There is a certain romance attached to train travel, and if you have the time to sit and watch the world pass by at a leisurely pace (very leisurely in the case of the old Soviet rail network), it is still a viable way to reach Tajikistan. Regardless of where the train originates, you will need to ensure you have a valid transit visa for every country en route, as well as a visa for Tajikistan.
Ticket classes are categorised in the Russian style. First-class or deluxe accommodation (spets vagon) buys you an upholstered seat in a two-berth cabin. The seat turns into a bed at night. Second class (kupe) is slightly less plush, and there are four passengers to a compartment. Third class (platskartny) has open bunks (ie: not in a compartment) and, if you are really on a very tight budget indeed, a fourth-class ticket (obshchiy) gets you an unreserved and very hard seat. Bring plenty of food for the journey, and keep an eye on your luggage, particularly at night, as theft is sadly commonplace.
There are three main train routes to Tajikistan. There are two trains a week in each direction between Moscow and Dushanbe, a weekly service between Moscow and Khujand, and a twice-weekly service between Samara (Saratov) and Khujand. All these services pass through Tashkent; the Dushanbe train also passes through Samarkand. Tickets to Moscow (second class) start from just over US$145 and the trip takes four days.
The train timetable for the whole Russian rail network (including central Asia) is online at www.poezda.net. The Man in Seat 61 also has detailed information, including personal observations, about train travel in the former USSR.
By road
Our preferred way to enter Tajikistan is through a land border, not because customs and immigration make it a particularly easy or pleasant experience, but because of the freedom having your own transport gives you once you finally make it inside.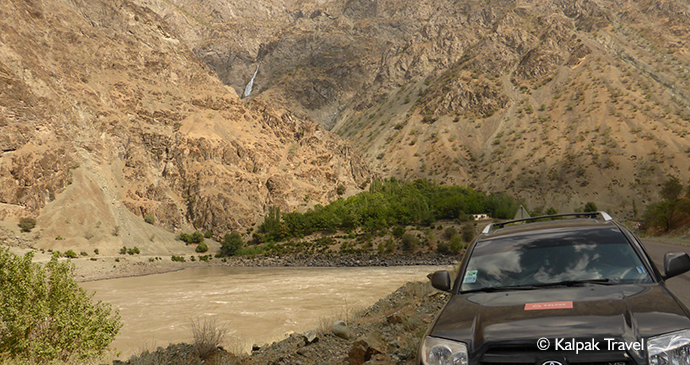 Border crossings open and close regularly, often with little warning, and some crossings are open only to locals and not to foreigners. Keep your ear to the ground and, if in doubt, contact a tour operator or Tajik consulate before confirming your travel plans. We have previously ignored our own advice, with the result that we had to drive overnight from Panjakent to the Oybek crossing north of Khujand to leave Tajikistan before our visas expired. We would not recommend you follow suit.