Visas
Nationals of the UK, USA, Canada, Australia, Ireland, Japan, New Zealand and more than 20 other European countries can stay in the ROC for up to 90 days without a visa.
Australians, Malaysians and Singaporeans can stay for up to 30 days. As well as tourists, visa-free entry can be used by those coming for business reasons or to receive medical treatment. However, if you're intending to work, teach or engage in missionary activities, you should contact an ROC embassy or representative office well in advance to find out what kind of visa you should apply for. See the Bureau of Consular Affairs website for information about visa-free entry, visa fees and online application forms.
Customs regulations
Taiwan's customs regulations are similar to those of other countries. Cold War-era rules barring visitors from bringing in newspapers or books printed in communist China were scrapped years ago.
If you've more than a litre of alcoholic drinks, 200 cigarettes, 25 cigars or a pound of tobacco, declare it when you enter the ROC. You shouldn't bring in more than US$20,000 in gold or US$10,000 in cash (or the equivalent in travellers' cheques or other foreign currencies) or more than NTD100,000 in Taiwanese money. For Chinese currency, the limit is RMB20,000. Full details are available at https://eweb.customs.gov.tw.
There's a tax-refund system for foreign visitors who shop at participating stores. If you spend more than NTD3,000 in a single day at any of these shops no more than 30 days before your departure, and you take the items with you when you leave Taiwan, you can reclaim the 5% VAT at the airport prior to boarding your flight. Complete details, along with a searchable list of participating shops and department stores, can be found at www.taxrefund.net.tw.
Getting there and away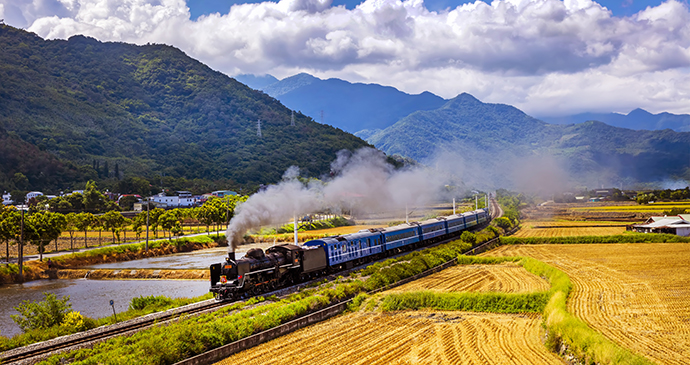 By air
Taiwan makes for a good stopover if you're flying between Australia and Japan or South Korea or from North America to Singapore or Malaysia. The bulk of scheduled international flights land at Taiwan Taoyuan International Airport near Taipei or Kaohsiung International Airport, the former handling all long-haul flights.
Both Taichung and Taipei Songshan airports handle several flights to east and southeast Asia per day. Flights between Taiwan and the Chinese mainland are classed as neither full international flights nor domestic flights.
By sea
The number of visitors arriving by sea has jumped and there are now several regular ferry services between Taiwan and the Chinese mainland, including from Kinmen, Taichung Harbour and Bali near Taipei. A number of cruise companies drop anchor in Keelung for a day while sailing around east Asia and the South Pacific
Getting around
Public transport in Taiwan is safe, inexpensive, reliable and comfortable. Smoking is not permitted on buses or trains or inside stations. Foreign visitors may encounter language problems, but the information in this guidebook combined with the kindness of many Taiwanese (both transport workers and passing strangers) should ensure you get from one place to another smoothly.
When taking any kind of bus or train, don't lose your ticket, as you'll need to show it – or run it through a machine – at your destination. Senior citizens holding discounted tickets on account of their age may be asked to provide ID showing their date of birth.
By air
Tourists are likely to fly only if they're heading to the east or one of the outlying islands. If weather conditions are right, flying Taipei–Taitung or Kaohsiung–Hualien is worth every penny of the fare for the stirring views you'll get of Taiwan's mountains and coastline.
By ferry
The boats that link Taiwan's mainland island with Penghu County, the Matsu Islands, Green Island and Orchid Island are a good option if you have plenty of time or dislike flying. There's no civilian boat service to Kinmen County. If you're heading to Little Liuqiu, the ferry from Donggang is your only option. Short-distance boat journeys include Tamsui–Bali and the ferry to Kaohsiung's Cijin Island.
By train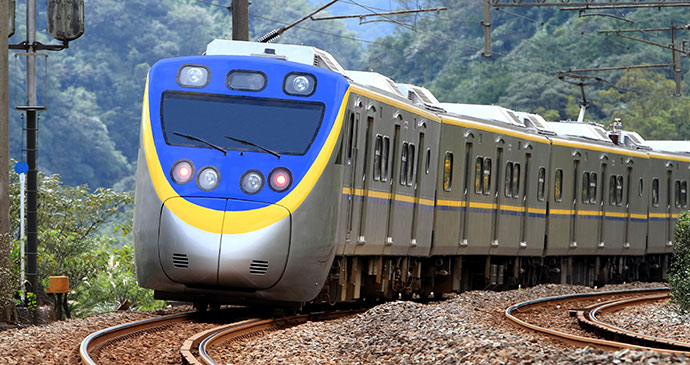 Taiwan has two railway systems, the government-owned Taiwan Railway Administration (TRA) and the high-speed railway (HSR).
By bus
There are several bus companies and they compete on price and comfort level. All coaches are air conditioned; many intercity services are equipped with personal entertainment systems that show TV programmes and movies but these may not include English-language options.
Major operators such as Kuo-Kuang and Ubus serve small towns such as Puli and Lukang as well as the big cities. Unfortunately, few companies have much English-language information on their websites, so you may need to go to the bus station and get timetable details in person. If heading from one big city to another there's usually no need to book ahead. Services are frequent and discount fares are often available midweek.
By car
If you can deal with the way some Taiwanese people drive and can accept dense traffic in urban areas, consider getting your own vehicle for part of your stay.
Cars and motorcycles are supposed to drive on the right; outside the big cities, many two-wheelers use whichever side of the road is most convenient. Driving can be frustrating and stressful. At junctions, always observe what some call the 'lights plus one' rule – before moving forward, assume one more motorist or motorcyclist will try to rush across, despite the lights being against him.
If an oncoming car flashes its headlights at you, it means you should give way, not (as in the UK) that the driver is letting you go first. Drivers and passengers are now required by law to wear seat belts at all times. Don't drink and drive; the alcohol limit for drivers in Taiwan is lower than in the UK. In many mountain areas you're required to keep your headlights on regardless of conditions.
By motorcycle
Most Taiwanese ride step-through scooters. These Vespa-type machines are fully automatic and come in a few different sizes, the most common being 50cc and 125cc. If you're on your own, neither large nor heavy, don't have much luggage and don't intend to stray far from the city, a 50cc scooter will do you fine. If you expect to cover more than 100km in a day, carry a passenger or climb serious hills, rent a 125cc.
The fundamental rules are obvious but bear repeating: be careful, obey traffic laws regardless of what you see other people doing, don't ride when tired or intoxicated and always wear a helmet; rental businesses provide helmets for no additional cost.
If dust and fumes bother you, do as the locals do and wear a mask. There are simple cloth masks which can be washed when they get grimy and hospital-style masks with carbon filters; the latter are said to be better at blocking nasty particulates. Even if bright sunshine isn't a problem for you, do wear some form of eye protection. Grit or insects – Taiwan has plenty of both – may get in your eyes.
By taxi
Taiwan's taxi industry has become more professional in recent years, yet very few drivers understand English (so carry your destination's name or address in Chinese) and women are advised against taking taxis by themselves late at night.
All legal taxis are yellow. Unless you're travelling a long distance, or from an airport or in the mountains – in which case the driver may ask for a flat fee – the fare is calculated by a clearly visible meter. At the time of writing, taxis in Taipei charged NTD70 for the first 1.25km, plus NTD5 for each additional 200m or 1 minute 20 seconds spent waiting.
A 4km daytime journey in normal traffic therefore costs at least NTD140. There are small extra charges late at night, around Lunar New Year and if you have lots of luggage. In other cities, slightly different formulas are used to tot up taxi fares – you may see the meter starting at NTD100. Some taxis accept payment by EasyCard.
Tripool is a Taiwanese startup promising inexpensive point-to-point travel in vehicles that can take up to seven people and their luggage.
Hitchhiking
Hitchhiking isn't at all common in Taiwan, but solo foreign travellers will find it relatively easy to get a lift in more rural and mountainous areas. You may be expected to practise English with the driver's children, and you may have snacks and drinks forced on you, but you'll come away agreeing that Taiwanese people are some of the friendliest and most helpful in the world.
On foot
Walking can be quite pleasurable in Taipei and Kaohsiung but in many other places the pavements are narrow and often cluttered with vendors, piles of merchandise and illegally parked motorcycles. Look both ways before crossing any roads.
By bicycle
Taiwan's cyclists have a lot to contend with: heat, unpredictable drivers and pollution (consider buying a disposable mask; supermarkets and convenience stores sell them). Despite these factors, Taiwan is an excellent place for a cycling holiday. Roads are well maintained and drivers are used to sharing the carriageway with two-wheelers. There's lots to see wherever you go and countless places where you can stop for a drink or a snack. At certain 7-Eleven convenience stores it's possible to borrow a bike pump (look for the bike-pump sign outside), but if you can't find one of these, try a police station.
Folding bikes that have been properly bagged can be taken on any TRA local train and certain expresses at no extra cost. Cyclists travelling with unbagged, nonfolding bicycles are allowed on most but not all local trains at many but not all stations. The charge for the bike is half the adult fare. After buying your tickets be sure to be on the platform several minutes before departure as the guard will need to show you which carriage you should sit in.
Bagged non-folding bikes can be taken on HSR trains for free. Bagged and/or folding bicycles are allowed on metro trains in Taipei and Kaohsiung; this is free but unfeasible during rush hours. Folding bikes go for free on Kuo-Kuang intercity buses; non-folding bicycles are charged half price.