Visas
Getting there and away
Getting around
Visas
Save for the rarest of circumstances, all travellers to North Korea will be travelling via China or Russia, compounding the red tape required to visit. Those passing through China should ensure that their passport is valid for at least six months from the date of entry, while those passing through Russia will require a passport valid for six months beyond the expiration date of their Russian visa. Both Russian and Chinese visas will take up a full page of your passport and require additional space for entry and exit stamps. Almost all nationalities require a visa to China or Russia, and you will likely need double-entry visas, assuming you return from whence you came. However, citizens of 53 countries can currently spend up to 144 hours visa free in Beijing under the Transit Without Visa Scheme (TWOV). This scheme only applies if you arrive directly into Beijing by air from another country, and are travelling directly out of Beijing, by air, onto a third country (ie: North Korea). The rules are a little complex with a few clauses and exceptions, but most travellers happy to fly in and out of North Korea from China can now avoid the headache of applying for a costly Chinese visa and spend a few days exploring Beijing in the process. Shanghai and Shenyang, an occasional route of entry to North Korea, also operate a TWOV scheme, for 144 and 72 hours respectively.Your tour operator will be able to clarify criteria for these visa exemptions, as they do change and are not well publicised.
The DPR Korean visa must be obtained in advance, and a tourist visa is always single entry/exit and valid for the precise duration of your trip. Before one can apply for a visa, your invitation/approval to visit the country must be obtained. This normally takes a couple of weeks, but has in extreme cases been arranged in just a few days. Regardless, many tour operators are reluctant to take bookings with less than four to six weeks' notice due to the complications in arranging tours to the country. The earlier you book the quicker you should get your visa and the more polished your tour will likely be. You will not see your approval document; it is essentially a message sent to your nominated DPR Korean Embassy, normally by fax, granting permission for your visa to be issued.
Your tour operator should handle all the documentation in order for your visa authorisation to be granted and as an absolute minimum will require a colour scan or photocopy of your passport together with your home address, contact details and full employment information. The Pyongyang authorities essentially want to know
who you are and what you do, and to make sure you are not involved in journalism or similar fields. The details required of you will be clarified by your tour operator, most of whom are well versed in the protocol, processing these applications day in, day out. They will also be able to inform you of the precise requirements, as they vary somewhat depending on your nationality, residency and the nominated embassy issuing your visa.
Only once your visa authorisation has been issued can the visa be applied for. This is a straightforward exercise as the issuing embassy will now have full permission to issue your visa. They will require at least one completed visa application form and at least one passport photograph, but again, requirements differ. Some tour operators include the visa fee in their costs, while others charge. The visa cost is an arbitrary but reasonable figure that differs from one embassy to the next. Many tour operators issue the majority of their clients' visas through Beijing for ease. In this instance the visa is a document separate to your physical passport, so can be obtained on your behalf and handed to you locally, typically a day or two before your trip commences. Other DPRK embassies affix a full-page visa to your passport – a great souvenir, but this does often mean giving up your passport for a few days or having to go to an embassy in person.
Obtaining a visa is normally far easier than one would expect and as long as you have been accurate, honest and truthful in your application they are almost never refused. The only people who normally find it difficult to obtain visas to North Korea are journalists (who really must not try to sneak in posing as tourists), together with those travelling on South Korean or Japanese passports. Protocol changes with the diplomatic ebb and flow and though North Korea was accepting tourists from the US at the time of writing, the US Department of State will invalidate the passports of any traveller who does so, unless they have obtained a Special Validation Passport (which is extremely unlikely to be issued). In addition, US citizens may not enter or exit the country at the Sinuiju border and a small number of hotels do not accept US travellers, but rules change and should be checked in advance with your operator.
Getting there and away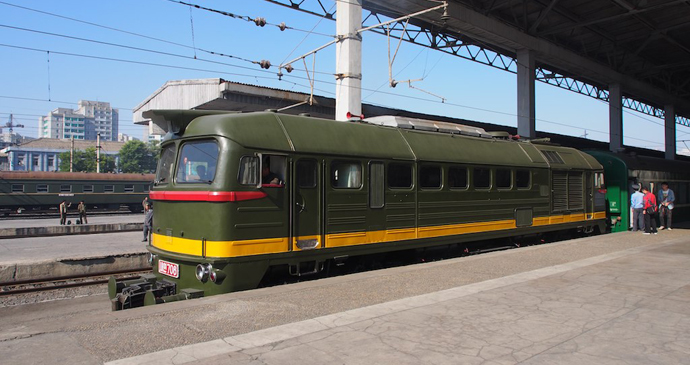 A Soviet-built M62 diesel train in the station at Pyongyang – many visitors enter and exit North Korea by train from China © Clay Gilliland, Wikipedia
By air
The sole passenger airline within the country is Air Koryo. The carrier is often mocked in the Western media as being the 'world's worst airline' or as a 'one-star airline'; titles that are unfair and wide of the mark, as Air Koryo is not only reliable but also proffers an enjoyable and authentic North Korean experience that harks back to the golden age of jet travel, with immaculate air stewardesses, a complimentary meal and service with a smile. Internationally, Air Koryo operates reliable scheduled flights from Pyongyang to Beijing, Shenyang and Vladivostok. In addition, they occasionally serve Shanghai, but only as and when demand sees fit.
Besides Air Koryo, just one other airline, Air China, serves the country. Sadly, though, they just cannot make up their mind about what they want to do with their undersubscribed Pyongyang service, which currently operates only in the high season, as they seem to cancel, postpone and alter schedules with such frequency that tour operators are reluctant to endorse this route with them. After pulling the service altogether in 2017, Air China relaunched the Beijing–Pyongyang route for summer 2018, promoting thrice-weekly flights on Mondays, Wednesdays and Fridays (in both directions).
By rail
From/to China
North Korea is well connected by train to China and many tour operators include arriving or departing by rail as a standard feature of their tours. Four trains a week operate between Beijing and Pyongyang (and vice versa), while a daily service now also operates between Dandong and Pyongyang (and vice versa).
From/to Russia
What was for years the forbidden rail line linking Pyongyang with Russia, this route is now permitted for foreigners to use; an epic journey through some wonderfully remote parts of both countries. The service is still hampered by delays, so a degree of flexibility and an open mind is essential. Seven times a month, train 007 is scheduled to depart Pyongyang at 07.50 for Rason. This train may depart one day earlier, and the precise date of operation is normally only confirmed 30 days in advance. The service is scheduled to take 29½ hours to reach the northeastern corner of North Korea (and passes through Hamhung and Chongjin en route), but can in fact take much longer. The goal is to ensure that the train arrives in Tumangang, on the border with Russia, in time to couple with the Moscow-bound train, which is fixed to depart Tumangang six times a month, on the 4th, 8th, 12th, 18th, 24th and 28th. The trains within Korea comprise ageing four-berth sleeping compartments with no restaurant car – bring plenty of supplies and wet wipes to wash with. A samovar in the carriage dispenses hot water.
By road
The land borders between Dandong and Sinuiju, Tumen and Namyang and Yanbian and Rason are open to travellers with the relevant permits and arrangements in place.
Getting around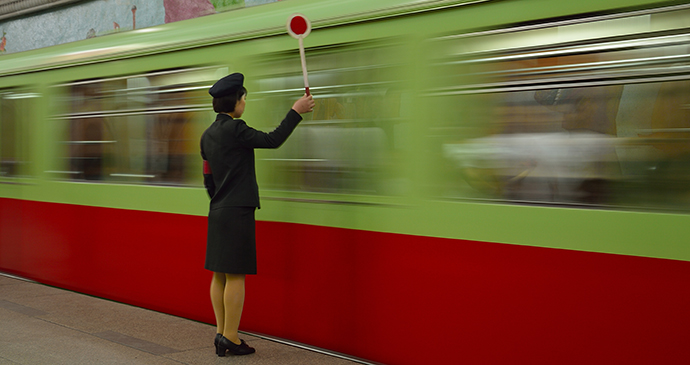 The Pyongyang Metro is more than just a means of travel – it's a tourist sight in its own right © Carl Meadows
As a tourist, all of your transport will be pre-arranged and serve you from start to finish. This will normally be a private vehicle, anything from a car to large bus depending on your party size. Most of the vehicles on offer are cheap Chinese brands that were not designed for the pot-holed rural roads of North Korea, but are comfortable enough when all is considered. Do not expect the likes of seatbelts, however.
While a number of cities have bustling buses, trolleybuses and trams, these are generally 'not for tourists' and off-limits – if they can be accessed it is only by private charter. Accordingly, public transport within cities, bar the possibility of incorporating the 'standard' Pyongyang Metro tour into a city tour, is not yet viable.
Intercity travel is also normally by private vehicle, but long-distance travel by scheduled passenger train is now possible to the cities of Sinuiju, Hamhung, Chongjin and Rajin – a recent and exciting development. Meticulous planning is required, as other than the daily service to Sinuiju, these trains run just a few times a month. Air Koryo is slowly trying to launch domestic flights to destinations such as Wonsan and Orang, but to date these have been so unreliable and prone to eleventh-hour cancellation that they cannot be relied upon. However, private charters in the country are becoming increasingly common.