Eating and drinking
Accommodation
Eating and drinking
Acknowledging the famine of the 1990s, many Westerners employ a spot of gallows humour when it comes to wining and dining in North Korea, likely asking mocking questions in advance of travel along the lines of 'will I be fed?' or 'do I have to take all my own food with me?' Yes, acute malnutrition still exists in parts of the country but remember, you will be a guest, a VIP of sorts; looking at Kim Jong Un's frame it is clear that the important are well fed in North Korea.
Many regional dishes and specialities exist in the country and there is plenty of opportunity to enjoy dishes such as cold noodles (naengmyeon), where noodles (typically buckwheat) are served up in a spicy broth with vinegar, radish and a varying range of other ingredients thrown in, all served up cold. Also popular is bibimbap (which literally means mixed rice but is a meal in itself), normally served piping hot in a stone pot with sautéed and seasoned vegetables together with chilli, soy sauce, egg and sliced meat – simply delicious. Other notable dishes include Korean hotpot (sinseollo) and a variety of delicious barbecues, often with their own regional nuances.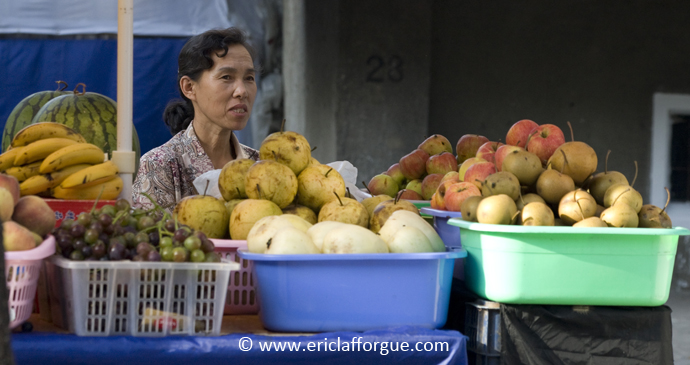 A fruit seller at a market stall in Pyongyang © Eric Lafforgue
Tap water should be avoided. You may be told locally that it is safe to drink, but given the ready availability and low price of bottled water it really is not worth taking the risk. An increasing number of inexpensive domestically produced soft drinks and juices are available. Sadly, the ever popular 'Crabonated Cocoa' drink is now carbonated and crab free.
Alcohol has long been the opiate of the masses in North Korea, and while public drunkenness is not nearly as endemic as in parts of western Europe, an increasing disposable income and number of bars make a perfect cocktail for a night out, although the real spit and sawdust drinking dens (they do exist) are normally kept
off the tourist trail. Koreans do enjoy a drink, and beer is typically served at lunch and dinner. Self-proclaimed experts agree that North Korean beer is rather good and far better than what is churned out in the South. The boom in the number of micro-breweries is an unforeseen result of the diminishing role of Pyongyang's centralised economy and supply chains, with many hotels and cities now making their own special brew.
Accommodation
There is no shortage of accommodation in the country; Pyongyang alone has a few thousand rooms allocated for accommodating foreign visitors. Until recently the chronic lack of visitors to North Korea had sent many hotels along a seemingly terminal path of decline as they struggled to keep their heads above water. Thankfully, most hotels are now slowly on the up, some are even refurbishing for the first time in decades, and it is optimism, not damp, that fills the air. All hotels have their quirks and even the very best, while comfortable, still have their nuances that will never quite elevate them to the five-star rating they claim.
Despite the improvements, there are no international five-star options in the country just yet. Hotels are often categorised as deluxe, first, second and third class, but it has been so many years since many of them were classified as such that many are now far worse, or better, than their official ranking displays; it's best to ignore such rankings and decide for yourself. Even in deluxe hotels little foreign language is spoken, check-in can be slow and things such as Wi-Fi, room service, concierge and international menus essentially do not exist. 'Guaranteed' 24-hour hot water may not materialise and paying bills or making purchases from hotel shops and bars can be just as convoluted as they may be in a remote co-operative farm shop. Service is with a smile; it's just a little slow and confused.
Standard hotel rooms across the country typically have two single beds, and those wanting double-bedded rooms will likely need to upgrade to superior rooms – availability is rarely an issue. Rooms themselves are generally comparatively comfortable, but missing or broken lightbulbs, hard mattresses, slow lifts and dodgy plumbing can be expected in all but the very best options. Note that should you find a couple of bottles of water in your bathroom this should be boiled water, intended for brushing your teeth.
Outside of Pyongyang the range of accommodation is more limited and, bizarrely, in some cities in which one would expect to find good hotels there are none, and i cities where one would expect to find only bad hotels there are some real diamonds in the rough.