Getting there and away
Getting around
Visas
All foreign nationals (excluding Nepalese and Bhutanese) need a visa for entering India. For tourist visas there are two different options: the easiest and cheapest to get is the e-visa, while the longer, more versatile one is the standard 180-day tourist visa.
E-visas are by far the quickest and cheapest to get (UK and US passport holders pay US$102.50; most EU passport holders and Australian passport holders pay US$82.50). The application is made completely online and on average takes two days to process (though in our experience they're frequently ready by the following morning). You can apply for three e-visas per year, which are valid for 60 days and allow two entries into India. You will need a PDF of your passport photo page, plus a scanned photo of the correct size (this can be a bit of a pain to get right!).
However, there are two problems of note to keep in mind when applying for an e-visa. The first is that the website is quite difficult to use, and numerous people report problems when it comes to the online payment. Secondly, and far more importantly in the case of J&K, is that technically you are not allowed to travel anywhere in J&K including Ladakh with an e-visa. In reality, many people do travel on such a visa (especially to Ladakh) but it's entirely possible that airlines could refuse you boarding, or police could send you back to Delhi with a stern telling off. Whether you choose to risk it is up to you.
If you're going to be in India for more than two months, you want to make multiple entries or – sensibly – don't want to risk trying to visit J&K on an e-visa, then you'll have no choice but venture down the headache-inducing 180-day tourist visa path. The price of the visa depends on both your nationality and where you apply: UK passport holders applying in London currently pay £113 plus £7.44 service charge. Visa fees are payable at the time of submitting your application and are non-refundable, even if your visa is refused.
Permits
For those travelling from Leh to the Nubra Valley, Dha Hanu or the southern lakes, it is necessary to get an Inner Line Permit. You can either try to get this yourself once on the ground in Leh or you can apply online at w lahdclehpermit.in (though the system can be a bit temperamental!). If you decide to apply for the relevant permit yourself, you will need to find at least two other people to apply with you.
Getting there and away
India is well connected to the rest of the world, particularly in terms of flights, and onward transport connections from the main hubs to Jammu, Srinagar and Leh are affordable. Bear in mind, however, that in the winter months Leh is only accessible by air, and that Jammu is currently the only major city in the state to have a rail connection to the rest of India.
As there are no international connections to J&K, this section is arranged as follows: international flights to Delhi and travel information on that city; domestic flights connecting J&K to other parts of India; train connections to Jammu (currently the only major city in J&K with an operational railway line); and road connections to J&K via Himachal Pradesh and the Punjab.
By air
India has superb flight connections around the world, and you'll generally be able to choose from a range of departures from your place of origin. If the primary focus of your trip is J&K, opt to fly into Delhi to maximise your onward travel options.
Other major international airports in the country include Bangalore, Kolkata and Mumbai. Note that you are usually required to have both a print-out of your ticket (even for e-tickets) and your passport in order to gain access to the departure terminal.
By train
The only major city in J&K to have a railway station is Jammu, and though the line is being extended to Srinagar, this part of the route is unlikely to be operational for some years to come.
Travelling by train in India is a memorable experience, and if you buy a first- or second-class ticket it's a pleasurable one. Don't underestimate the value of travelling in an air-conditioned compartment. Trains run more or less on time and when you buy a ticket (which must be done in advance), you automatically get a seat reservation.Train timetables and fares are available from the Indian Rail website, though you might find private sites such as http://erail.in easier to use.
By road
The journey from Delhi to J&K by road is long but perfectly feasible. Very few foreign tourists drive their own vehicles in India and it's impossible to hire a self-drive car to venture all the way to J&K. Cars always come with a driver.
While the roads themselves are generally in good condition and ever more expressways are opening across the north Indian plains, the same compliments cannot be applied to Indian drivers. Road travel in India can be a hair-raising experience and at times is positively dangerous. The worst roads are the busy main roads linking the big cities of north India, and the road from Delhi to Jammu can be very scary. Quiet country roads are much more relaxing.
Getting around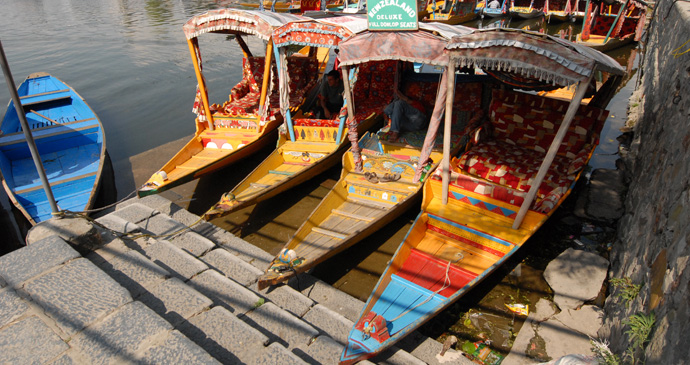 J&K is a large state and transport infrastructure is relatively poor. Journeys by road are often long and uncomfortable, regardless of your means of transport, as even the national highways are narrow and badly maintained. Accidents and road closures are frequent. Take local advice on the latest journey times, depart early in the morning if you have a long way to travel and make sure you've got a really good book (other than this one, obviously) to help pass the hours.
By air
Jammu, Leh and Srinagar all have civilian airports and domestic flights link them together, as well as with other parts of India. Flights are most regular in the summer months when customer demand is highest (and prices also increase), so you may need to book well in advance to guarantee a seat.
By road
The best roads in J&K are the national highways: NH1A in the west between Jammu and Srinagar, and NH1 from Srinagar to Leh via Kargil. These roads carry a mixture of trucks, taxis and private vehicles, as well as frequent military convoys driving between the different military bases. Though mostly covered with tarmac, the surfaces are far from smooth, with pot-holes a common hazard. In the narrowest sections there is not space for a vehicle to overtake, and high passes are forced to close when it snows.
Away from these highways, the road conditions deteriorate further. Many roads are unmade, making for very slow progress, and some quite important routes, including the main road from Kargil to Zanskar, are closed completely throughout the winter months, reopening again only in late spring.
By bus
The JKSRTC operates a reasonable network of buses between J&K's main towns, and they typically stop in the larger villages en route too. Public buses are the cheapest way to travel and depending on the type of bus (standard, deluxe, coach, etc) you might even get your own seat. Larger items of luggage (and occasionally additional passengers) travel on the roof, so buy a small padlock for your rucksack or case and keep valuables inside the bus with you.
By taxi
Leh, Kargil and Zanskar all have their own taxi unions, which set rates and other taxi-related regulations, including which taxis can go where. The regulations are designed to protect local drivers from outsiders stealing their business, but can be infuriating for visitors forced to change taxis to continue their journey or prevented from using their original car and driver for both outward and return journeys.
That said, you quickly get used to the system and the fixed rates remove the usual hassle of haggling over price. Taxis can be either cars or minivans and drivers have to be registered. The drivers frequently speak a few words of English and some are knowledgeable about local sites and culture, acting as informal guides for their passengers. They know where to stay and where to eat and, on the whole, we consider the standard of driving to be high by regional standards.
If you have a car and driver for several days, it is appropriate to tip the driver at the end of your trip, even if you've prepaid an agent for a package. We work on the basis of Rs200 tip per day and it's always gratefully received.