The author's take
Whether you were fortunate enough in times gone by to be a Mughal emperor, a civil servant of the Raj, a hippie on the hippie trail, or are a modern visitor discovering Kashmir, Ladakh, Zanskar and Jammu now for the very first time, you cannot fail to be impressed by this region. The incredible beauty of the natural landscapes, the richness of the history and the warmth and diversity of the people get deep under your skin and linger in your mind long after you have had to leave. Sitting on the terrace of a colonial-style houseboat as the dawn mists rise off Srinagar's Dal Lake and the sunlight glints on the water can bring a lump to your throat and make you contemplate the possible truth behind Emperor Jahangir's Kashmir-inspired poetry.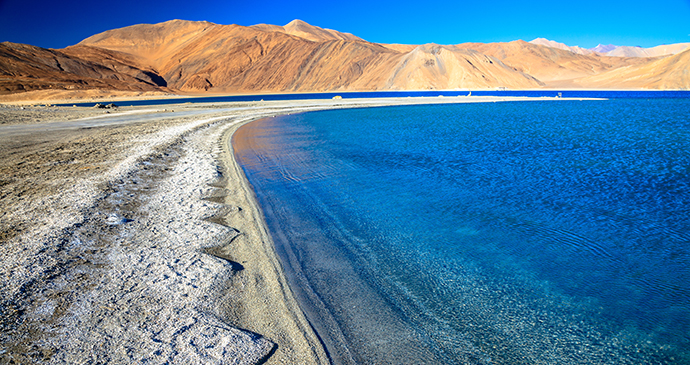 The vibrant turquoise blue of Ladakh's southern lakes is a sight any visitor to the region won't want to miss © naytoong, Shutterstock
The geographical scope of this guide is the Indian state of Jammu and Kashmir (J&K), a vast stretch of northern India encompassing lands from the plains of Jammu, up through the Kashmir Valley to Srinagar, and east through the mountainous landscapes of Ladakh, where apricot desert dunes mingle with the snows of massive Himalayan peaks to create a landscape that will simply take your breath away (if the altitude doesn't first!). With epic moonscapes, atmospheric cliff-top Buddhist monasteries, incredible Himalayan trekking opportunities, breathtaking turquoise lakes and vibrant Tibetan Buddhist culture, Ladakh, and neighbouring Zanskar, are two of the most alluring parts of the Himalayas that are attracting an ever-growing number of domestic and international tourists.
However, although Ladakh and Zanskar are safe and stable, the beauty of this far corner of India comes with a thorn in its side. India and Pakistan are at loggerheads over ownership of the Kashmir Valley and international borders in this region vary depending upon who is doing the talking. This simmering dispute means that Srinagar and the Kashmir Valley has been plagued with unrest and violence for decades, and while there was an air of optimism over the region's future when the first edition of this book was published, since then the situation in the Kashmir Valley has deteriorated significantly. In 2019 India and Pakistan came very close to war over Kashmir and at the time of going to print much of the Kashmir Valley was not safe to visit. Check the security situation first and if you're uncertain then just head to Ladakh and Zanskar, where the biggest danger you'll face is a persistent itch to return again and again. There is no other part of the Himalayas quite like it.
Updater's story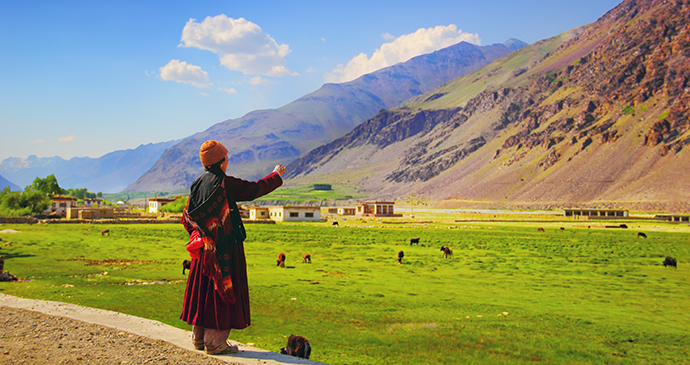 Life as a traditional herder is becoming increasingly difficult for those who follow a nomad lifestyle in Ladakh © Natalia Davidovich, Shutterstock
I was sitting inside the dark, yak-hair tent of a nomad family in southern Ladakh. Outside, scruffy sheep searched for greenery among the barren moonscape and raptors circled in the thermals. Somewhere, just over the pass, were the sparkling waters of Tso Moriri. As we huddled around the hearth the old man handed me a small glass of salty, yak butter tea. 'There were wolves here two nights ago', he told me. 'This time I chased them away, but they will come back again and try and get at my sheep. It's happening more and more. Everything about being a herder is getting more difficult. Maybe my sons won't want to continue this life. My wife and I might be among the last of the nomads here.'
Although the conversation was a little on the depressing side, I felt happy in this family's tent and could have sat there chatting about the past and future for hours. It is encounters like this that are the reason I love the Himalayas. I have been travelling around these mountains for some 25 years, and although every corner of the region has its own special magic, the cold deserts of Ladakh are a place that call to me with more force than most. So, when Bradt asked me if I could update this book, I could hardly refuse. Unlike some guidebook updates I have done elsewhere, researching the extraordinary diversity of Ladakh, Zanskar, Kashmir and Jammu didn't feel like work – it was pure pleasure. I hope you enjoy exploring this area as much as I have.
Stuart Butler, updater of Ladakh, Jammu & the Kashmir Valley: the Bradt Guide