Eating and drinking
Accommodation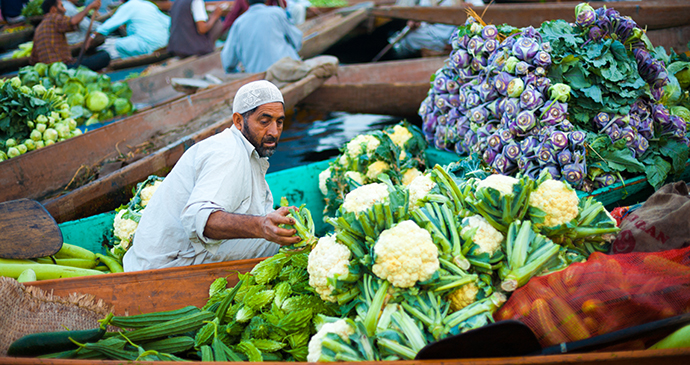 Business at the floating vegetable market on Dal Lake starts even before the sun comes up © Pius Lee, Shutterstock
Eating and drinking
Food and drink varies between districts. In Ladakh and Zanskar the local diet is heavily influenced by Tibet, and Tibetan thukpa (soup with noodles) and momos (steamed dumplings filled with vegetables, yak meat or cheese) are common. Although in Leh your options are diverse and there are many restaurants serving international dishes, in smaller towns and villages you will be limited to what is produced locally.
Moving west to Kargil and Kashmir, the Muslim population eats a far richer diet with plenty of lamb and chicken. Indian take-away favourites such as rogan josh (braised lamb cooked in a gravy of shallots, yoghurt, garlic, ginger and flavoured with spices) is a Kashmiri signature dish, and Kashmiri naan (flatbread stuffed with raisins and nuts) will also be familiar to curry fans.
Eating out
Leh and Srinagar, and to a lesser extent Jammu, have a wide range of restaurants serving all manner of international and Indian cuisines. Many of these restaurants are targeted at tourists and business travellers, although there is an increasing trend for middle-class locals to eat out on special occasions too.
The smartest restaurants tend to be in the top-end hotels and they are open to non-residents as well as hotel guests. You may need to book a table at weekends but can expect well-presented, tasty food and good service. You may also be able to drink alcohol with your meal.
In other restaurants you'll find a huge range in quality, from the sublime to the horrific. The restaurants listed here were reasonable or good when we visited, but do still take up-to-date recommendations from other travellers and look out for places that are packed with diners, as that tends to be an accurate sign.
Even where the food is delicious, service may be slow. Be patient initially, but if things are getting ridiculous, do prompt the manager or kitchen staff as it's not uncommon for orders to be forgotten or for customers to be queue-jumped by later but more pushy arrivals. Service is rarely included, except in the more expensive establishments. If you have received good service and want to leave a tip, 10% or rounding up the bill to the nearest Rs100 is standard.
Drinking
Alcohol is not widely available in J&K. Drinking isn't forbidden by law, but neither the Buddhist populations of Ladakh and Zanskar nor the Muslim majority of Kashmir drink heavily. You are unlikely to see much alcohol for sale in the shops but some of the tourist-orientated restaurants do serve bottled beers and the larger hotels have bars with a range of wines and spirits. Being drunk in public is culturally unacceptable and in any case makes you vulnerable to accidents, mugging and other misfortunes. Driving under the influence of alcohol is illegal.
Do not drink the tap water anywhere in the region without filtering or treating it first. The full range of soft drinks that you'd be used to at home are available pretty much everywhere.
Many Indians have an almost reverential approach to tea. The two most popular local types are noon chai or sheer chai, which is green tea with milk and salt, and
kahwah, a delicious and light green tea made with saffron and almonds. In Ladakh and Zanskar you might come across Tibetan tea (also known as butter tea) made from yak butter, tea leaves, water and salt – be warned, it's an acquired but not wholly unpleasant taste.
Accommodation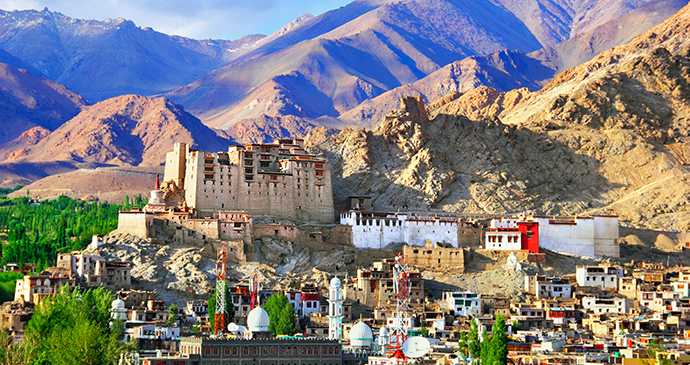 Many of Ladakh's monasteries offer tourists the chance to stay in exchange for a small donation © Natalia Davidovich, Shutterstock
J&K offers all manner of accommodation, from mats on dirt floors to luxury hotels, monastic cells and floating palaces. In peak season the best options can get booked up well in advance, but you'll always be able to find a room somewhere, at a price you can more or less afford.
If you're travelling on a shoestring, find a buddy so you can split the room rates. The cheaper guesthouses and many homestays offer rooms, often with breakfast included, for less than Rs500, and many of the monasteries have space where visitors can stay in exchange for a small donation. Look out too for the hotels aimed at domestic pilgrims: in Jammu in particular there are a number of hotels with dormitories as well as private rooms. Providing you have your own tent, camping is usually free or at a minimal charge.
In the budget and mid-range sections you have a great deal of choice. The majority of guesthouses and small hotels fall into these brackets, as do the smarter homestays. You will frequently get one or more meals included with the price of your room and can expect to have electricity and an attached bathroom with running water, although the hot water may come from a geyser. Rooms in these price brackets can vary spectacularly, so do look around at your options before making a final decision.
In the upmarket category you'll find larger hotels, tented camps and also many of the houseboats. J&K offers visitors the opportunity to stay in places they would not normally be able to afford, and the houseboats in particular offer great value for money. The tented camps, however, are generally overpriced: you pay a premium for the novelty value and some don't even have the facilities of a budget hotel.
Luxury accommodation is typically only available in the largest towns and cities. The best of Srinagar's houseboats are certainly luxurious and the likes of the Vivanta Dal View and Fortune Inn Riviera hotels are replete with all mod cons. Here you are paying not only for the surroundings but also for professionally trained, English-speaking staff who anticipate your every need.