January

Go skiing in Gulmarg
Gulmarg, a short drive away from Srinagar, is the premier ski resort in the Himalayas. By European standards it is relatively undeveloped and also incredibly cheap. Adrenaline junkies can also try their hand at heli-skiing, the perfect way to explore off piste.
(Photo: Spituk Gompa overlooks the Indus River and a Buddhist monastery © Maximum Exposure Productions 2013)

February
Brave the Chadar Winter Trek
The trek along the frozen Zanskar River to Padum is possible only when the winter ice is thick. Once used only by teachers returning to school after the winter holidays, it has become a popular route for trekkers too.
March
Celebrate Holi
The Hindu festival of colour is a riotous affair. It marks the start of spring but also celebrates love, and if you're in Jammu at this time you can't help but get caught up in the fun.
April
Srinagar's Tulip Festival
Srinagar has some of the most impressive tulip fields you will ever see – even those in Holland are given a run for their money. The flowering season is short, however, so make sure that you're here in April to fully appreciate the spectacle.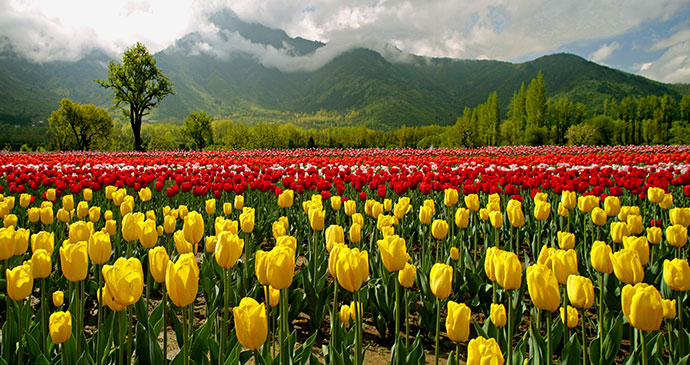 The stunning tulip garden in Srinagar was built in memory of assassinated prime minister Indira Gandhi © J&K Tourism
May
Mughal Gardens Tour
In late spring the formal planting of Kashmir's numerous Mughal Gardens is in its prime. The borders are a riot of colour from May right through into summer, and there's no finer place to picnic and wile away an afternoon than in one of these little slices of paradise.
June
Raft on the Indus River
By June it's warm enough to take to the rivers in Ladakh for white-water rafting and kayaking. Some of the best routes are to the north of Leh: choose between a day's taster session and a multi-day expedition.
July
Explore Zanskar and the Suru Valley
July is the best time to explore Zanskar and the Suru Valley. Consider the trek from Padum to Phuktal, or, if you're rather more ambitious, why not climb Nun or Kun?
August
Join the Amarnath Yatra
In early August, pilgrims leave from Pahalgam and Sonamarg to trek through the mountains to the holy Amarnath Cave with its Shiva lingam made of ice. It's a spiritual experience to join them on their pilgrimage, though you'll need to be reasonably fit.
September
Relax on a Houseboat
Srinagar is at its busiest at the start of the summer, so plan to come once the crowds have gone. You'll have greater choice of where to stay and can enjoy a little peace afloat.
October
Thiksey Festival
Each of the monasteries has its own Buddhist festival, but few of them are more impressive than Thiksey. Expect to see monks perform their traditional masked dances as well as play ceremonial instruments.
November
Saffron season
The crocuses are in bloom in late autumn, so head to Pampore where the fields are a riot of purple. Not only is it picturesque, but you can take home a sample of this precious spice, enjoying the flavour of Kashmir in the months to come.
December
Ladakhi Losar
Ladakhi New Year is celebrated in December or, occasionally, early January. People dress in their traditional costumes, and there is a procession of flaming torches designed to drive evil spirits away.