Climate
When to visit
Highlights and itineraries
Climate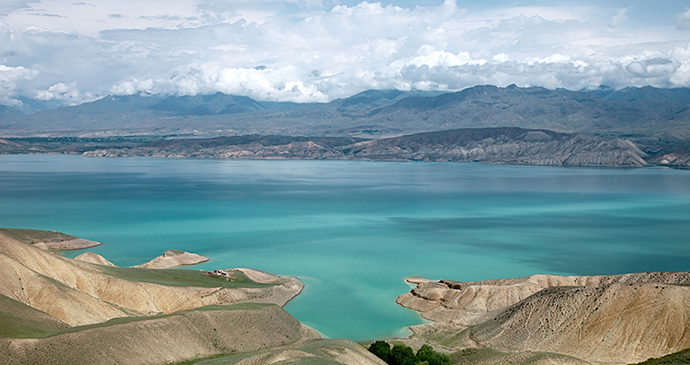 Kyrgyzstan's coolest temperatures are found in its mountain valleys © Elena Moiseeva, Shutterstock
With its tough, continental climate, Kyrgyzstan is very much a seasonal destination. Unless travelling to the country for purposes of business, most visitors tend to come between May and October.
Kyrgyzstan's climate is partly influenced by its mountains and partly by its continental location far from any ocean. For the most part it is continental, with cold winters and warm summers. In the lowlands, the temperature ranges between –4°C KYR2.indd 4 28/09/2011 12:40 5 and –6°C in January and between 16°C and 24°C in July. The coldest temperatures are in the mountain valleys where –30°C is not uncommon and a record of –53.6°C has been measured, although –14°C to –20°C is more usual.
In the summer in the Fergana Valley, the average temperature in July is around 27°C, although temperatures frequently reach the low 40s. Even in the summer, temperatures may drop as low as –10°C at night on the mountain peaks. Of the major urban centres, Naryn has by far the most extreme climate, with an average minimum temperature in January of –19°C and an average maximum July temperature of 25°C. Both Bishkek and Osh have much milder winter temperatures but warmer summers. Generally temperatures are far less extreme in the region of Lake Issyk-Kul, where the presence of a large body of non-freezing, slightly saline water has a moderating influence on the local climate. Rainfall is generally fairly low throughout the country – as little as 100mm per annum on the southwest shore of Lake Issyk-Kul, to around 2,000mm in the mountains above the Fergana Valley.
The national average is 380mm, with March to May, and October and November usually the wetter months. There is sometimes heavy snowfall in winter. Clear skies are common and Kyrgyzstan averages more than 300 sunny days per year. Recent years have brought a number of unusual climatic events, which are possibly linked with worldwide climate change and glaciers receding: droughts in the Fergana Valley and elsewhere, low winter snowfall, unusually heavy rain in the spring and an increase in the water level of Lake Issyk-Kul, despite a preceding trend in which the water level was dropping.
When to visit
With its tough, continental climate, Kyrgyzstan is very much a seasonal destination. Unless travelling to the country for purposes of business or winter skiing, most visitors tend to come between May and October. For those whose interest is primarily in outdoor pursuits, the peak trekking season is a little shorter – between early June and mid- September. The period from mid-July to late August is by far the busiest with overseas visitors, partly because of the climate and partly as a result of this being the main European summer holiday season.
Given complete freedom of choice in deciding when to come, it really depends on exactly what the visitor wishes to do and where they want to go. For trekking, the higher the altitude, the shorter the season, tends to be the general rule, and so those wishing to do high-altitude treks in the Central Tien Shan are realistically limited to July and August. Lower-level treks are usually possible between June and September, although snow is always a possibility at passes above 3,000m at virtually any time of year. If it is snow that the visitor is actively seeking, for winter sports like skiing or snowboarding, then January and February are generally the best months to come, although early January can get very busy with winter vacation visitors from Russia and Kazakhstan.
The south of the country has a warmer climate in general and the low-lying Fergana Valley can be very hot during the summer months. Even Bishkek can be unpleasantly muggy in August. If these are the prime destinations to be visited it makes sense to plan a trip for spring or autumn.
If no high-altitude hiking is to be attempted, coming slightly out of season has its benefits. The northern shore of Lake Issyk-Kul, particularly Cholpon-Ata, can become very crowded in August, mostly with Kazakhs rather than European visitors; however, a visit in late September or early October is a wholly different matter, with few tourists, blue skies, turning leaves and a light dusting of snow on the mountains. It is too cold to swim at this time, however. Early autumn is actually a very beautiful time to be in Kyrgyzstan, especially if visiting southern destinations of modest altitude, such as the Lake Sary-Chelek region and Arslanbob, which has its walnut harvest at this time of year. Nights may be quite cold but there are warm days with clear blue skies.
Spring is a little less certain, as it can take time for winter snow to thaw completely, and late snowfall can mean many passes and even parts of the main Bishkek–Osh highway are under snow until mid-May. The months of April, May and June have the highest amount of rainfall, and this, coupled with melting snow, can sometimes pose risks of landslides and avalanches. Because of this, trekking conditions at the end of the season are usually a little more reliable than those at the beginning.
Holidays and festivals may also have some bearing on the timing of a visit. Nooruz, the ancient, Zoroastrian-influenced festival celebrated throughout central Asia on 21 March, is well worth witnessing, although this is rather too early to see the country at its best. Horse games tend to take place during high summer, especially around Independence Day at the end of August, and special festivals that involve horse sports, Kyrgyz crafts and music are staged at upland jailoos (meadows) during July and August for the benefit of visitors and locals alike.
Highlights and itineraries
Highlights
Tash Rabat
An extraordinary Silk Road caravanserai, Tash Rabat is high in a hidden valley close to the Chinese frontier.
Saimaluu-Tash
An enormous gallery of 5,000-year-old petroglyphs spread across the top of a mountain in a particularly hard-to-reach location.
Lake Issyk-Kul
The world's second largest alpine lake, Lake Issyk-Kul has bathing beaches thousands of miles from the nearest ocean and great hiking in the valleys near Karakol.
Lake Song-Kol

Quintessentially central Asia: a picture-perfect place to ride horses and stay in a yurt.
Lake Sary-Chelek
Surrounded by lush forest, Sary-Chelek is a jewel-like mountain lake.
Arslanbob
Observe the traditional Uzbek community of Arslanbob in a breathtaking setting amid the world's largest walnut forest.
Central Tien Shan
Serious hiking, enormous glaciers and disappearing lakes among 7,000m peaks can be found in the Central Tien Shan.
Suggested itineraries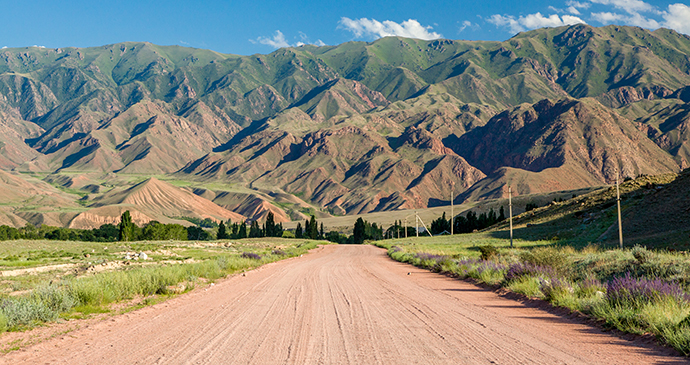 Even a couple of weeks is enough to take in a range of Kyrgyzstan's landscapes © Evgeny Dubinchuk, Shutterstock
Many visitors to Kyrgyzstan have just a couple of weeks to spare. Despite travel around the country being fairly slow, this allows a reasonable amount of the country, and a fairly wide variety of landscapes, to be visited. The FCO currently have no advice against travelling to Kyrgyzstan other than 'Take care if you travel to the Oblasts (Provinces) of Osh, Batken and Jalal-Abad'.
Starting in Bishkek, a fortnight would be enough time to travel along the north coast of Lake Issyk-Kul, stopping overnight in Tamchy, Cholpon-Ata or another village along the coast road before reaching Karakol. From here, a short two- or three-day trek could be made into the valleys south of the town, or alternatively a day or two could be spent hiking near the mountain village of Jyrgalan to the east. Return west along the south shore of the lake, possibly spending a night in Tamga, Barskoon or Bokonbaevo region en route to Kochkor. At Kochkor, arrange transport to Lake Song-Köl the next day, spending a night or two there in a yurt, horseriding or walking around the lake in the daytime.
From Kochkor head south to Naryn and meet up with pre-arranged transport over the Torugart Pass to Kashgar in China, stopping at Tash Rabat along the way and perhaps spending an extra day here to hike up to the ridge above Chatyr-Köl Lake. An alternative route from Kochkor that returns to the Bishkek starting point might be to hike north to the Suusamayr Valley after visiting Song-Köl (or return to Kochkor to find transport here) and head west along the valley through the villages of Chaek and Kyzyl-Oi to loop around at the western end to reach the Chui Valley and Bishkek.
Another circular route through Kyrgyzstan that requires a little more time, say three weeks, is to follow the above itinerary as far as Naryn and then travel the rough road west to Kazarman, perhaps visiting Saimaluu-Tash (late July to early September only). From Kazarman, arrange transport south to Jalal-Abad and spend a night here before continuing to Osh. Then spend a night or two in Osh, visiting sights in the city and around, before flying back to Bishkek.
A further possibility (with the caveat given above) is to miss out Lake Issyk-Kul altogether and travel due south from Bishkek towards Osh, making a detour west of the main trunk road towards Lake Sary-Chelek and/or on to the east to visit the Arslanbob region, before continuing south to Jalal-Abad and Osh.
There will be other visitors, passing through Kyrgyzstan as part of a longer overland route, who have a little more time at their disposal and can probably afford to be more flexible. Traversing Kyrgyzstan between Kazakhstan or Uzbekistan and China to the east, or Tajikistan to the south, allows much to be seen with a carefully planned route – although potential problems with closed border crossings should be checked thoroughly beforehand.
A month in the country should allow time to visit most of the places mentioned above. The best approach is to work out where you most want to go and, given the time available, try and plan the most obvious route connecting them. Kyrgyzstan does not have a very comprehensive road network, although it has noticeably improved in recent years. Nor does it have a flawless public transport system, but with a spirit of adventure and a bit of luck you should get there eventually. Much time can be saved on circular tours by flying one-way; flights between Osh and Bishkek are inexpensive, regular and reasonably reliable.