Visas
Getting there and away
Getting around
Visas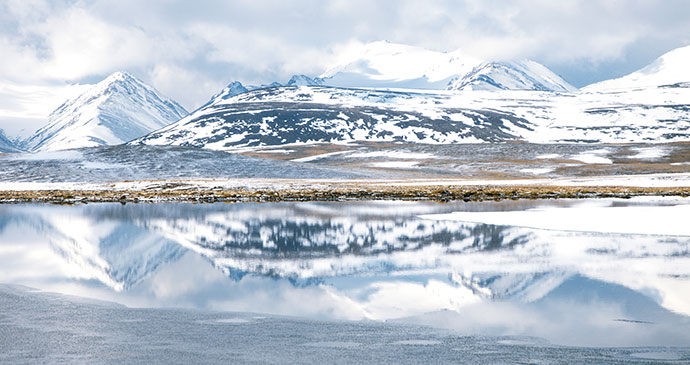 Since 2012, most visitors from the EU no longer need a visa to visit Kyrgyzstan © Elena Moiseeva, Shutterstock
Since July 2012 visitors from the European Union (except Bulgaria and Romania), North America and Australasia no longer need a visa to visit Kyrgyzstan for a period of up to 60 days. The same waiver also applies to citizens of Bosnia and Herzegovina, Monaco, Iceland, Liechtenstein, Norway, Switzerland, Turkey, Cuba, Japan, South Korea, Singapore, Malaysia, Mongolia, Brunei, most Gulf Arab states – Bahrain, Kuwait, Qatar, UAE, Saudi Arabia – Russia and former countries of the Soviet Union. If planning to stay longer than 60 days a visa will be required, which should be obtained either in advance at a Kyrgyz embassy or on arrival at Manas airport.
For those passport-holders of countries that do require a visa – mostly African, Middle Eastern, South Asian countries, China and some South American countries – these can be obtained in advance at a Kyrgyzstan embassy. Most will be required to obtain a visa support letter from the Consular Department of the Ministry of Foreign Affairs if travelling for business purposes or, if travelling privately or for the purposes of tourism, an invitation letter (usually referred to as LOI – 'letter of invitation') issued by the Ministry of Internal Affairs. This additional paperwork can be issued, at a price and with some advance notice, by contacting one of the Bishkek travel agents listed. Visas are normally issued for 30 days.
Citizens of a small number of countries that require visas are able to obtain them without providing visa support or a LOI, and can obtain visas on arrival by air for between US$50–100 depending on length of stay and whether single or double entry. The countries not requiring visa support are: Albania, Andorra, Argentina, Brazil, Bulgaria, Chile, Cyprus, Indonesia, Israel, Macedonia, Mexico, Montenegro, Oman, Philippines, Romania, San Marino, Serbia, South Africa, Thailand, Venezuela and Vietnam.
Getting there and away
By air

Kyrgyzstan's main international airport is Manas Airport in Bishkek (airport code: FRU; Tel: 693 109; Email: info@airport.kg) although a few flights from Russia also go direct to Osh. Manas Airport lies about 25km north of the capital, a 40-minute drive away.
From the UK
There are no longer any direct flights between the UK and Bishkek. British Airways used to fly three or four times a week to Almaty, a four-hour drive from Bishkek in neighbouring Kazakhstan, but this service was suspended in 2015.
The best way to reach Kyrgyzstan by air from the UK or elsewhere in Europe is to fly to Moscow or Istanbul and then transfer to a direct Bishkek flight. Flying via Moscow, there are flights with Aeroflot that change planes at Sheremetyevo airport. These start at about £400 return and fly daily but there is sometimes a long wait at the transit airport. A little more expensive, but more comfortable and reliable, are the daily flights with Turkish Airlines via Istanbul's Ataturk airport, which start around £420 return. Another, usually less expensive Turkish alternative is with the budget carrier Pegasus Airlines that flies daily to Bishkek from London Stansted via Istanbul's Sabiha Gökçen Airport. These flights can cost as little as £330 return and represent a real bargain, even if you do have to buy all your own drinks and meals on board. Because of seasonal demand flights tend to be more expensive during the peak months of July and August and so it is wise to book as far ahead as possible. Flying Air Astana, with a transfer in Astana, Kazakhstan, is another option from London.
From Europe
Other than BMI flights from London, the only other direct flights from Europe are with Turkish Airlines, which fly daily from Istanbul, and regular flights from Moscow with Aeroflot and other carriers. Flights to Bishkek from western European countries tend to connect with either Aeroflot in Moscow or Turkish Airlines in Istanbul. In Germany, Lufthansa do not fly to Bishkek but do regularly fly to Almaty in Kazakhstan.
From Russia and CIS countries
Kyrgyzstan has regular direct flights from Moscow with Aeroflot, Ural Airlines, Air Manas and Avia, as well as three times a week from St Petersburg, twice a week from Krasnoyarsk, three times a week from Yekaterinburg, and weekly from Novosibirsk and Omsk in Siberia. There are flights four times a week from Dushanbe in Tajikistan, with both Avia and Tajik Air, as well as regular flights to Tashkent in Uzbekistan and Almaty in Kazakhstan. Air Manas has regular flights to Tashkent, while Air Astana also flies to Bishkek from Almaty and Astana.
From elsewhere, China Southern Airlines flies to Bishkek several times a week from Ürümqi in Xinjiang. There are also flights from Ulaanbaatar in Mongolia with Turkish Airlines and Dubai with the budget carrier Fly Dubai. Air Manas also has regular flights from New Delhi and Kashgar.
From the USA and Canada
There are no direct flights. Flights from North America can either link with the direct BMI service from London to Bishkek or alternatively go via Moscow (Aeroflot) or Istanbul (Turkish Airlines).
From Australia and New Zealand
Probably the easiest way to reach Kyrgyzstan from Australasia or Southeast Asia is to fly to Tashkent via Bangkok and then either take a connecting flight or, politics permitting, travel overland to Kyrgyzstan.
By train

The great adventure of arriving in Bishkek by rail may not quite be as romantic as its sounds. It is a very long journey and there is an awful lot of dull Kazakh steppe to stare at before Kyrgyzstan is reached. In addition, some of the passengers travelling in platskart (third class) are smugglers, and some consider that it is not a safe journey for foreigners to take, at least in the lowest class.
In theory, at least, it is possible to reach Bishkek by train from anywhere in Europe by way of Moscow and the service from there. Naturally, having to travel through both Russia and Kazakhstan en route, there are going to be visa issues to consider. Train number 18, the Kyrgizia, leaves Moscow's Kazan station twice a week on Thursday and Saturday at 22.40, to arrive just over 72 hours later in the late evening of the fourth day. This currently costs about 14,000 roubles (£170) in platskart (third class open carriage) and about 20,000 roubles (£240) in kupe (four-berth sleeper) if tickets are bought at the station. Booked through an agency they will cost considerably more. Trains number 17 and 27 to Moscow from Bishkek leave on Monday and Wednesday at 09.17 and take just over 73 hours to reach Moscow.
Rather than going all the way to Bishkek it is possible to leave any of the trains at Taraz (Dzhambul) in Kazakhstan and then enter Kyrgyzstan's northwest Talas Province by minibus, saving five hours on the overall train journey.
Another alternative is to travel by train from Moscow to Almaty, although the direct service was discontinued in 2017 and the journey now requires a change in Saratov. In the summer season trains run once a week on Thurs evenings between Tashkent and Bishkek continuing to Balkychy but they are very slow (19+ hours to Bishkek, 24+ hours to Balykchy) and take a meandering route through Kazakhstan.
By road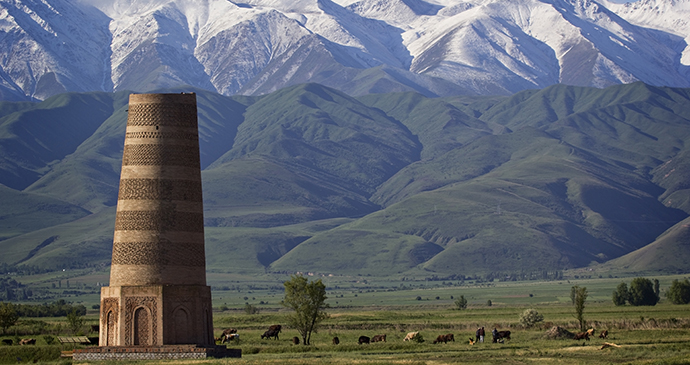 Fortunately, the Silk Road isn't the only way to reach Kyrgyzstan © Labusova Olga, Shutterstock
From Kazakhstan
There are frequent services between Almaty and Bishkek by share taxi (2,500 Kazakh tenge) and marshrutka (1,500 Kazakh tenge) taking about five hours. The border is open 24 hours a day. From Taraz (Dzhambul) there are regular minibuses that connect with Talas in Kyrgyzstan's northwest. Having been closed for three years between 2010 and 2013, the Karkara Valley route between Kegen (Kazakhstan) and Ken-Suu/Tyup (Kyrgyzstan) is now open again between mid-May and mid-October, although the exact dates tend to vary. Public transport on the Kazakh side goes as far as Kegen (around $10 per person in a share taxi from Almaty) from where taxis to the border can be caught (around $10). On the Kyrgyzstan side, it is usually possible to find a ride 20km to the village of Sary-Tologoy for around 1,500som. A daily minibus runs between Sary-Tologoy and Karakol (80som).
From Uzbekistan
The northern route between Tashkent and Bishkek passes through Taraz in Kazakhstan, where there is usually a change of transport. A Kazakh transit visa is needed for some nationalities on this route. To reach Bishkek from Tashkent it may well be quicker and cheaper, if the border is open, to go first to Osh via the Fergana Valley and then fly to Bishkek from there.
From Dostlyk, near Andijan in Uzbekistan's Fergana Valley, there are normally plenty of share taxis running to the Kyrgyz border close to Osh, from where a minibus (10som) may be taken into the city. Dostlyk may be reached either from Andijan or Tashkent by share taxi. This border is open 24 hours a day. There is another border crossing at Uch-Kurgan on the road between Karakol (not the Lake Issyk-Kul town) and Namangan but this tends to close periodically. No public transport passes through here anyway, so it is necessary to take a taxi both sides. There is also another Fergana Valley crossing from Uzbekistan at Khanabad, just to the south of Jalal-Abad, but this also closes periodically. Although there are further crossing points between the two countries in the Fergana Valley, most of these will not allow foreign travellers through as they may be designated for locals only.
From Tajikistan 
There is no regular transport along the Pamir Highway between Murgab and Osh, although private 4×4 vehicles may be hired for this route in either direction. Travelling this route requires a Gorno-Badakhshan Autonomous Oblast (GBAO) permit in addition to a Tajik visa. There are share taxis between Isfara in the Tajik section of the Fergana Valley and Batken in southwest Kyrgyzstan; also between Khojand and Isfana in far south-western Kyrgyzstan. The Kyrgyz-Tajik border between Garm and Daroot-Korgon has been closed for foreign nationals for several years but it may become open at some stage in the future.
From China
There are two overland routes to and from China. The Torugart Pass in the southern Naryn province is technically closed to foreigners but permission to cross is granted if travellers have pre-arranged transport meeting them on the other side of the border and have documentation to prove this. The public bus that plies this route between Kashgar and Naryn cannot be used by foreign nationals. Further south, the Irkeshtam border, to the east of Sary-Tash in Osh province, permits crossing in either direction without any special conditions or documentation. A public bus normally runs between Kashgar in China's Xinjiang province and Osh twice a week in both directions and takes at least 18 hours overnight. It is available for all to use.
Getting around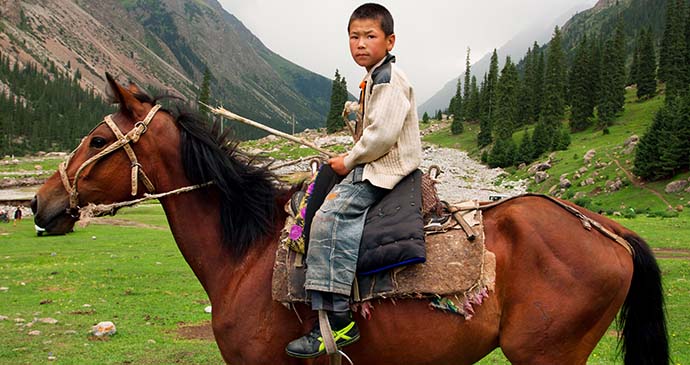 The thrills and spills of travelling by car in Kyrgyzstan aren't for everyone © Radiokafka, Shutterstock
Getting around Kyrgyzstan is reasonably straightforward between the major centres – Bishkek, Karakol, Naryn, Jalal-Abad and Osh. Public transport tends to be a little erratic at times and some of the roads are in poor condition although they have noticeably improved in recent years. Hiring a taxi for a couple or small group for long distances is a relatively cheap and fast way of getting about. Self-drive car hire is also slowly becoming more popular. Given Kyrgyzstan's pot-holed roads, its eccentric driving habits and a police force keen to extort fines from their motorised victims, car hire is not for everyone but it undoubtedly affords a great deal more flexibility and spontaneity than is ever possible by public transport. Flying may be a viable option for some north–south travel as it is markedly quicker and may be only a little more expensive than travelling by road.
By bus and minibus
Other than for local city services, very few buses operate in Kyrgyzstan these days. Most long-distance bus services have now been superseded by minibuses (marshrutki) running the same routes, which are by and large  quicker. Minibuses tend to congregate outside bus stations and leave when full, usually with about 12–18 passengers plus the driver. Some marshrutki that travel relatively short distances along fixed routes, such as those along the shores of Lake Issyk-Kul, operate rather like a local bus service and do not wait to fill up before leaving, as they constantly pick up and drop off all along their route.
By taxi
Kyrgyzstan's taxis will go almost anywhere if you pay them: a road surface of little more than loose rocks and sheep holds little fear for the average Kyrgyz Lada or Zhiguli driver. Fares are loosely negotiable, but are usually about twice the bus fare multiplied by four, the number of passenger seats. In many instances there is no bus or minibus service and so a taxi is sometimes the only option. If there is a CBT network in the town or village they usually have drivers who are familiar with the funny ways of the tourist and knowledgeable about the sort of places that they wish to go. Taxis may be hired for less than the CBT rate in the bazaar, although this is very dependent on the language and negotiation skills of the client, as well as how desperate the driver is to find a fare.
More popular routes often have shared taxis running the same routes as the minibuses and buses. They are effectively the same as ordinary taxis except they run the same route regularly and aim to fill the car with four passengers who all with less than a full complement of passengers if those present agree to pay for the empty seat(s) between them. Other than flying, shared taxis are the best way to travel between Osh and Jalal-Abad and Bishkek. They tend to cost less heading south than they do returning to Bishkek. Typical shared taxi fares are Bishkek–Osh, 800–1,000som; Osh–Bishkek, 1,200som.