Eating and drinking
Accommodation
Eating and drinking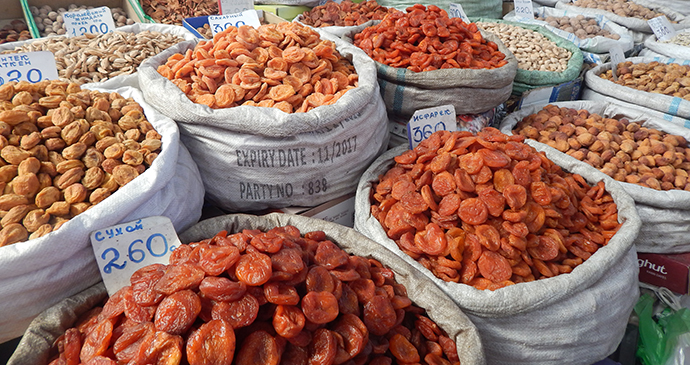 Markets are a great place to pick up fresh produce © Carys Homer
Food in Kyrgyzstan tends to fall into two main categories – Kyrgyz and Russian – although sometimes what is on offer is more of a hybrid of the two. Staying in homestays, the food prepared by the hostess is always plentiful, usually very tasty and generally there is little point in looking to eat elsewhere. Away from the larger urban centres, the dining-out options are usually rather limited (for information on tipping etiquette, see Tips on Tipping).
Bishkek has a wide range of smart restaurants that sell Turkish, Italian, American, Chinese, Indian, Korean and Japanese food, in addition to the standard fare. Outside of Bishkek, the larger towns have a few upmarket restaurants between them, but generally food is sold at simple cafes, traditional chaikhanas or Russian-style canteens, stolovaya. Kyrgyz cooking is very meat-based and that meat is usually mutton, but sometimes beef is used, particularly for shashlyk. Chicken rarely finds its way into Kyrgyz cookery and when it does the quality is not usually very good. Horsemeat is highly thought of and horsemeat sausages, chuchuk, are a popular accompaniment to vodka sessions.
As Muslims, Kyrgyz, Uzbeks and Dungans do not eat pork, but it can be found at some Chinese and Russian restaurants. Fish is uncommon, apart from the smoked fish that is sold by the roadside near Lake Issyk-Kul.
Kyrgyz cuisine

Kyrgyz dishes that can be found more or less everywhere are shorpo, a mutton stew that always comes with a big chunk of bone with fatty meat attached; laghman, noodles with mutton and a spicy sauce; and manti, steamed mutton dumplings.
Shashlyk, the central Asian kebab of skewer-grilled mutton pieces, can be found almost anywhere; just look for the grill-man at the front of the café, as the cookingis always done outside. Plov is made from a simple mixture of rice, mutton, carrots and onions all cooked together in a big pot, which can be delicious when it is well-made. It is actually an Uzbek dish but it can be found throughout the country, especially in the south.
The Kyrgyz national dish of beshbarmak is more of a home-cooked festival food than a restaurant item but some restaurants offer it.
The ultimate Kyrgyz snack food is samsa, which are like Indian samosas but instead of containing spicy vegetables they are filled with mutton, onions and gravy. Samsi are generally sold directly from small bakeries, especially in the mornings and at lunchtime, and are a good takeaway snack or quick lunch. They can be very fatty and are best when hot and fresh.
Other cuisine

Popular Russian dishes include pirogi, fried ravioli-like pastry packets, and pelmeni, small ravioli served in a broth. Blini are pancakes, either sweet or savoury, that, if you are lucky, your homestay hostess might prepare for breakfast. Most Russian menus usually involve several different types of salad that utilise copious quantities of mayonnaise. One excellent and surprisingly delicious salad combination is grated beetroot and diced walnuts.
In addition to Kyrgyz and Russian food, Dungan dishes are also sometimes found in the north, especially in the Chui Valley, the Dungan stronghold. Dungan food is rather like Chinese food, but spicier. Ganfan, made of rice and meat, is probably the most popular Dungan dish and often sold at markets.
Vegetarians
Vegetarians will have a little more luck finding something to eat in Russian restaurants than in their meat-centred Kyrgyz counterparts, but overall it is fairly difficult to find much in the way of purely vegetarian dishes. Fortunately, local markets always have a good selection of fruit, vegetables, cheeses and tinned goods. Some homestay hosts are able to rustle up vegetarian dishes, given adequate warning. Bread, the staple carbohydrate in the area, is usually in the form of lepyoshka, a Russian flat unleavened loaf, or otherwise nan, the Kyrgyz equivalent. Both are delicious when fresh and far superior to the sliced, white variety found in supermarkets.
Drinking
By far the most popular hot drink is tea, either green, which is preferred by many Kyrgyz, or black, the Russian favourite. Placing an order for food in a restaurant, it will more or less be assumed that you wish to order tea as well, even if you have already ordered beers or soft drinks. Kyrgyz going out to eat think nothing of ordering beer, vodka and tea all at the same time. Tea is invariably cheap at only 10–20som for a pot, and drinking plenty of it is the best and safest way to ensure hydration where the water supply is questionable. Coffee, where it is found, is usually instant and quite horrible, although in recent years a number of cafés and restaurants with espresso machines have opened up in Bishkek and even in Osh and smaller towns like Karakol.
Beer is widely available and quite good, the commonest brand being Russian Baltika, which is numbered according to its strength – Baltika 0 is non-alcoholic, Baltika 3 (seemingly hard to find!) is moderately low gravity, Baltika 5 is reasonably strong, Baltika 7 is very strong and Baltika 9 is like rocket fuel. Another good Russian beer that is widely available is Sibirskaya Korona, and there are decent Kyrgyz brands such as Arpa and Akademiya that are served on draught. Kyrgyz bottled beers tend to be cheaper than Russian brands, although sometimes weaker and less reliable in flavour. The Steinbrau beers of Bishkek that are produced by an ethnic German brewery of the same name are excellent.
Other popular drinks are vodka (arak) and kumys, although the latter is not generally sold in cafés, as it is seen more as a homemade drink of the jailoos; it is, however, commonly sold at the roadside from yurts, especially in early summer. Bozo is a slightly alcoholic drink, made from fermented millet wheat, and Shoro is a well-known proprietary brand of maksym, a drink made from wheat. Kyrgyz wine is best avoided.
Accommodation

It is usually possible to stay in a genuine yurt just by turning up at a jailoo in the summer months © Pavel Svoboda, Shutterstock
Hotels in Kyrgyzstan range from luxurious to basic gostinitsas, although the majority fall into the lower end of this range. As the capital and largest city, Bishkek has the largest number and the widest range of options, having the Hyatt Regency, the country's only five-star hotel, along with a handful of large, comfortable four-star hotels that have mostly been built with foreign funding. These cost more or less the same as would be paid in a Western city.
A few Soviet-era hotels from before independence have survived and these still tend to be run on much the same lines as they were during the heyday of the USSR, giving a taste of the Soviet period that is nostalgic for some. Most large towns have at least one example of this sort of place and, depending on the alternatives available, they are at least serviceable and can sometimes represent reasonable value for money. Typically, they cost anything between US$15 and US$30 for a double room.
Some of the older state-run hotels have since been taken into private ownership and renovated, although sometimes the subsequent increase in room prices is not matched by an appreciable improvement in quality.
As well as Soviet-era hotels there are also health resorts and sanatoria from the same period, particularly on the north shore of Lake Issyk-Kul, which offer residential packages that combine health treatments with full board and the option of a variety of vacation leisure pursuits. It is usually possible just to book a room and meals at these places but they are far more used to catering for the tastes of CIS clients than those of Westerners. A more basic version of these resorts are turbaza, simple vacation camps that house guests in basic wooden huts and that are usually found in mountain valleys such as Ala-Archa or resorts like Arslanbob.
In recent years a number of small, purpose-built boutique-style hotels have been built with foreign visitors in mind. These tend to be in the middle price rangeof US$60–90 for a double room and are found mostly in Bishkek, although there are examples of these in Karakol, Naryn, Osh and Jalal-Abad, too.
Organised yurt camps are another recent innovation, which are usually tucked away at beautiful, but reasonably accessible, jailoos and run by Bishkek tour companies who house their tour clients there as part of a trek. These are highly popular as they offer visitors the opportunity to stay in a traditional nomadic shelter without compromising comfort too much, as the best yurt camps provide a number of distinctly non-traditional features like hot showers, indoor toilets and Western food. Full board at a yurt camp usually costs in the order of US$20–25 a day.
More authentically, it is usually possible to stay in genuine yurts just by turning up at a jailoo in the summer months; indeed, some families erect an extra yurt for the use of guests. These usually lack any proper washing facilities and normally just have a pit toilet. The meals provided are often very good although, understandably, they tend to involve a high proportion of dairy produce. The price is usually negotiable but is in the region of 1,000som (US$14) per person including meals.
The most revolutionary trend in Kyrgyz tourism in recent years, especially as far as independent travellers are concerned, has been the setting up of a comprehensive homestay network through the Community Based Tourism (CBT) initiative. There are also homestays in Kyrgyzstan that are not affiliated to CBT, but those that do belong are vetted by local and national representatives for quality and their suitability for Western tourists.