Visas
Getting there and away
Getting around
Visas
As of January 2017, there is no longer any red tape associated with travel to Kazakhstan for citizens of many European countries, including the UK, as well as those of the USA and Canada. Rules may, however, change and you are advised to check the latest position with your travel agent or Kazakhstan Embassy before preparing to travel. Refer to Kazakhstan's Ministry of Foreign Affairs for more information.
On your arrival in Kazakhstan, you will need to fill out a migration card. These are usually doled out by aircraft cabin crews, but you can otherwise find them in the arrivals hall in airports, overland border crossings or the seaport before going through immigration. It is stamped at the border, as is your passport. Keep the migration card safe with your passport: you will need to hand it in to the border guards on departure and may be fined if you lose it.
Other than that, no other procedures apply, unless you are planning to stay for longer than 30 days. If so, you are required to register – in other words, get an extension stamp on your migration card – at the nearest police office. This is usually straightforward, though you will need to locate the police office administering the city district where your hotel is located (as you are required to give your hotel address as the place of registration). The hotel reception should be able to advise you where to go. You are also supposed to bring with you a letter from the hotel confirming your stay. While getting a confirmation letter from a top-range hotel is hassle-free, if you are travelling on a budget, cheaper hotels may be less willing to do this, though in this case it is possible that the police will accept other documentation proving where you are staying and the nature of the trip. That aside, after some standard bureaucracy and paper shuffling, getting an extension stamp is a simple enough procedure. It can take a couple of days for the paperwork to be finalised, so you should apply for the extension at least two days before the expiry of the 30-day period.
Getting there and away
By air
The easiest way to get to Kazakhstan from western Europe is by air. The national carrier, Air Astana, flies to a wide range of international destinations and their service is excellent. Almaty and Astana are the two major airports and both offer modern terminals. Astana airport is the less busy of the two, and many visitors rate it as providing a smoother passage into the country.
Another possible routing from western Europe to Kazakhstan that may be worth investigating is via Russia. There are two potential advantages here. One is that there are flights from Moscow to a range of regional airports in Kazakhstan, so if your destination is not Astana, Almaty or Atyrau, you may find that a routing through Moscow is more convenient. Another is cost. But there are some potential downsides too. If you are transiting through Moscow, please note that the city's various airports are located some distance from each other: arrival at Sheremetyevo airport and departure from Domodedovo in particular requires a lengthy transfer. You will also need to check whether your flight arrangements necessitate getting a Russian transit visa.
Connections within Asia are not extensive, but you can fly from Almaty to Bishkek, Dushanbe and Tashkent, as well as to Urumqi in western China, and Beijing and Seoul. There are services from Almaty, Astana, Atyrau and Aktau to destinations in the south Caucasus as well as seasonal flights to Turkey and Saudi Arabia.
By rail
There is a range of railway connections between Kazakhstan, Russia, Uzbekistan, Tajikistan and Kyrgyzstan. Russian Railways operate many services and connections to central Asia via Kazakhstan. There is alas no longer a direct service between Moscow and Almaty, but a combination ticket with a stopover in Atyrau can be purchased online. Prices on departures from Russia range between €60 and €300 depending on the final destination.
Devoted fans of train travel and travellers with time on their hands can combine a trip to Kazakhstan with a train journey from/to western Europe. Russian Railways have two to three weekly services connecting Moscow to Paris, Berlin and Vienna as well as cities in eastern Europe and Belarus.
Locomotion is certainly not fast (even on an express service), and you are advised to check the timetable carefully to ensure you do not choose a particularly somnolent option. The extent to which you enjoy the experience is likely to depend heavily on the fellow passengers you find yourself sharing a compartment with, and the volume of vodka you are happy to share with them.
One routing being billed as a southerly alternative to the Trans-Siberian Railway is the 'Silk Route' to China, from Moscow to Beijing via Almaty and Urumqi in Western China. A number of operators run tours along this route using private trains, aimed at the luxury end of the travel market, but you can also travel the route on ordinary trains.
From Almaty, there is a twice-weekly service, the Zhibek Zholy, to Urumqi in western China, leaving late in the evening and arriving early in the morning two days later. Since China uses a standard gauge of 1.435m, and Kazakhstan uses the broad gauge of 1.52m found across the former Soviet Union, there is a long wait at the Dostyk border crossing while the bogies are changed. You have a choice of soft class (four-berth sleepers) or hard class (bunks in an open compartment). From Urumqi there is a daily train to Beijing.
By road
There are numerous bus services between cities in northern Kazakhstan and various Russian cities. Advance ticket purchase is recommended, especially during high season or school holidays. Note that some services charge extra for luggage. But before shelling out for that bus ticket from Aktobe to St Petersburg, do bear in mind that long bus journeys, even in the 'luxury' coaches that have started to appear on some routes, can be decidedly cramped and uncomfortable. At least in trains you can walk around. Driver fatigue can also be an issue.
By sea
There is a ferry every couple of days across the Caspian Sea from Baku (Alat port) to Aktau, but it doesn't run to a fixed timetable. You may have to wait up to a few days for a boat as one will only leave Baku when its cargo deck is full. The crossing takes 24 hours (though two to three days is not uncommon in bad weather). Ferry Management, with an office in Aktau, is the only sales representative for this service in Kazakhstan. If you are travelling to Baku, you will require a visa before leaving Kazakhstan as they are not available on arrival, and note that if you have a stamp from Nagorno-Karabakh you may be denied entry to Azerbaijan.
Getting around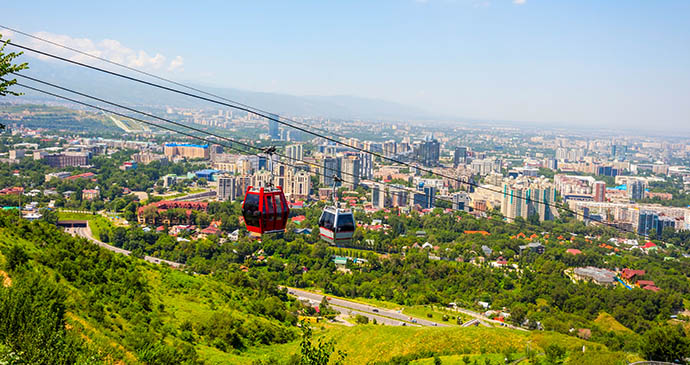 In Almaty, Kok-Tobe, or Green Mountain, can easily be accessed by cable car © Dinozzzaver, Shutterstock
By air
Given Kazakhstan's huge size, internal flights are an important means of getting around the country. There is a relatively well-developed domestic network, with flights to every regional capital, as well as to a small number of other large towns, such as Semey and Zhezkazgan. Almaty and Astana are the main hubs of the domestic network, though there are also a few direct connections between other cities. The national carrier is Air Astana, a joint venture between the government of Kazakhstan and BAE Systems, which started out in 2002, and took over as national carrier two years later on the demise of Air Kazakhstan. Since 2013 annually until 2017 it was named by Skytrax as the best airline in central Asia and India. Its rapidly expanding fleet is made up of an Airbus A-319, A320 and A321, Boeing 757 and 767 and the Embraer 190.
By rail
While not a fast way to travel – taking their long stops at stations into account, Kazakhstan's trains average something like 40km/h – the train is a great way to appreciate the enormity of the country, as you sweep through great expanses of steppe and desert, and offers good opportunities for interacting with the local people, who will be your companions for many hours. It is also worth bearing in mind that train travel is less likely than domestic air travel to be disrupted by winter weather menaces such as freezing fog.
By road
Intercity buses tend to be both a little faster and cheaper than the train. The quality of buses serving intercity routes in Kazakhstan is gradually improving, but there are still a fair few clapped-out examples around (particularly in eastern Kazakhstan). In general, buses make a reasonable option for trips of up to a few hours between adjacent cities, but the train is a more comfortable option for really long-distance travel.
Also plying the roads between Kazakhstani cities, and generally also leaving from outside the bus station, are minivans, or marshrutkas. Unlike buses, these generally do not operate to a fixed timetable, but leave when the vehicle is full, or when the driver is bored of waiting. These tend to be faster than the buses, but journeys can at times be quite alarming, with the drivers, in a hurry to maximise the number of trips they make, racing faster than the condition of the road or van often warrants. Another, slightly more expensive, option is a shared taxi, which usually costs double a bus fare. Shared taxis can carry up to six passengers depending on the vehicle, and again depart when the taxi is full.
Urban transport
Regional capitals and other large towns in Kazakhstan are generally served by reasonably efficient urban public transport networks, comprising some combination of buses, minibuses, trolleybuses and trams. Fares are very cheap: typically T60–150, depending on the city. The vehicles in service are often decidedly elderly. Note though that services generally cease running well before midnight. These are supplemented by a well-developed unofficial taxi system.
By car
If driving your own vehicle, be sure to take plenty of water, food and fuel, as rest stops are infrequent and the intermittent petrol stations, particularly in the west of Kazakhstan, do run dry. The sight of a fellow motorist hitching by the side of the road with a plastic jerry can in hand is unnervingly frequent, and there is no pretence at a breakdown service.