With stunning mountains, this is a region where a traditional lifestyle and hospitality survive stronger than anywhere else in the country.
Svaneti, the land of the Svans or Svanebi, hidden in obscure recesses of the High Caucasus, is an area to which much mystery attaches itself.
It's seen as more Georgian than Georgia proper, the repository of the country's soul, due to having been the last refuge from the Mongols – the holiest icons and richest treasures were carried up beyond the Enguri gorges for safe keeping in times of crisis, and artistic and religious traditions are felt to have been better preserved here than elsewhere.
At the same time the Svans are seen as strong but unsophisticated, often disregarding the norms of law and order and speaking a language which split from Georgian by the 6th century and is largely incomprehensible to the people of Kartli and Kakheti.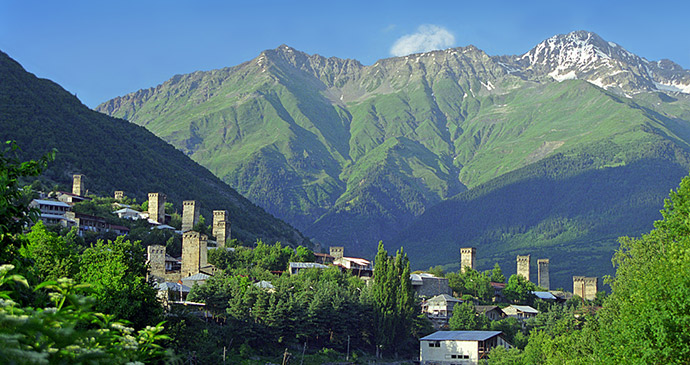 The Svans' fearsome reputation for brigandage is not wholly without foundation; indeed crime flared up during the Shevardnadze period, and during the civil war in Abkhazia, when refugees were fleeing from the Svan-populated upper reaches of the Kodori and Sakeni rivers, some were greeted by soup kitchens at the passes, but others were robbed by their fellow Svans.
Until 2003 tourists were sometimes held up and robbed here but the situation changed dramatically thanks to investment and a clean-up campaign by President Saakashvili.
The typical Svan name 'Kurdiani' means 'thief ', although the family has actually produced many well-known Tbilisi architects and artists. In fact, the Svans are very hospitable and friendly, and given the amazing beauty of the surrounding peaks, the clusters of defensive towers that dominate the villages, and the frescoes and icons of the churches, it is hardly surprising that these valleys are now enticing many visitors, just as in Soviet times.
More and more independent travellers are arriving and people can see the economic benefits of tourism: the total was still only 1,200 in 2005 but now an estimated 50,000 visit per year. The Saakashvili administration sought to develop tourism in Svaneti even further, turning the region into a 'Switzerland in the Caucasus', complete with ski slopes and modern hotels.
One aspect of this was the enlargement of Mestia's airport to handle commercial flights. Another is the US$25 million spent in 2011 on rebuilding the rough, and occasionally frightening, 136km highway between Zugdidi and Mestia, built only in 1934; journey time was cut from 6 hours to just three.
Such changes will undoubtedly boost the region's economy, although the harm they will do to an age-old and formerly isolated culture such as this remains to be seen. The Svan culture is probably strong enough to survive, but it's still sound advice to get there as soon as possible.