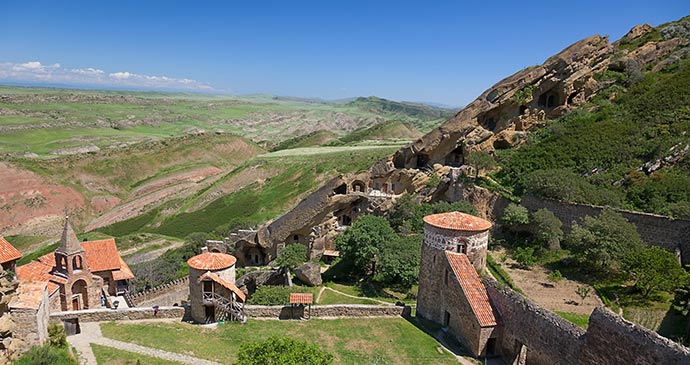 The monasteries were constructed from natural sandstone caves © Ilia Torlin, Shutterstock
Scattered in semi-desert on the Azerbaijani border, these cave monasteries date from the 6th century.
In virtual desert on the Azerbaijani border is the Davit-Gareja complex of monasteries, a group of cave monasteries founded in the mid 6th century by St David (one of the 13 Holy Assyrian Fathers), and his disciple Lukian, after his stay on Tbilisi's Holy Mountain. Over 20 monasteries have been identified, but only a few are widely known or visited.
The monasteries were constructed from natural sandstone caves which were expanded by heating the rock with fire then pouring on water to split it; all have a church with a main nave and a lesser deacon's nave to the north, as well as cells, stores and other chambers. Above, a dozen of the monasteries built towers to send signals between them.
It's pretty much a lunar landscape in many places, but it's transformed from April to early June when the steppe flowers bloom. There's a healthy population of snakes, lizards and rabbits, and a remarkable range of raptors, such as eagles, vultures, buzzards and owls, that prey on them. In addition there are wolves, bats in many of the caves, and there were goitred gazelles until relatively recently. May and June are the best time for flowers and birds, notably nesting vultures and displaying chukar, as well as huge tadpoles.