Scattered in semi-desert on the Azerbaijani border, these cave monasteries date from the 6th century.
In virtual desert on the Azerbaijani border is the Davit-Gareja complex of monasteries, a group of cave monasteries founded in the mid 6th century by St David (one of the 13 Holy Assyrian Fathers), and his disciple Lukian, after his stay on Tbilisi's Holy Mountain. Over 20 monasteries have been identified, but only a few are widely known or visited.
There's no way to get here other than by mountain bike, car or a trip organised by a tourist agency; it's about 70km, or under 2 hours, each way from Tbilisi. A day trip costs around GEL150 for two people, or about half that if you have your own car; if not you'll usually be accompanied by both a driver and a pretty knowledgeable guide.
From mid-April to early November a minibus operated by Gareji Line leaves daily at 11.00 from the Pushkin statue near the northeastern corner of Freedom Square in Tbilisi, stopping for lunch at the Oasis Club, then visiting the monasteries for about 3 hours and returning after 19.00.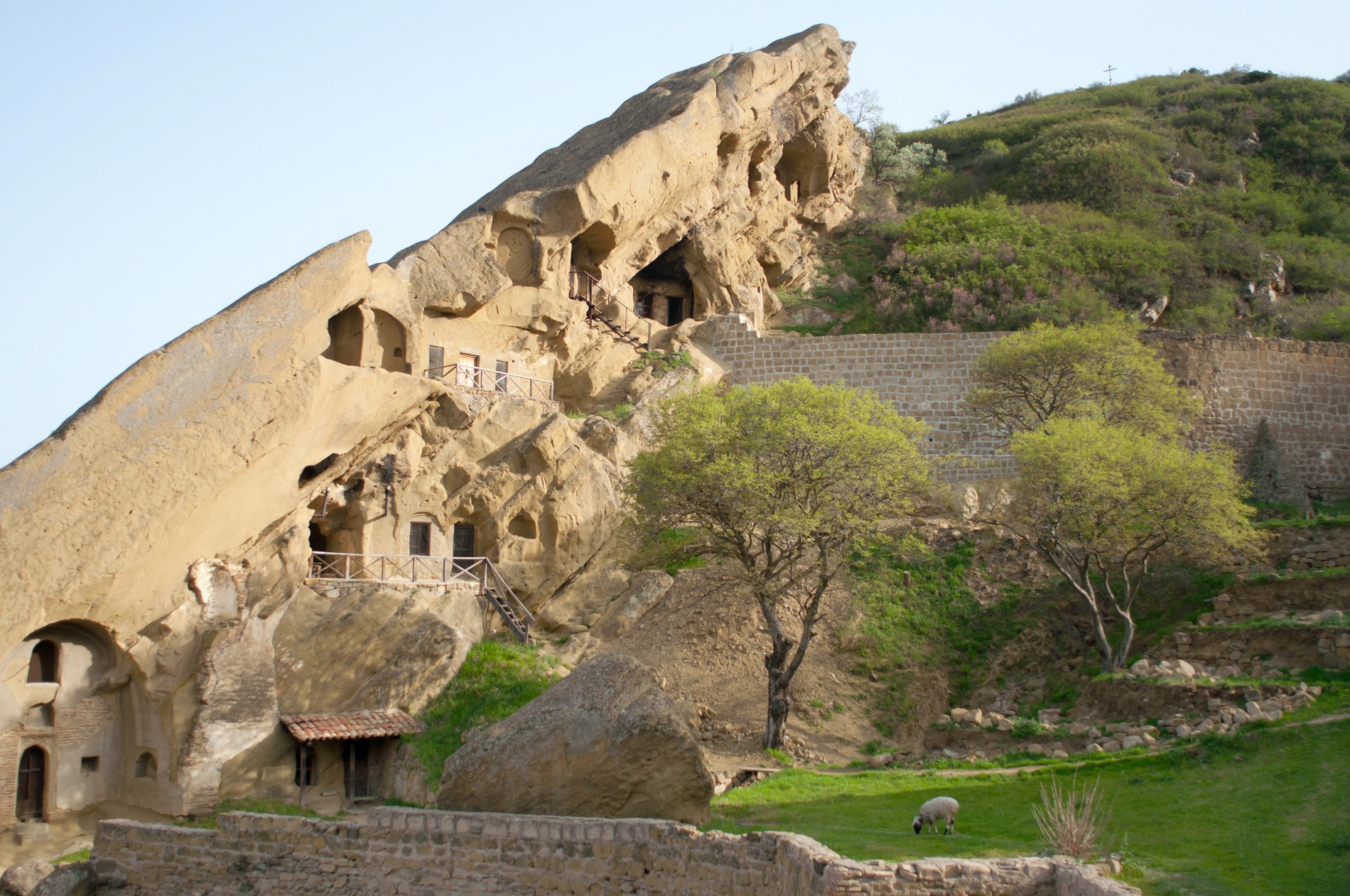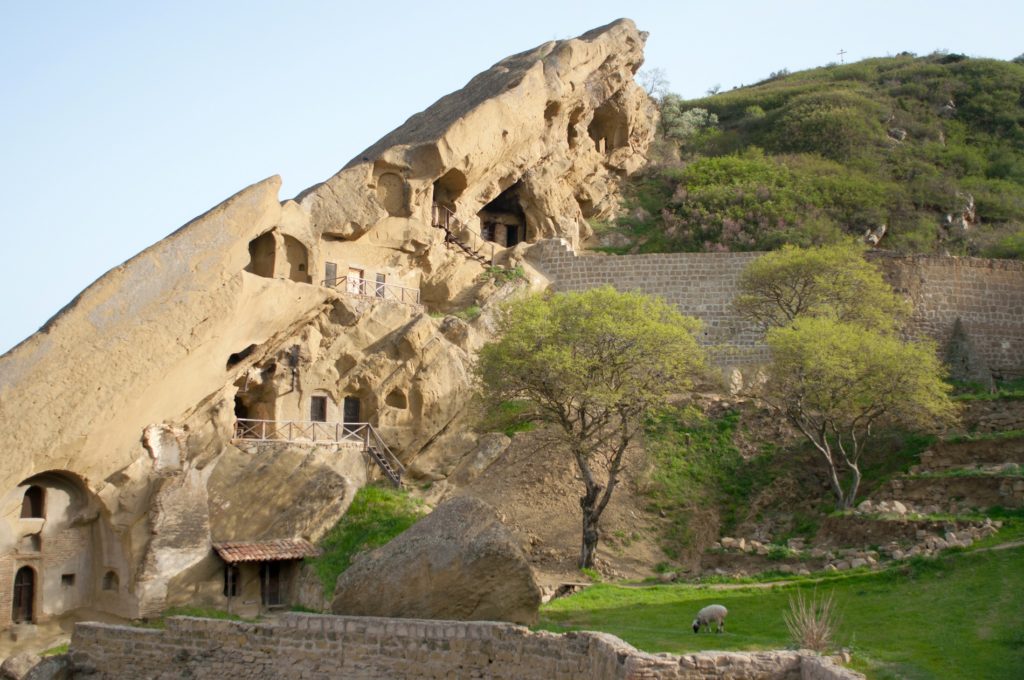 If you're thinking of moving from Tbilisi to a hotel in Sighnaghi or Telavi, ask about a transfer including the detour to Davit-Gareja, which makes a very cost-effective combination. A cheaper but fussier way to reach the monastery complex from Tbilisi is first to take a marshrutka to Gardabani or Sagarejo, then hire a taxi for the round trip from there. This does involve far more hanging around at bus stations, however.
Don't be tempted by the daily bus to Udabno village, it's tiny and you won't find a taxi to get to the actual monasteries. There's no government involvement at all, with lots of graffiti, bad paths and no safety warnings; it's not at all easy for the elderly or less able to reach Udabno Monastery or enter the caves. Two hours is enough time to see the Lavra and Udabno monasteries.
History of Davit-Gareja
The area has been populated for at least four millennia, as shown by Bronze Age tombs and pottery; it was then a forested area, but iron smelting eventually led to deforestation in the first half of the 1st millennium bc, and thus climate change and desertification.
When the monks arrived in the 6th century they had to construct channels and reservoirs for water, and their 9th-century frescoes show their close relationship with nature, notably an image of wild deer being milked, referring to the deer that gave the first monks sustenance (but not on Fridays).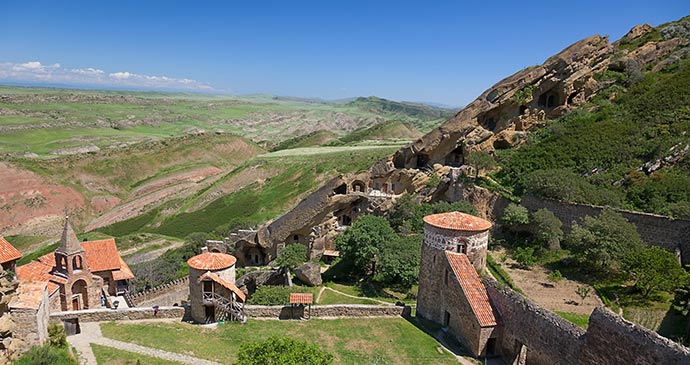 The monasteries were constructed from natural sandstone caves which were expanded by heating the rock with fire then pouring on water to split it; all have a church with a main nave and a lesser deacon's nave to the north, as well as cells, stores and other chambers. Above, a dozen of the monasteries built towers to send signals between them.
The high point of the monastic community was from the 10th century to the coming of the Mongols in the 13th century, although most survived until the early 17th century, when Shah Abbas massacred 6,000 monks (all subsequently canonised) during the Easter Night procession. The monasteries were re-established, but declined and were abandoned in the 19th century, although three have now been re-established.
Their greatest crisis has come in the last 50 years, during which the Soviet army used the area as an artillery range, often aiming directly at the monasteries. From the late 1980s nationalists demanded an end to military training in the area, and it was finally halted in 1991. The military were keen to train here because of its resemblance to Afghanistan, but once that war had finished in 1989 they lost interest.
In 1994 the first cultural and biological survey of the area was undertaken, and some water channels were reopened. Another monastery, abandoned in the 12th century, was rediscovered in 1995, with domes of a type otherwise unknown in Eastern Christendom, as were 10–12th-century frescoes and graffiti, which have given interesting information on the development of the Georgian alphabet.
In mid 1995 the Georgian army resumed training in the area, and in 1996 artillery firing; this was suspended in 1997 after protests and legal action, which was seen as proof of the development of 'civil society' in Georgia. The army appealed to the Supreme Court, but the Church finally joined the battle against it, and the cultural (and touristic) value of the area was eventually preserved.
It's pretty much a lunar landscape in many places, but it's transformed from April to early June when the steppe flowers bloom; the dominant species is the bearded grass Botriochloa ischaenum, with other grasses such as Festuca sulcata, Stipa capillata, S. lessingiana and S. pulcherrima.
There's a healthy population of snakes, lizards and rabbits, and a remarkable range of raptors, such as eagles, vultures, buzzards and owls, that prey on them. In addition there are wolves, bats in many of the caves, and there were goitred gazelles until relatively recently. May and June are also the best time for birds, notably nesting vultures and displaying chukar, as well as huge tadpoles.
More info about Davit-Gareja
Read more about Davit-Gareja monastery and Georgia in our guidebook: