This charming spa town is also a base for the country's finest national park and Bakuriani ski resort.
Just before km29/68 the main road up the left/west bank of the Mtkvari reaches the centre of the spa town of Borjomi, with shops, a market, and a bus station, just south of the centre.
One of the main attractions here is Borjomi spa, which, at an altitude of 800m, offers both health-giving waters and a bracing mountain atmosphere. Chekhov, Tchaikovsky, members of the Romanov family and Stalin were among those who came to take the waters here.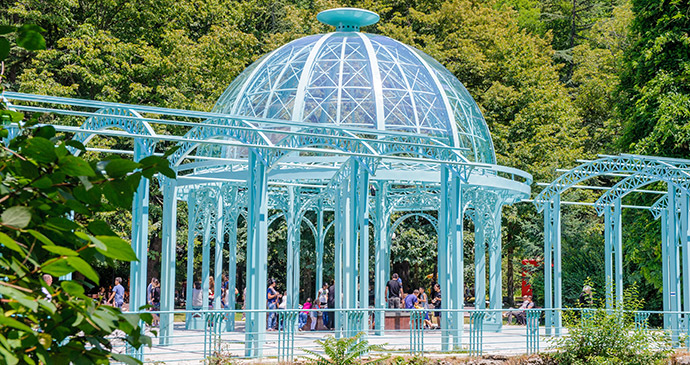 Inside Ekaterina Park, a covered pavilion has taps spewing out the famous Borjomi water. Together with Narzan (from the northern Caucasus) this was the former Soviet Union's favourite mineral water, with 300 million bottles a year being filled when times were good.
It's flavoured with sodium carbonate, tasting something like Vichy water – slightly warm and salty. The park was refurbished in 2005, and now has a modern pool near the entry, as well as restaurants, bars and a cinema.
The Borjomi-Kharagauli National Park marks the division between the humid Colchic habitats of western Georgia and the drier landscapes of the east. There is an intriguing mix of species here, as well as Tertiary relics and some endemic species (such as Gladiolus dzavacheticus and Corydallis erdelii).
The area became a nature reserve in 1935 and a national park in 1995, opening to the public only in 2001. The park covers 85,000ha with a buffer zone of 450,000ha, and includes Sametskhavareo, the highest peak in the region at 2,642m.