Highlights
A full-day (six-hour) city tour, offered by many tour companies, usually takes in three or four sites, including museums, mosques and markets, plus a river trip to the water village, Kampung Ayer. Brunei Tourism's website (www.bruneitourism.travel) has a list of all reputable tour operators, while Freme Travels gives a clear idea of overall tour possibilities.
Bandar Seri Begawan
Mosques
The most beautiful night-time views in Brunei come from the lights and bulbous forms thrown from its two very distinct mosques. The cream-and-gold Sultan Omar Ali Saifuddien Mosque (in the CBD, near the Central Bus Station) is the older city mosque, built in 1958. It is a magical apparition of stained glass, Shanghai granite, chandeliers and Italian marble, surrounded by a lagoon on which a replica of the royal barge floats. The mesmerising gold dome contains 3.3 million fragments of Venetian mosaic, over a surface of 520m².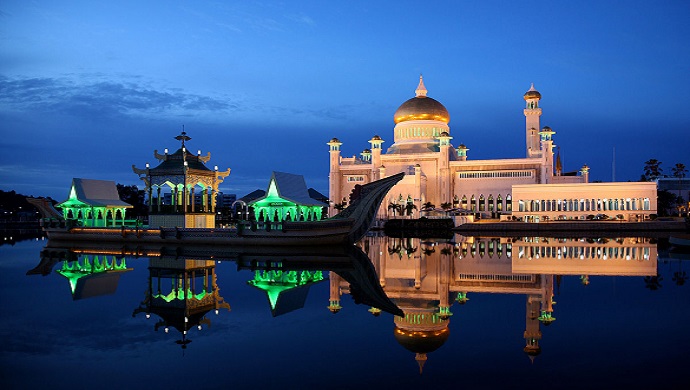 Sultan Omar Ali Saifuddien Mosque, Bandar Seri Begawan © sam garza, Wikimedia Commons
Despite it lacking any historic awe-factor, you will be struck by the opulence and strong sense of Islamic faith at the Masjid Jame'Asr Hassanal Bolkiah Mosque. Gloriously ornamental, the edifice is a solid statement of the place of Islam in Bruneian life: architectural elements come in 29s. There are 29 golden domes, 29 steps and 29 pillars – the magic number represents the number of sultans that have ruled to date. Built to commemorate the 25th year of the current Sultan's reign, it is known as the Kiarong Mosque.
Museums
The most interesting from a historical point of view is the Brunei Museum with its bronze and brass artefacts, Chinese ceramics, jewellery and natural history displays, and chronicle of the oil industry. A real highlight is the Islamic art gallery, which contains exquisite jewellery and tapestries from around the world from the Sultan's private collection, dating from the 10th and 11th centuries. In a lovely, leafy riverside location just out of town, the museum is situated on an archaeological site in Kota Batu where Brunei's former settlements are still being unearthed. Ceramics and coins from the Tang dynasty have been found here. Nearby is the tomb of Brunei's fifth Islamic monarch, Sultan Bolkiah, who ruled from 1473–1521.
The Malay Technology Museum uses rather unrealistic dummies in its exhibits – natives in their primitive Kampung Ayer stilt houses and Iban tribespeople in their longhouses. Nevertheless, it provides a fascinating insight into ancient housing and water-village cottage industries, including boatmaking technology, goldsmithing and fishing.
Celebrity attracts, and the Royal Regalia Museum is Bandar Seri Begawan's most visited museum. It puts on show the insignia, pomp and privileges relating to the stronghold sultanate, with a particular focus on the coronation of the present sultan in 1968. The large collection of artefacts includes royal family photographs, a replica of the throne from the royal palace, ceremonial armoury, the crown jewels, costumes and gold and silver chariots.
The oldest-surviving colonial building in Brunei, Bubongan Duabelas is a timber house with a dozen peaked canopies (its name literally means the 'house of 12 roofs'), balustraded porches and wide roof overhangs. Built in 1906, it was once home to the British Resident and British High Commissioner of Brunei.
Festivals
Food plays the leading role in Brunei's festivals. Celebrated festivals include the Chinese Lunar New Year in late January and the month-long Ramadan (mid-September to mid-October), when government offices close for the day at 14.00 and food markets spring into action all over the city.
Excursions
Most other destinations in Brunei (and there are only two or three) are best done as day trips from the capital, or at a stretch with an overnight stay. Outside of the capital, the number of quality accommodations can be counted on the fingers of one hand. Thankfully, the short distances involved make day trips possible, but this does not mean you should rule out immersing yourself in beautiful Ulu Temburong National Park, or the oil district, for a night or two.
Islands and reserves
Bukit Shahbandar
(15km from Bandar, along the Muara–Tutong Highway) A 70ha hilly recreational park with a network of wellsigned trekking paths, a mountain-bike trail, an observation tower with views over the capital and the Jerudong area, and resident long-tailed macaque monkeys. This is where the Brunei Marathon is held every December.
Wasai Kendal
Thanks to its waterfall, this is a favourite forest retreat for family outings with its picnic facilities, trails, tropical flora and easy trekking. It is within 20 minutes' drive south of the capital, in Brunei Muara.
Pulau Selirong (Mosquito Island)
A small mangrove-forested island with a plankwalk through tropical forest (a half-day tour). It's a 45-minute boat ride away from Bandar Seri Begawan, off Brunei Bay.