Orchid © Leksele, Shutterstock
Getting there and away
Brunei is divided into four administrative divisions: Brunei Muara, which includes the capital Bandar Seri Begawan, Tutong, Belait and Temburong. Brunei is an eighth of the size of Switzerland, with the longest car trip in the country taking little more than three hours.
By air
National carrier Royal Brunei Airlines (RBA) flies from Bandar Seri Begawan to 20 major cities in the Asia Pacific region, the Middle East and Europe. RBA has direct flights several times weekly between Melbourne, Brisbane, Perth, Auckland and Bandar Seri Begawan and flies from London Heathrow to Bandar Seri Begawan via Dubai three times a week. Connections in the Asia Pacific region and China are set to expand as Brunei's importance as both an economic hub and beyondstopover destination grow.
Within Borneo, RBA have several daily flights between Bandar Seri Begawan and both Kota Kinabalu and Kuching. On the rise as Asia's third-biggest low-cost airline, Cebu Pacific flies between BSB and several Philippines' destinations via Manila. In December 2013, the Boeing 787-8 Dreamliner joined RBA's fl eet of Airbus A320 and A319 aircraft as part of company plans to renew its long-haul fleet.
By bus
Journeying by bus between Sarawak and Brunei is far from straightforward: it takes five hours, three buses and a ferry to cover the 120km to Miri. The choice of services over the past few years has been erratic with new operators entering the scene and leaving just as hastily.
Getting around
Bandar Seri Begawan has three districts: Bandar, the city centre or central business district (CBD) hedged around the riverfront; and Gadong and Kiulap, two neighbouring commercial districts on the western side of the river. Unless you intend to stay longer than the standard couple of stopover days, you will probably base yourself either in the CBD or in Gadong. Vibey Gadong is home to markets, malls, shop-lots, restaurants, cafés and a handful of hotels.
Kiulap is an up-and-coming urban precinct, developing around an old village. The upmarket beachside suburb of Jerudong, 13km northwest of the city, is part of the Brunei Muara District (the Jerudong Playground theme park is located here). The northern part of Muara, known as Berakas, is the main administrative and government zone, which also has many sports facilities (stadiums, swimming pools, sports complexes, etc), and a couple of hotels. Muara's beaches lie north of the capital on Brunei Bay.
By car
Brunei's capital is not an easy place to get around by public transport. The main problem is not infrastructure, but limited availability. The last buses run at 18.00, so if you plan to be out after dark you have to rely on your feet, a taxi or a car. The key city sites are spread out over several kilometres, so the best option if you want to see as much as possible in a couple of days is to have your own car, or combine a day of car hire for the city sights with day or overnight tours to other places of interest. A litre of petrol costs around 53 cents – a tank is filled for around B$20. Diesel is 31 cents a litre.
By bus
The bus terminal for city and longer-distance routes is located on Jalan Cator. Six bus routes (with names such as Northern Line, Western Line, etc) serve Bandar Seri Begawan and the wider Muara District. They depart every 15–20 minutes from 06.00 to 18.00; average fares are B$1. The two routes that stop at the CBD, museums and other sites of interest are the Central Line and the Circle Line. The widely available Brunei Tourism map includes the essential public bus transport network map.
By boat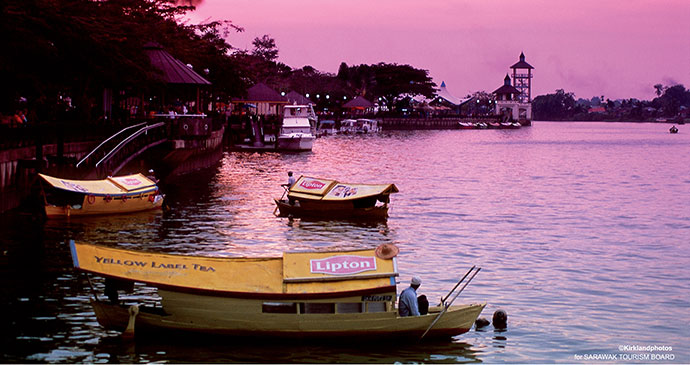 Water taxis
These can be hailed from numerous docking ports and jetties along the banks of the river. They are the most common form of transport for the Kampung Ayer (water village) area and prices are generally negotiable. The standard one-way fare for the river crossing to Kampung Ayer for residents is B$1. River tours (30 minutes or 1 hour), and trips to the Malaysian towns of Limbang and Lawas, cost anything from B$10 to B$30.
Longboats
These are used in rural areas. When the waters are low, you might be required to get out and push! Prices for such trips are included in tour agent packages to destinations such as Temburong. The price of paying for such trips is prohibitive for independent travellers.