Brunei is no foodie capital when it comes to restaurants, but street food is amazing and among the most delicious and immaculately presented in Borneo. Indoors, there are many good coffee shops and casual restaurants; more sophisticated dining and international restaurants are chiefly found in four- and five-star hotels, though Brunei's modern dining scene is still in an embryonic stage.
Gadong is the best place for multi-ethnic, well-priced food at small, family-run businesses, not forgetting the markets and mall food halls. New-wave cafés in the Kiulap District are home to East-meets-West flavours, trendy décor and a young, affluent crowd. Restaurants are not open as late as they are in Malaysian Borneo, with last orders from 21.00 to 22.00. (A number of 24-hour cafés and food stalls cater for night owls.) Given the dearth of but growing demand for chic eateries, it pays to make a reservation at hotel restaurants on weekends.
Market and street food
Two of the most animated food markets are the Kianggeh market (pasar Kianggeh) and the Gadong night market (pasar Gadong). Held near the riverside along Jalan Residency, the Kianggeh market is a vestige of rural life in the city centre. Many of the gerai makan (food stalls) here are family-run, opening from around 15.30 and running through until late; a couple remain open all night. They serve satays and soups, noodle and rice dishes, fresh coconut juice and ketupat – origami-like pouches of rice wrapped in coconut palm or pandan leaves, served with peanut satay sauce.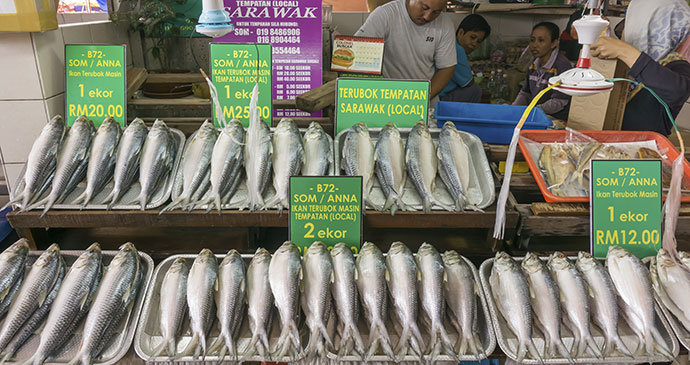 For those staying in the city centre, the Taman Selera (17.00–as late as 02.00) is an excellent night-time, food stall area. Set in a large car park zone between Jalan Tasek Lama and Jalan Kumbang Pasang, opposite the Radisson Hotel, the name literally means 'appetite park'. While it lacks the overall ambience of Gadong, some of the food is still very good, and the market is a godsend in this rather uneventful and dining-deprived zone. The Bob U Me stall is recommended for fresh seafood, cooked before your eyes, whichever way you like it.
As far as shopping-centre food courts go, the Padian Food Court in the city centre area – in the riverfront Yayasan complex – serves chicken, rice, laksa, Indian and Western food. In Gadong, there are two food courts – one on the ground-floor Centrepoint Food Court, the other on the top floor of the more upmarket shopping centre, The Mall. Fast food is on the rise and the big international and domestic names – KFC, Pizza Hut, McDonald's, Sugar Bun and Jollibee – all have outlets in the city and at Jerudong Park. But why eat foreign fast food, when you can have nasi katok around the clock from the many coffee shops and stalls?
Accommodation
There are fewer accommodation choices in Brunei than you might expect for a country of its stature. Options include one- to five-star hotels, serviced apartments, guesthouses and hostels. Nearly 90% of the available accommodation is in the capital. Given the dispersed nature of the city, and generally poor public transport, be sure to pick your accommodation according to your priorities: CBD, retail and riverfront; nightlife and markets in Gadong; or groomed greenery, golfing and beaches in Jerudong. All of the hostels are in Bandar. Keep in mind it is sometimes possible to get better value for money by staying in a suburban hotel. The Brunei Association of Hotels website provides links to its members, bringing together two-thirds of the country's hotels.