Climate
When to visit
Highlights
Climate
Borneo's climate is equatorial-tropical, distinguished by marked wet and dry seasons: the wet season (or 'northeast monsoon') generally runs from November to March, the dry season (or 'southwest monsoon') from May to October. There is no official start and end point between seasons. In the wet season, there are usually daily rains, and sometimes violent storms, monsoon winds, flooding, landslides and torrential rains.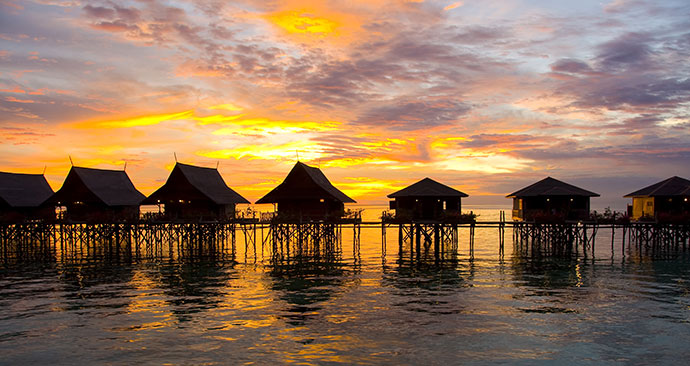 The sun rises and sets at around the same time every day – between 06.00 and 18.00 © blung_Shutterstock
Half of the annual rainfall on Sarawak's west coast falls between December and March, while the hilly slopes of Sarawak's inland Kelabit Highlands receive the highest annual rainfall of the state – more than 5,000mm. The wettest months tend to be January and February, followed directly by the driest – March and April. In more equatorial Sarawak, there is little variation in day length throughout the year – with only a seven-minute difference between the shortest and longest days.
When to visit
Weather
Wet or dry season? There is no clear-cut best time to visit Borneo insofar as sunshine and warm weather are concerned (this is the tropics after all), but depending on the nature of your holiday, seasons may count considerably. Each has its advantages and drawbacks. The dry season (southwest monsoon) generally occurs from May to October, though huge downpours and floods can occur during that time, particularly in June and July. The wet season (northeast monsoon) reigns from November to April, and while monsoon rains may prove challenging, they are also atmospheric and can quickly clear to blue skies. As is the case for the entire planet, climate change is sparking increasing seasonal unpredictability.
For active and adventure holidays, the wet season is most likely to hinder your travel plans. Heavy rains and general bad weather may see flights to remote regions cancelled and likewise, disrupt boat travel. Trekkers should be prepared for short bursts of wet weather at any time of the year. During the northeast monsoon, open seas can be extremely rough; in January 2007, a tour company boat capsized off the north coast of Sabah due to a sudden change in weather conditions. On the other hand, low rainfall and river levels often affect boat travel. In hotter periods, upriver trips end up being partly self-propelled, with travellers required to hop out of longboats and help push them upstream.
Crowds
If crowds bother you, best avoid school holidays and major festive celebrations. Not only can it be hard to find accommodation during these busy periods, but hotels can be very noisy. The main school holidays usually fall between the last week of May and last week of June, and six weeks from mid-November through to the end of December. There are also weeklong holidays around mid- March and late August.
Highlights
Gunung Kinabalu National Park, Sabah
The steamy alpine world of Gunung Kinabalu can be enjoyed whether you climb to the peak or not. The complexity of vegetation in the 75,370ha World Heritage park reveals itself even on a shorter trek, through rainforest and lower montane areas around park headquarters, and other zones such as Poring Hot Springs. The butterfly- and bloom-filled park is designated a Centre of Plant Diversity for Southeast Asia by UNESCO, exceptionally rich in species.
Bako National Park, Sarawak
A wonderland mix of mangroves, peat swamp, heath and lowland rainforest, with epic coastal rock formations. On the fauna front, highlights include bright-green snakes, bearded pigs and the proboscis monkey. About 150 of the pendulous-nosed, pot-bellied creatures live in the national park. The trails are excellent (as long as a tree doesn't fall on you, which is what happened to me when I visited!). It's virtually on the back doorstep of Kuching, about 40km away.
River safaris
The boat journey along the Sungai Kinabatangan, Sabah's longest river, is awe-inspiring, with its searing sense of remoteness, natural richness and otherworldly beauty. For wildlife and birdwatching it is one of Borneo's most intense experiences, and the lodges along the river (in their varying degrees of rustic, or as of late, rustic chic) bolster the feeling of going deep jungle for a night or two. Late-afternoon boat trips lead up tributaries of the river to see shy proboscis monkeys and macaques. The global eco-significance of the area has unfortunately not protected it from forestry and palm oil invasion, though conservation and community development efforts are trying their best to turn the tide on the destruction. Staying with river-living (orang sungai) communities helps boost the local economy.
Danum Valley
The closest you will come to the 'Heart of Borneo' without heading deep into the Maliau Basin. Wildlife sightings include gibbon, orangutan, long-tailed macaque, bearded pig, sambar deer, rhinoceros hornbill, maroon langur, western tarsier, clouded leopard, red leaf monkey and a diversity of birds. You will need to stay a few days to catch a glimpse of such a wide variety of animals, rather than just doing a one-hour night safari on the back of a (rather noisy) truck.
Orangutan encounters
The huge appeal of this charismatic primate attracts many people to Borneo, and seeing one is often at the top of their agenda. Orangutan rehabilitation centres and sanctuaries (Sepilok in Sabah, and Semenggoh in Sarawak) are an easy option for quick sightings. Places to see them (and vast amounts of other wildlife) in the wild include the Tabin Wildlife Reserve on Sabah's east coast, the floodplain of the Lower Kinabatangan River and the Danum Valley Conservation Area.