Visas
If you have already passed through Malaysian customs in Kuala Lumpur, it is surprising to face passport control again on arrival in Sabah or Sarawak, but keeping control of their own immigration checks was one of the conditions for them joining the Federation of Malaysia in 1963. It's all just a formality, particularly for citizens of the UK, Australia, Ireland, the USA, Brazil, Canada, France, Italy, Germany, the UAE, South Korea, Japan, South Africa, Tunisia and a host of other western European, South American and Middle Eastern countries who do not need a visa to enter Malaysia for a visit of up to three months. It is mandatory, however, to be holding a passport valid for at least six months on arrival, as well as a return or onward ticket. An extension of up to two months is possible. Passport holders from countries which require a visa will be issued with a 30-day stay on arrival, which can in principle be extended for another 60 days at the Immigration Department in Kota Kinabalu. Citizens of countries including Costa Rica, Mexico, Lithuania and Ukraine require a visa for a stay exceeding one month.
Getting there and away
The main international airports in Malaysian Borneo are Sabah's capital Kota Kinabalu – 'KK' for those in the know – and Kuching, the capital of Sarawak, which is less easily shortened. Clearly your choice of airline will be determined by your proposed itinerary. Sabah Tourism provides a summary and map of all international flights to Kota Kinabalu under its 'Getting to Sabah' section.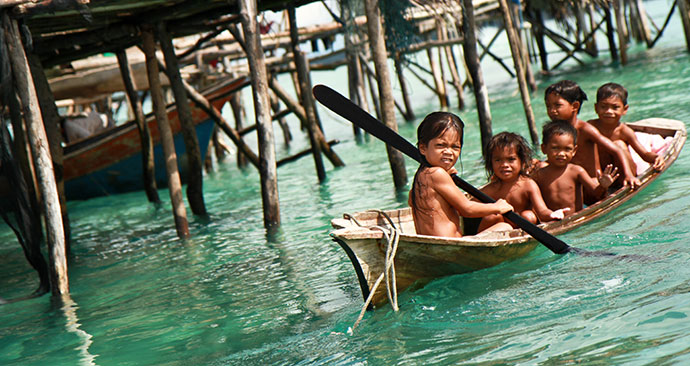 Local children row a wooden boat © Faiz Zaki, Shutterstock
Getting around
By air
Though distances within each Bornean state are not particularly long, most people rely on air travel, not just for longer journeys, such as west-to-east-coast passages, but also between regional cities which are connected within two–three hours, such as those along the Pan-Borneo Highway. This is largely due to the abundance of cheap flights. Why spend six hours travelling by car when you can fly in 40 minutes? On top of that, there's the deterrent state of many roads. Low-cost airlines have popularised air travel in Borneo, as they have done throughout Asia. City-to-city and regional hops such as Kota Kinabalu to Tawau or Sandakan, are easier than climbing on a bus for a six–eight-hour journey. Likewise for metropolises on Sarawak's 1,000km coastline – several daily flights link up Kuching, Sibu, Bintulu and Miri in under an hour. If speed and convenience are what you are looking for, then flying is a good option. If you are concerned about the environmental effects of air travel, or want to take in the scenery between towns (and brave the roads), then read on for other options.
By car
The cost of car rental is similar to Western prices: around RM100–150 a day. Car journeys are particularly economical in Brunei, where petrol costs 53 cents a litre, so about B$20 to fill a tank. (Foreign-registered vehicles pay almost double that.) In Sabah and Sarawak, unleaded fuel costs around RM2.30 a litre (RM105 a tank). Petrol is the great exception – just about everything else is double the price in Brunei! Most national driving licences (UK, US, Australian) can be used in Malaysia for three months, beyond which you require either a Malaysian driving licence or an annually renewable International Driving Permit.
By bus
While buses provide a cheap, comfortable and potentially efficient form of transport, the urban bus system in both Sabah and Sarawak has historically been a bit of a shambles. Prevalent problems have been a maze of different bus companies, sometimes serving the same areas, a lack of a central bus terminal, and confusion over where to catch particular buses, at least for the uninitiated. The situation is improving in the capitals as infrastructure evolves. In smaller towns, buses may not be the best option, though I always find a bus journey – no matter how challenging (and perhaps even more so for that) – an incredible window on local culture and people. When the fascination factor wears off a little, or you are just too tired, taxis can be a cheap alternative for small distances. Indeed Malaysia is one of the rare places in the world where I feel I can genuinely afford them.
By boat
Ferries are an efficient and interesting way of travelling in Borneo. Some of the main links are Brunei to Sabah (via Labuan Island), Brunei to Limbang in Sarawak, Kota Kinabalu to Brunei (via Labuan), and Labuan to Menumbok in Sabah. Various operators, including passenger and car ferries, ply these routes. Labuan Tourism is a good place to check timetables and prices. Labuan is a mandatory thoroughfare of ferry passage between Sabah and Brunei. There are no direct passages.