Author's take
Borneo – the very name conjures up a sultry tropical island, brimming with mystery, maritime escapade and swampy, steamy jungle adventure. Situated at the junction of four seas, in the heart of Southeast Asia, the island's history is that of ferocious headhunters and pillaging pirates, long-haul ocean migrations and seafaring invasions.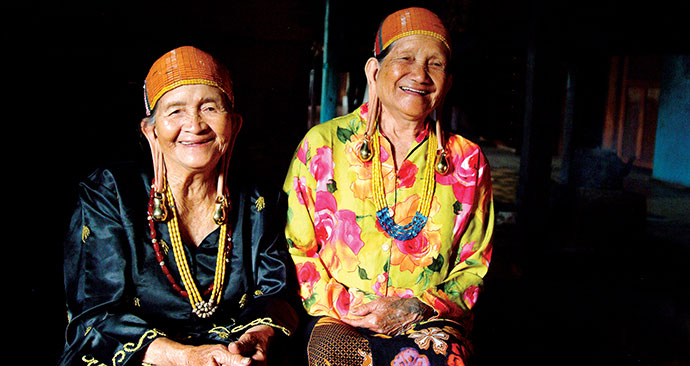 © Sarawaktourism
Throughout its intriguing past the island has been portrayed as remote and obscure, an aura fuelled by talk of pirate-ridden seas, savage natives, inhospitable landscapes and turbulent politics. Even today it evokes the promise of far-off adventure, owing to its indelible geographical isolation as much as the dense surviving jungles. It takes another two hours to reach Borneo, travelling by plane from mainland Malaysia. That remoteness, amplified by rich tribal vestiges and exotic otherworldly flora and fauna, makes Borneo a prime destination for those seeking cultural and natural authenticity. With over 200 indigenous tribes – ancestors of ancient Chinese, Malayan and Javanese Empires – and large Chinese, Malay and Hindu populations, the island is a fascinating repository of ethnographic history.
The two Malaysian states of Sabah and Sarawak, and the self-ruled Sultanate of Brunei, all covered in this guide, each has its own story to tell. Yet their history is also inextricably intertwined. All three came under British influence at some stage, and colonial influences endure in odd yet curious ways.
Borneo's natural wonders are undoubtedly its greatest and most famous asset. As a 'biodiversity hotspot', its variety and richness of life forms is unparalleled. Just 10ha of Bornean rainforest can support 700 species of tree – as many as are found across the whole of North America. The island boasts as many bird species as Europe, and the same mammal count as Australia. Foremost among them is Borneo's adorable yet endangered mascot – Asia's only great ape, the orangutan. Over 5,000 plant species and 500 animals are unique to the island.
Like many paradises, however, the very things that make Borneo so magical are under threat. Its extraordinary natural world and traditional cultures have been seriously eroded over the past half-century, with up to half of its tropical forests lost and much of its flora and fauna pushed towards extinction. In some cases it is too late to turn back the clock. As the consequences of environmental destruction and conservation of tropical forests and biodiversity gain prominence on the global agenda, however, hopefully Borneo's outstanding remaining natural treasures will be preserved for future generations.
Author's story
Born on the end-of-the-world island of Tasmania, far-flung, wild islands are an intrinsic part of my genetic make-up. Drawn inexorably to isolated places and their often otherworldly nature and culture, my childhood dreams of Borneo were fanned by forays into National Geographic magazine. In the mid 1990s they were rekindled during a chance encounter with a Malaysian in Melbourne. Quizzing him about the most beautiful places to visit in his country, he sketched Sabah and Sarawak on a paper napkin and told me how extraordinary but threatened Borneo's rainforests and animals were. Clutching that scrap of paper, the desire to visit simmered away for another couple of years. When I got there, it was just as he had described it – a land of astonishing wildlife and people, facing serious environmental threats.
One of the most intolerable tragedies of our times, I believe, is the irreversible destruction of the searing beauty and uniqueness of such places. As West Malaysia is consumed by a speedy, hyper-modern lifestyle, Borneo's natural beauty, cultural richness and traditional village lifestyles stand out even more. Those lucky enough to visit, will hopefully be inspired to help protect this extraordinary island of forested fantasies.
Tamara Thiessen, author of Borneo: the Bradt Guide