Eating and drinking
Borneo's mix of cultures creates a piquant culinary bouillabaisse. I hope this section will help you avoid the many tongue-tied moments I have experienced trying to order food, with no certainty of what I am about to eat!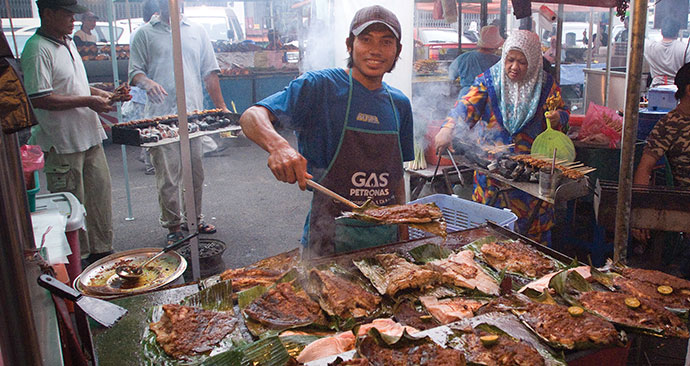 Markets are a great way to try local cuisine © Sarawaktourism
Malaysians and Bruneians are nations of passionate eaters. While the two countries have distinct food, they also share many common Malay and (to a lesser extent in Brunei) Chinese dishes. Rice (nasi) and noodles (mee) are staples of Malay and Chinese cuisine – if you don't like either, be prepared to starve! The Chinese and Malay populations rely heavily on noodles in laksa and other soups, as well as main-meal dishes. Freshly made mee comes in various forms: large white or yellow ribbon wheat noodles, spaghetti thin noodles and clear vermicelli noodles. In coffee shops you can often choose your noodles from the masses hanging at a counter at the entrance. Then you have to decide on the style you want them cooked – the big differences being 'wet' (with sauce) or 'dry' (without); fried (goreng) or not fried; spicy or mild. Dried noodles are increasingly being used, so when you get the chance to taste the real thing then do so. Sedap dimakan! (Bon appetit!)
Accommodation
The Malaysian Tourism Ministry started toughening up criteria for national hotel ratings in 2011, after receiving many complaints from tourists about Malaysian hotel standards. While it's difficult to make blanket statements, one can assume that if there are problems on a national level, they are probably more acute in Malaysian Borneo where overall standards have lagged behind.
The 'Hotel Monitoring Team' of the Ministry of Culture, Arts and Tourism (MOCAT) keep an eye on the 992 registered hotels and more than 2,200 tourist accommodation premises nationwide. To receive any kind of rating, hotels must be MOCAT-registered. MOCAT also has another grading system, the Orchid classification, for lodgings that don't qualify for star ratings. This applies to budget hotels, family-owned 'resorts', homestays, bed and breakfasts, hostels and inns. You can expect a three-Orchid resort to be very comfortable and clean, perhaps with a pool, Wi-Fi and other facilities.
The Malaysian Association of Hotels issues hotel star ratings. Some budget hotels have a no-star rating. You can check to see if they are registered or have any other classification – the Malaysian Budget Hotels Association (MBHA) website has an online booking system for all of its registered members.