January
Go primate gazing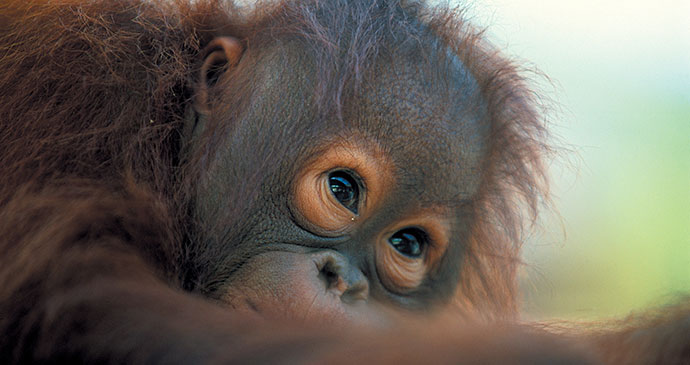 Up close with an orangutan © Sarawak Tourism
The tropical rainforests of Borneo are home to 90% of the world's orangutan population. The 'man of the forest' exists only here and on the neighbouring island of Sumatra. The charismatic creature has become a mascot of Borneo's exotic yet endangered wildlife. To see him is to love him and to help save him. Easy viewing comes at orangutan rehabilitation centres and sanctuaries, such as Sabah's Sepilok and Sarawak's Semenggoh Nature Reserve.
February
Walk the rainforest canopy: Temburong Brunei
The tiny rice-sack shaped Sultanate of Brunei packs rainforest, rivers, primates and other Bornean natural wonders into less than 1% of the island's landmass. An overnight trip to Ulu Temburong National Park combines thrilling river journeys with the 250-metre-high Canopy Walk. The steel trapeze offers bird's eye views into the Heart of Borneo conservation area – a 220,000km² reserve sweeping in forests of Borneo's three nations – Brunei, Malaysia and Indonesian Kalimantan – and 6% of the world's biodiversity. Possible wildlife sightings here include Bornean gibbons, macaques, civets, sun bears, pit vipers, hornbills and Rajah Brooke's birdwing butterflies.
March
A boating & birding river odyssey
The journey along the 560km-long Sungai Kinabatangan River – Malaysia's second-longest waterway – comes close to being the most magical river journey in Borneo. In the mangrove and freshwater swamp environments of the Lower Kinabatangan Sanctuary, you will come , proboscis monkeys, Bornean gibbons, pygmy elephants, Sumatran rhinoceros – and lime-green, diagonal-patterned pit vipers (from a safe boat's distance!). Over 200 bird species are found in the Kinabatangan area – eight types of hornbill (including the rare wrinkled hornbill), lesser fish eagles, stork-billed kingfishers, black and yellow broadbills, pitas and bulbul.
April
Eye up Borneo's power-flowers
Dust off your binoculars and macro lens and aim them at some of Borneo's incredible plant species. The cabbage like rafflesia is the most famous of the rainforest power flowers. The rotten-flesh-smelling bloom reaches a metre in diameter and 7kg in weight. Only found in sub-montane forests between 400 and 1,300 metres, two top viewing places are Gunung Kinabalu National Park in Sabah and Sarawak's Gunung Gading National Park. Another weirdo plant to watch out for is the carnivorous pitcher plant or Nepenthes, which traps and devours insects and small animals. The largest recorded contained a staggering four litres of liquid and a half-digested rat!
May
Close encounters with Borneo's 'witchdoctors'
Witness tribal song and dance, colourful dress, shamanistic rituals and priestess chants and trances during the end of May thanksgiving celebrations to the rice spirits. The Tadau Ka'amatan marks the end of the rice harvest celebration among the Kadazan-Dusuns – Sabah's biggest indigenous group. Following straight on its heels, Sarawak's Iban people and other indigenous 'dayaks' celebrate their version, the Hari Gawai.
June
Dip into a Borneo rainforest jewel: Danum Valley
One of the best places to soak in Borneo's rainforest magic is the 450km2 Danum Valley Conservation Area in southeast Sabah. One of the island's last remaining primary tropical rainforests, its giant dipterocarp trees, creepers, fruit trees and palms provide a vital ecosystem for orangutans and large mammals including the Bornean pygmy elephant, Sumatran rhino, the sun bear and the whiskered, tree-dwelling binturong or 'bear-cat'.
July
Dive into a marine paradise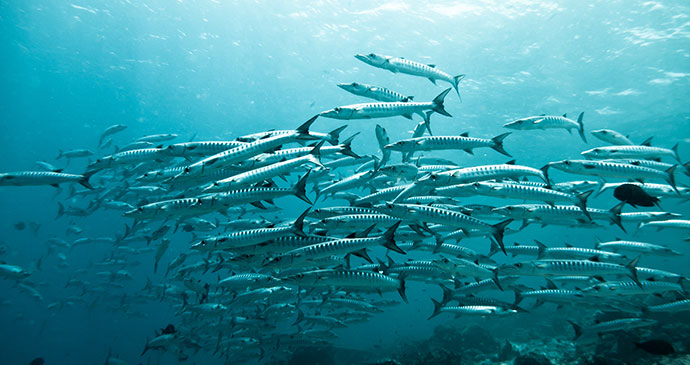 Marine life © Ekkapan-Poddamrong8, Shutterstock
Dive or snorkel with sea turtles, leopard sharks and scalloped hammerheads in the marine reserve of Pulau Sipadan. The spectacular coral atoll often listed among the world's top dive sites, drops a sudden 700m to the Sulawesi Sea floor on Sabah's east coast. Visibility peaks in July and August at up to 40m. The diving season extends through the dry season from April to November. The Miri-Sibuti Coral Reef National Park in Sarawak is an up-and-coming diving destination with its 30 dive sites including shallow anemone-flowered reefs.
August
Clamber to Borneo's alpine rooftop
For many nature and adventure lovers alike, 4,095m Gunung Kinabalu represents the apex of a Borneo stay. The 17km return Summit Trail requires an overnight stay, trek permits and a guide. Book well ahead for the trek and accommodation in the park. Non-climbers can linger in the park, and soak up its wonderland flora and fauna from one of the cosy chalet-style lodgings. The reserve is home to over 300 bird species and 5,000 flowering plants alone.
September
Old China charm and river crossings in Kuching
With its airs of an old Chinese trading town, Kuching's beauty emanates from the banks of the Sungai Sarawak river. Spend a couple of days here and use the tambang – covered wooden boats – to cross the river and eat in the restaurants of the Malay kampung by night. Or charter a tambang for an hour and float down the river past the Masjid Kuching mosque – a perfect piece of Arabia on the Kuching skyline. After taking in Kuching's museums and colonial buildings, shop for handicrafts along the waterfront stretch, Jalan Bazaar. Some of Borneo's best Chinese food, from seafood noodle – mee – dishes to dumplings, is available in Kuching.
October
Head into the Heart of Borneo
Criss-crossed by waterways, river journeys are a vital part of Borneo's magic in Sabah and Sarawak. No visit is complete without making a longboat trip upriver, towards the forested heart of Borneo and its hinterland villages and tribes. The Batang Ai reservoir and its tributaries in southern Sarawak are river-tripping wonders – with manifold natural and cultural highlights along the way. For serious trekkers, the arduous Red Ape Trail – mapped out by Borneo Adventure with local communities – offers a chance to see the orangutans in their habitat.
November
Indiana Jones caves in Sarawak's lost world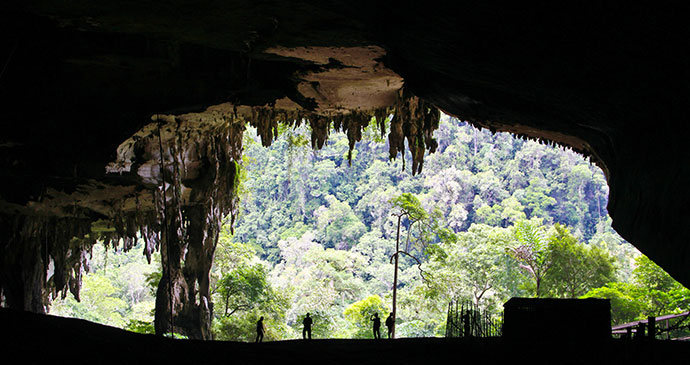 Niah Caves, Sarawak © Selvarajan Tamil selvan, Shutterstock
Deep in the Sarawak interior, the World Heritage Site of Gunung Mulu National Park contains the largest limestone cave system in the world. Scooped within a corridor of lowland rainforest and swept in by peaks and pinnacles, National Geographic expedition has unearthed over 300km of caves here since 1977 – four of which are open to the public. Deer Cave is an easy hour's walk from Park HQ. The largest cave passage in the world has room for five of London's St Paul's cathedrals in its 2km-long main chamber. A more intrepid day escapade will take you to the Sarawak Chamber – the world's largest cave chamber is big enough for 40 Boeing 747s. The hike to Sarawak's second-highest peak, 2,376m Gunung Mulu is a guided 2–3 night adventure.
December
Water villages and dazzling mosques: Brunei
Brunei's sultry, peaceful Malay culture permeates Kampung Ayer – the water village with some 30,000 residents rises on stilts above the Brunei River in the capital, Bandar Seri Begawan (BSB for short). One of the world's biggest floating settlements, its 28 villages, plus shops, schools and mosques, are linked by 8km of elevated walkways. The kampung has burnt down several times since Italian historian Antonio Pigafetta described it as 'Venice of the East' during a 16th-century expedition by Spanish explorer Ferdinand Magellan.