Climate
When to visit
Highlights
Climate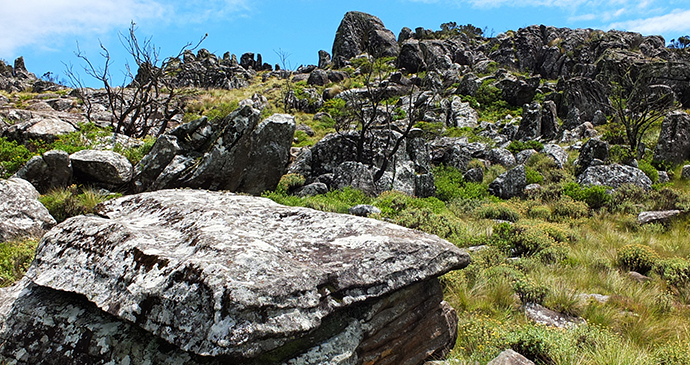 The Eastern Highlands, including Nyanga National Park, have a significantly cooler climate © Malgorzata Drewniak, Shutterstock
Zimbabwe enjoys a pleasantly temperate-to-tropical climate year-round, though with significant variations influenced by the country's topography as well as the seasons.
There are three distinct climatic regions: the central highveld plateau, covering most of the country, is generally temperate, while the Eastern Highlands have a significantly cooler climate with much higher year-round rainfall. Low-lying regions such as Hwange, the upper Zambezi, and Gonarezhou in the southeast are significantly warmer year-round and hot in the summer.
The summer and winter seasons are generally defined in terms of rainfall, the latter being virtually rain free. Spring and autumn are simply transitional periods but not generally evident as distinct seasons.
Summer (November–April) is eagerly awaited by humans and wildlife alike, as it usually marks the onset of rains after several months of drought. Rainfall frequently occurs in brief, heavy afternoon downpours, often accompanied by dramatic electrical storms, only to be followed moments later by long periods of sunshine; alternatively a wet weather system may set in, bringing prolonged steady rain and distinctly cool temperatures for a number of days.
Rainfall peaks in December, January and February with monthly falls of 150–190mm, significantly higher in the Eastern Highlands, sometimes reaching 2,000mm per annum. Maximum summer temperatures generally range from 25°C to the high 30s although it can feel much hotter as the moisture in the ground and on vegetation quickly evaporates after rain, creating periods of high humidity.
Low-lying areas including the Zambezi Valley, Kariba, Hwange, Gonarezhou and the Limpopo Valley experience hotter conditions, with temperatures frequently climbing well into the 40s. Night-time summer temperatures may only drop to 15–20°C.
Winter (May–October) offers maximum temperatures on average 5–10°C cooler than summer depending on location, with an abundance of blue skies and sunshine and virtually no rain. The early months are cool, warming up significantly to a hot, dry period through September and October. October is often referred to as 'suicide month' with its high temperatures and increasingly moisture-laden air building up to the first rains.
Clear skies over the Kalahari sands in the west can bring distinctly chilly nights, so it is not unusual to wake up for your early morning game drive to find a ground frost, especially in Hwange National Park. The Bulawayo area, too, can experience low night-time temperatures so accommodations with heating will be welcome. The Eastern Highlands are considerably cooler and wetter, with year-round rainfall, and the area provides a perfect respite from the sometimes unpleasant heat and humidity in the rest of the country.
This is the theory at least. In reality, traditional climates and seasons seem to be getting much less predictable and it is possible to be distinctly chilly in midsummer and uncomfortably hot in winter when it should be cool. The onset of rains seems to be getting later in the year and recent years have seen devastating droughts.
When to visit
Zimbabwe offers a generally very pleasant year-round climate, but the best time to visit depends on which activities you wish to pursue and which regions you want to visit.
For more itineraries see the Zimbabwe safari holidays on SafariBookings.
For wildlife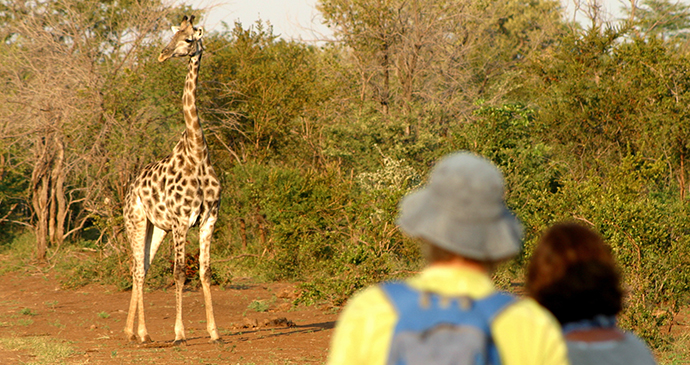 Zimbabwe is one of the best destinations in Africa for walking safaris © Wild Horizons
To maximise wildlife viewing, the dry, winter months of July–October are the best. In the dry season, natural water sources become scarce in the bush, encouraging game to congregate around a relatively small number of artificially pumped pans or waterholes near lodges and specific game-viewing areas.
In the summer rains, surface water is generally abundant so animals get all they need in more natural circumstances, but as the game becomes dispersed you will tend to see far less. At this time of year, vegetation becomes much more luxuriant, acting as an effective screen severely restricting your view into the bush.
If your interest is in birdlife, Zimbabwe offers excellent all-year viewing but the summer months are outstanding as the count swells considerably with the arrival of migrants. Think in terms of 650 species countrywide. Some safari camps and national parks close down altogether in the wet period immediately after New Year.
For waterfalls
Victoria Falls is the largest curtain of flowing water in the world, twice the size of Niagara Falls © Pal Teragimov, Shutterstock
Victoria Falls will no doubt feature in your first visit. During and after the rains in the Zambezi catchment area in March–June, the falls are full and totally awesome. But your experience consists of massive amounts of thundering spray and little else. It can be virtually impossible to see anything of the actual waterfalls. In the dry season (the time most visitors arrive for wildlife viewing) the water volume is reduced to a relative trickle over some of the cataracts, but you are rewarded with awesome views of the gorges and their fascinating geological structure. For the best of both worlds, visit in June to August even though this is a little early for prime wildlife viewing.
For watersports
For Zambezi river-based adrenaline activities such as whitewater rafting and kayaking, the low water levels during winter (August–January) are best. At high water (May–July, January–March), rafting is restricted to the lower run of rapids, numbers 11–23, as the river is too full and fast for the complete series. After very heavy rains (March–April), these activities are prohibited altogether until water levels subside. Please note that the above dates are totally dependent on rainfall levels in the catchment area so can vary considerably.
Kariba and the Zambezi Valley offer water-based activities, boating and canoeing year-round, but these are best enjoyed outside the hot, humid summer months.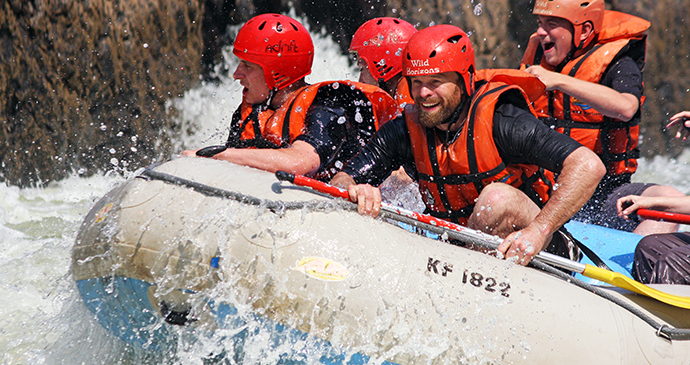 White-water rafting was the area's original adrenaline sport, and the section of river below Victoria Falls is one of the finest stretches of navigable rapids in the world © Wild Horizons
For other activities
Walking, fishing and horseriding are year-round activities to be found in the Eastern Highlands, although summer rainfall can be high and blanketing mists frequently block out the mountain views. The cool, dry winter and spring offer the best conditions, but bring warm clothes for evenings and make sure your accommodation has a cosy log fire. Winter brings deliberate forest burning to this region, with the smoke causing a haze that can spoil views.
Highlights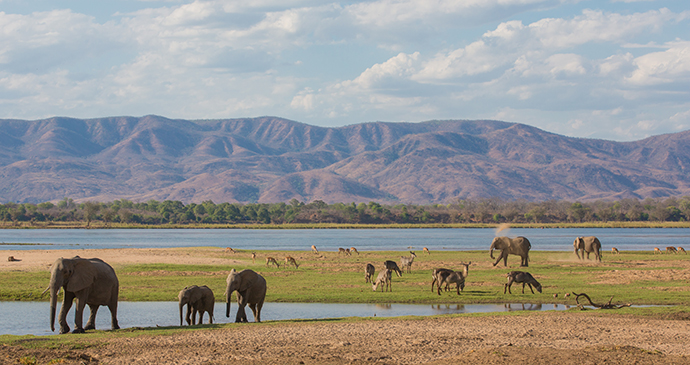 Zambezi is undoubtedly one of Zimbabwe's most beautiful parks © Jez Bennett, Shutterstock
Victoria Falls
A World Heritage Site and one of the 'Seven Natural Wonders of the World', the breathtaking Victoria Falls is a compulsory stop at any time of year, although different seasons offer completely different viewing opportunities. There are also plenty of adrenaline sports on offer, from white-water rafting to bungee-jumping and gorge-swinging. More gentle river cruises are also available. 
Zambezi National Park
Right on the doorstep of Victoria Falls, this small and beautifully riverine park has seen a dramatic resurgence of game after years of poaching. As well as the usual plains game, painted dogs are regularly seen together with other predators – lion and leopard.
Hwange National Park
Hwange is one of the finest national parks in Africa, with an incredible diversity and abundance of wildlife with the 'Big Five' including a small number of black rhino. It is especially noted for its large elephant population, notably the protected Presidential Herd in the southeast. 
Great Zimbabwe
This fascinating and enigmatic ancient stone-walled city of Great Zimbabwe is by far the largest and best preserved in sub-Saharan Africa, and is a World Heritage Site. Masvingo is the nearest town.
Lake Kariba and Matusadona National Park
Lake Kariba is Zimbabwe's own 'seaside' resort offering luxurious houseboats and lodges, fishing and wildlife viewing. The southern lakeshore features an excellent selection of exclusive lodges and camps from which you can explore Matusadona's rugged and beautiful wilderness areas before chilling out with a sundowner watching the sunset over the lake. Matusadona is a 'Big Five' national park.
Eastern Highlands
The Eastern Highlands offer some of the most beautiful mountain views in southern Africa, with fishing, hiking, golf, horseriding and unrivalled birding. Cool off up here in the 'Cotswolds of Africa' during the summer months. There are three very different centres: Chimanimani in the south, Nyanga in the north and the beautiful Bvumba Mountains in between. Under-appreciated and should be a highlight of any itinerary.
Mana Pools National Park
The tranquil riverine habitat of Mana Pools attracts abundant wildlife and birdlife that can be viewed from foot, vehicle or canoe, while further inland Chitake Springs presents unrivalled, close-up wildlife viewing. Book early, as many Zimbabweans (and visitors) consider this to be their favourite park.
Gonarezhou and Chizarira National Parks
These are both wilderness parks in the truest sense of the word, where you can camp in undeveloped, unfenced sites right in among the wildlife. Under visionary new management, Gonarezhou surprises even Zimbabweans with its wealth of wildlife as well as the stunning sandstone Chilojo Cliffs overlooking the Runde River; rugged Chizarira now under rehabilitation after a torrid decline, features the cliffs and gorges of the Zambezi Escarpment, making for an unparalleled wilderness experience.
Bulawayo
Zimbabwe's second-largest town, Bulawayo is friendly, laid-back and oozing colonial history. It is home to the National Art Gallery and Natural History Museum. Within an hour's drive there are sites of great historic interest including possibly the most beautiful example of drystone walling at Naletale.
Matobo National Park
The small Matobo National Park, part of the larger Matobo Hills World Heritage Site just south of Bulawayo, boasts some of the most dramatic and photogenic rock 'architecture' in southern Africa, and is the best place in Africa to see accessible examples of San rock paintings. Rhino, leopard and 59 species of raptor live here.
Khami World Heritage SIte
Khami, just outside Bulawayo, has the second largest ancient ruins in Zimbabwe, with intricate, drystone walling that has been restored to impressive standards
Harare
Zimbabwe's cosmopolitan capital of Harare has a multitude of shops, hotels and restaurants, as well as a thriving arts scene. A few years ago not many visitors came here – now it should definitely be considered for your itinerary as the delightful suburbs and surrounds have much to offer.