Authors' take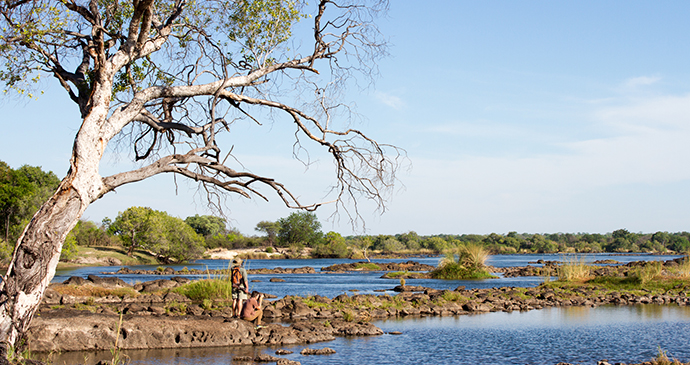 Walking safaris are well developed in Zimbabwe and exploring on foot creates an intimate wildlife-viewing experience © Sarah Kerr, Wild Horizons
It's time to rediscover Zimbabwe's stunning attractions and World Heritage Sites; from the magnificent Victoria Falls and Zambezi River to Matobo National Park's ancient cave paintings; the game-rich national parks and Bulawayo's local craft markets…
In an ideal world Zimbabwe would be one of those countries that literally sells itself to the tourist. It should be able to do just that. It has a long list of 'must-have' holiday features including geographical diversity and beauty, delightfully friendly people, fascinating historical sites, cultural interest, a wide array of leisure pursuits – both gentle and adventurous – along with natural attractions such as world-leading big game viewing, stunning birdlife and an accommodation base ranging from wilderness campsites to world-class hotels and lodges.
Back in the not too distant past, and unbelievably to a whole generation of current travellers, Zimbabwe was once the most advanced and developed tourism destination in southern Africa, boasting the highest number of annual visitors in the whole region and with many of these visitors choosing to spend their entire holidays in Zimbabwe alone. Today, a couple of decades and a whole lot of history later, it's a very different story even though all those magnificent 'pull factors' are still there. People generally now spend just a day or three in Victoria Falls with a side trip into nearby Hwange National Park and, well, if you've done that, you've 'done' Zimbabwe. Full stop.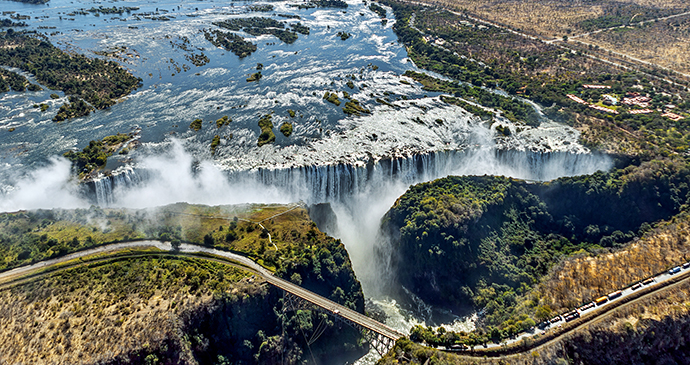 Take to the skies above Victoria Falls for an outstanding aerial view © Vadim Petrakov, Shutterstock
So what's brought about this Victoria Falls-centred approach to Zimbabwe's tourism? Quite simply there are one or two rather crucial items missing from Zimbabwe's list of holiday wow factors. Firstly, people want to feel safe and secure on vacation and they also, understandably, tend to avoid places that they feel are politically unacceptable. Visitors are keen to see the country but haven't yet got the confidence to spend more than a few days here. This is all because of the unfortunate media attention Zimbabwe attracts in certain parts of the world. Of course it would be foolhardy – not to say dishonest – to deny Zimbabwe's politically troubled past and present, but we beg those who believe the country to be near the top of the world's 'dodgy' list to delve beyond the lurid media headlines and recognise that not only does bad news sell, but mud tends to stick.
Happily though, this situation is beginning to change. More and more travel agencies have been putting Zimbabwe back into their brochures and many of the accommodation providers have been extending their properties and even building new hotels and lodges. This is partly due to the government – at long last – recognising that tourism has a major part to play in Zimbabwe's economy. It is also a recognition by many in the industry that the time to invest and grow is now, otherwise the chance may be lost for good.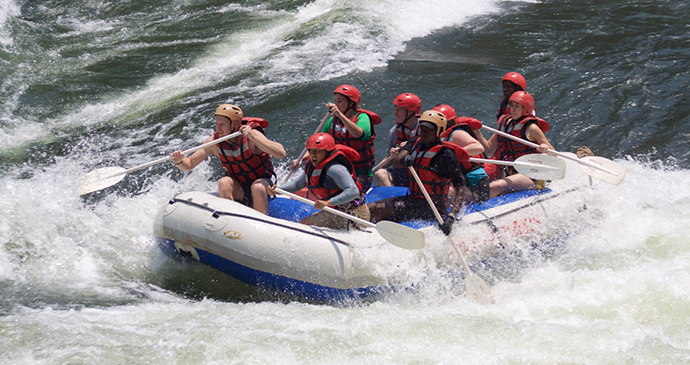 White-water rafting on the Zambezi River is a must for adrenaline junkies © Wild Horizons
That's great news, but with this recent influx of new visitors a new issue has emerged. Tourism stakeholders have in recent years been understandably keen to maximise revenue from a relatively few number of visitors, notably in Victoria Falls and Hwange National Park, so have elevated the standard of their facilities and are now charging very high, often eye-watering prices. Zimbabwe has become an expensive place to visit. Or is it? In reality, the country has become a tourism destination of two parts – on the one hand we have the plush, top-of-the-range accommodation mentioned in the two key 'honeypots' above, and then we have the whole of the rest of the country which is eminently more affordable. And that equates to excellent value when you consider the wealth of fascinating things to see and do once you get away from the hotspots.
Basically Zimbabwe has it all – we take you back to the impressive list in the first paragraph which confirms our belief that this is by far the most complete tourism destination in the whole of Africa. What's more, there's a burgeoning number of small but expert Zimbabwean agencies who can help you visit the places you want to see. Better still, why not hire a vehicle and just get out there and discover the country on your own? It'll be a wonderful adventure and we can assure you, with a wealth of personal experience, that it will be an easy one!
Author's story
Paul Murray
My introduction to southern Africa began with a journalistic 'jolly' to Zimbabwe in 1988 to cover an air rally, during which I was transported in a scary little light aircraft around just a few of the many delights the country had to offer. Countless visits later, and despite long forays into all the neighbouring countries, Zimbabwe and its people became my firm favourite.
Having left the world of formal work and indulged in several years of extensive African travel, I felt the urge to start using my brain again. Then, during a trip to northern Mozambique, my friends and I found ourselves in places that weren't mentioned in the guidebooks so I seized the chance, made copious notes and sent them off to Hilary Bradt. An invitation to write this book followed, so the next three years were spent in almost constant touring of the country and having my eyes opened to yet more fascinating and wonderful aspects of Zimbabwe and its people. The logistics at that time were challenging to say the least and I was humbled to benefit from the Zimbabwean people's great generosity and their ability to 'make a plan' when times get tough.
The country still has its problems although much has changed since the first edition was published. From the visitor's point of view, the biggest problem is that there's way too much to see and do in one short visit. By all means see the main tourist spots, but do try and explore off the beaten track too. Your efforts will be rewarded tenfold.