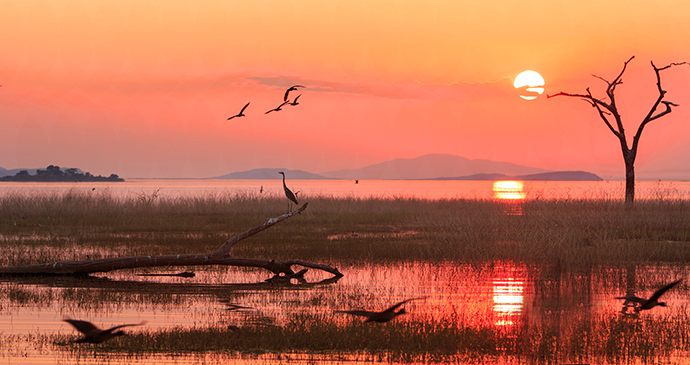 Enjoy spectacular sunsets on the shores of Lake Kariba © Paula French, Shutterstock
Zimbabwe's 'seaside' offers stunning scenery and fishing right next to Matusadona National Park.
Lake Kariba, one of the world's largest manmade expanses of water, is Zimbabwe's 'seaside' in a landlocked country, and tends to be viewed more as a holiday destination for locals than for overseas visitors. The lake features its own accommodation speciality, the houseboat, so Zimbabweans flock here with family and friends for fishing, boating or just to chill out with a crate or eight of beers (although 'chill out' may be misleading in this area of stifling summer temperatures and humidity).
If you let Zimbabweans have this vast area to themselves, however, you'll be doing yourself a great disservice. Kariba is a laid-back holiday playground with a wide choice of water- and land-based activities. The area provides some stunning scenery and the big-sky sunsets over the lake are legendary, attracting keen photographers worldwide. There can be few better ways of lowering your blood pressure than a sunset boat cruise, weaving through the eerily stark treetops that remain a full half-century after the river was dammed. Its southern shore forms the northern border of Matusadona National Park so it's a brilliant base for wildlife viewing and birdwatching, both of which can be done on land or from small boats or canoes that allow you to approach within metres of bathing elephant and buffalo slaking their thirst.
If you find a houseboat too big for your needs, or you prefer to stay on dry land, there are some fine lodges along the east and southern shores catering for most budgets.