Eating and drinking
Accommodation

Eating and drinking
Western food
Eating out in Zimbabwe was always excellent value, by which we mean very good quality yet inexpensive in international terms. More recently though, the virtual collapse of the agricultural industry means that good-quality raw materials generally have to be imported and in the process drive up prices. Expect around US$15–25 for a main course in a good restaurant. Virtually all restaurants and accommodations serve international menus with a heavy emphasis on steak, which is excellent in this country, and you'll also find a variety of game meats on many menus. Vegetarians, generally speaking, have more difficulty finding an imaginative menu in what is essentially a nation of carnivores. Safari lodges and camps serve set meals so if you have any special dietary requirements be sure to advise them at the time of booking so they can accommodate you accordingly. Given the often-remote locations of these camps, don't wait until you arrive before stating your dietary needs, as it will then be too late for them to cater according to your requirements.
Local/rural food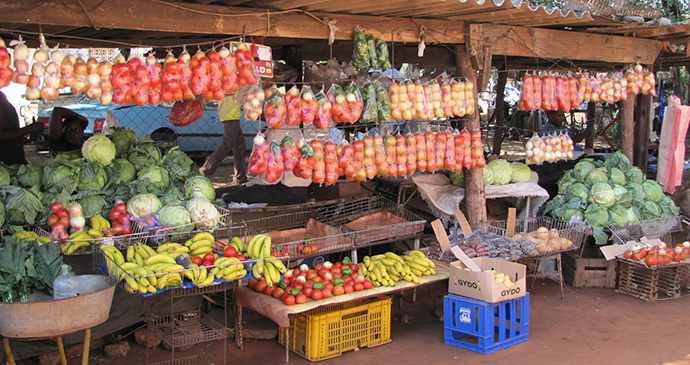 Bargaining for fruit and vegetables at market stalls is not generally necessary as products are typically great value for money © Wild Horizons 
Once the country was not only self-sufficient in food, but also farmed in such abundance that it earned the sobriquet 'the breadbasket of southern Africa'. Since 2000, economic and political instability, farm invasions and droughts have combined to turn the country into not only a net importer of maize but dependent on international food aid.
The staple starch for Zimbabweans is maize (mealie), although millet and sorghum are alternative grains grown mainly in the lowveld areas. Sadza, a heavy mash made from ground maize and water, forms the basis of every meal, supplemented with a relish – essentially anything that is available to impart a different flavour. Generally the sadza is rolled by hand into a small ball, moulded into a slight cup shape and dipped into the relish. Common relishes are vegetablebased, frequently green leaves like rape, either cultivated or collected wild, with tomato or onion if available. Groundnuts are grown and pounded to make a sauce with onions, something of a delicacy. Commercially produced fermented milk, known as lacto, is another popular relish. Chicken eggs are seldom eaten as they are needed to produce more hens. Maize cobs are commonly eaten roasted as a snack.
Rural Zimbabweans make great use of nature's free resources, so wild mushrooms, fruits, seeds and wild plants are harvested. Their diet also includes a surprising number of insect species as protein sources – crickets and locusts, flying ants and a variety of caterpillars, not forgetting, of course, the plump and fried mopane worms. Cattle tend to be kept as an expression of wealth, and used as beasts of burden rather than a food source, although they are eaten following a ritual or ceremonial sacrifice. Other meat such as goat, mutton and chicken is commonly eaten depending on the wealth of the family. Nyama is the Shona word for meat, so you won't go far in Zimbabwe before hearing the words sadza ne nyama, ie: sadza and meat stew, the standard meal for most Zimbabweans (including many whites). Needless to say, nothing is wasted, so stewed chicken heads and feet, bony off cuts and offal that would be considered unpalatable by many Westerners are all consumed. Fish from rivers and lakes include chessa, barbel or squeaker, fighting tigerfish, Kariba kapenta and, rarely, the huge vundu, the largest freshwater fish in the Zambezi, growing to over 50kg.
Urban Zimbabweans are more Western-orientated. Bread is popular, as are fast foods, especially fried chicken. Yet even in towns only a fool would try to separate a Zimbabwean, black or white, from their sadza.
Drinks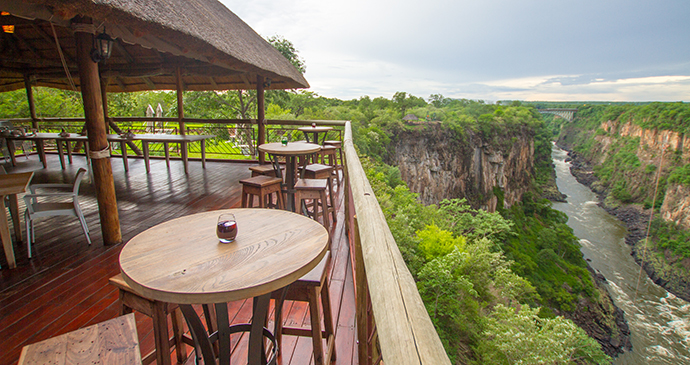 Enjoy breathtaking views from The Lookout Café's terrace in Victoria Falls © Sarah Kerr, Wild Horizons
There's a good range of Zimbabwean-brewed lager-type beers available and they come in either brown or green bottles. Brown beers such as Castle are 'ordinary' beers while green bottles such as Zambezi or Bohlingers denote premium beers carrying a slightly higher price. Imported beers command the highest prices. However, most local people purchase their Zimbabwean beer in cans these days rather than bottles. It's quite common to have to pay a refundable deposit on glass bottles. Chibuku is the name given to local, mainly rurally consumed 'beer', a thick fermented concoction that is either brewed at home or commercially produced.
Bottle stores in large towns sell a range of imported South African wines. Zimbabwean wines, previously shunned by all but the desperate, have improved and you could sample the Private Cellar range or get hold of Bushman Rock.
All types of spirits are widely available with imported brands obviously commanding far higher prices. But with alcohol freely available in shops, supplies of mixers such as tonic water, ginger and soda can be erratic and you wouldn't expect to find them in smaller towns.
The bars in the big Victoria Falls and Harare hotels are understandably expensive but generally speaking prices are reasonable and far cheaper than most European countries, although usually much higher than South Africa. A regular supply of safe drinking water from the taps remains problematic so bottled water is your best friend while staying in most towns. Check with your accommodation as they will normally supply clean, purified drinking water on request. Several of the upmarket lodges are eliminating water in plastic bottles in favour of refillable glass or metal containers from an in-house water filter.
Accommodation
Zimbabwe offers a wide range of accommodation styles, from top-class luxury in some of Africa's best hotels and safari lodges to small, intimate, often family-run bush camps and B&Bs. Away from the main tourist centres, try to keep an open and relaxed frame of mind. The tourism industry is picking itself up off its knees after 15 years of near-terminal decline. Once you get chatting to owners and staff you'll appreciate why the decoration in your room is perhaps a little tired. So please remember that during the years of no international visitors, these accommodations were only able to survive with the support of local tourists – an ever-diminishing pool of people. You'll also find a number of previously very good accommodations that have changed hands and are now having to be run with the local business market in mind rather than for international tourists. Most of these are perfectly adequate for a night stop but can frequently lack the refinements in product and service expected by international travellers.
Hotels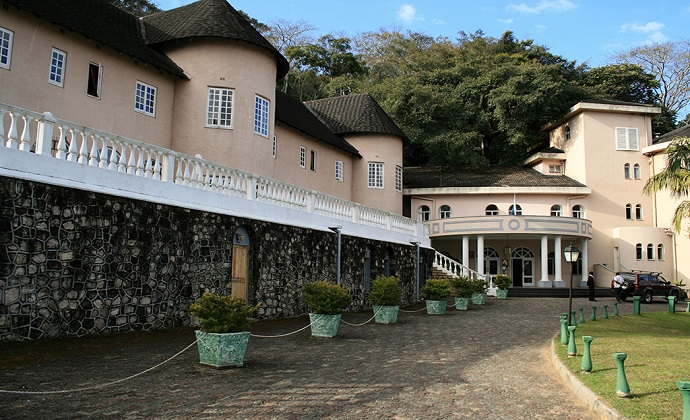 The Leopard Rock Hotel in Bvumba has played host to all manner of wealthy people, including Princess Margaret and the Queen Mother in 1953 © Paul Murray
While Harare and Bulawayo have a few luxury hotels, virtually all Zimbabwe's best hotels are in Victoria Falls. Although there's great accommodation in all key tourist areas, town-centre hotels in other than these three towns tend to cater for the business market, attracting adjectives such as 'plain' and 'uninspiring'.
Lodges
Don't read too much into the word 'lodge', as various owners apply it to virtually every type of accommodation. Probably the largest lodge in the country is the beautiful and massive Safari Lodge in Victoria Falls, yet in the residential area of the same town there are several small guesthouses and bed and breakfasts also using the name 'lodge'. The suburbs of Harare have many 'lodges' of a quality that would put many upmarket hotels to shame. Many safari lodges in or adjacent to national parks are in the top price bracket, but their rates are invariably fully inclusive, covering all meals, some if not all drinks, plus safari activities. Some also include transfers.
Safari camps
These can be similar to lodges, often smaller and more rustic, but also located in and around national parks to cater for game-viewing activities. They range from small traditional Meru tents to A-frame thatched chalets to large tents under a thatch roof, or sometimes just canvas. But don't assume this is downmarket accommodation. Many of these camps are truly luxurious, beautifully furnished and often with brick-built en-suite facilities attached to the tents. They are frequently raised off the ground with wooden decks and walkways connecting the accommodation tents to the central boma. Canvas is used with great effect to provide a wonderful 'African safari' atmosphere. As with the best lodges, catering can be to an amazingly high standard, and the same rate structure applies.
Most people on wildlife-viewing safaris choose to move from camp to camp in different areas, typically spending a maximum of three or four nights in any one place.
Guesthouses and B&Bs
The largest concentrations of these are in the residential areas of Victoria Falls, Harare and Bulawayo, where many people have converted their houses into commercial premises, although others are purpose-built. Unlike in the UK, for instance, where guests may share the house with the owners, most in Zimbabwe offer self-contained accommodation. Most serve only breakfast but many are full board or will provide an evening meal on request. Airbnb has arrived in Zimbabwe and you can find many options on that website too.
Backpackers
As most of the popular activities in Zimbabwe (wildlife viewing, for instance) are priced on the high side as well as being inaccessible by public transport, Zimbabwe has never really catered for the budget traveller, preferring to pitch at 'high-end' visitors. Consequently, outside of Victoria Falls and in the centres of main towns there is little decent backpacker accommodation and what there is may not be considered cheap by international standards. Note that you will often find really cheap accommodation in towns but unless it is specifically marketed to backpackers there's every chance it will be used for purposes other than sleeping.
'Green' or 'Eco' accommodation
Many accommodation owners especially in and around national parks have recognised that supporting and involving local communities is essential to achieving wildlife conservation and have set up their own programmes or joined existing ones. The CAMPFIRE philosophy formed the basis of this thinking and recent global trends and concerns have made it a priority for lodges wishing to appeal to the new eco-conscious marketplace. Other places want simply to employ 'green' practices and as such choose eco-friendly building materials, install solar water heating, water saving schemes and a whole host of other planet-friendly initiatives.
It's a welcome trend and we encourage visitors to support these accommodations with their patronage. Do be aware that 'eco-friendly' is a term used all too freely in publicity material these days so if you're seeking out genuine examples, a quick check of the accommodation's website should highlight those that are taking it seriously. A good clue is those that include visits to the places they support in their list of activities.
National parks accommodation
Most national parks offer lodge, cottage and/or chalet accommodation. Note that you usually pay per unit of accommodation, not per person. These used to be considerably cheaper than privately run establishments and were best described as utilitarian, albeit needing some maintenance. Many international visitors felt they were not particularly good value for money. All are furnished, with bed linen and towels, basic kitchen equipment, crockery and cutlery for self-catering. They conform to a similar design throughout the Parks system and generally offer a choice of one to three twin and double bedrooms. Cottages and lodges have their own kitchens and bathrooms, while chalets tend to have external cooking and communal washing facilities.
In recent years, many of these facilities have been auctioned off to private companies to run under long-term management contracts. This has seen facilities improve but with a consequent massive jump in price, firmly taking them out of the budget category.
Camping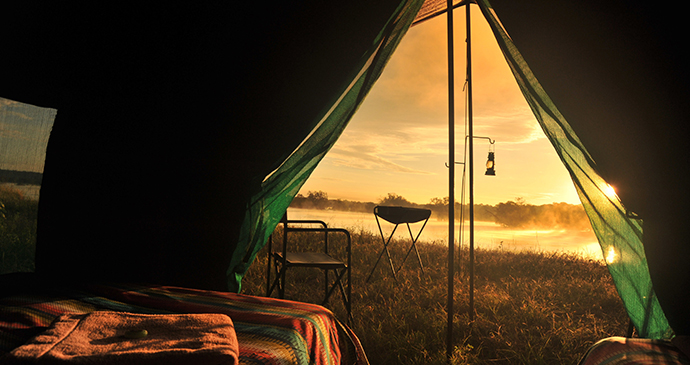 Zimbabwe offers the enthusiastic camper an almost unique African experience © Wild Horizons
In many of the national parks, including Mana Pools, Gonarezhou, Chizarira and Zambezi, you are allowed to camp in specified but unfenced wildlife areas. While there are some obvious potential dangers, with care and good sense you can reduce these almost to zero and enjoy real wilderness camping you are likely to find in few other places. Only by sitting around a campfire under vast starry skies, listening to the nightly symphony of grunting hippos, the full vocal repertoire of hyenas, hissing cicadas, the occasional owl and nightjar, and perhaps a lion grunting in the distance, can you claim to have experienced the real African bush.
All national parks have designated camping spots (though you can free-camp in Chimanimani) and you must always use these and never drive off into the bush to find somewhere more isolated. The official sites are always near wildlife gathering places such as rivers or waterholes, or near scenic viewpoints, and as such are excellent places to overnight. Some parks, such as Hwange and Mana Pools, operate a system whereby only one group may occupy a campsite at a time and they charge the same rate regardless of how many people are staying. This makes it rather expensive if there are only two of you. Other parks cater for several groups at a time but the individual sites are usually isolated from one another. The exclusive or 'undeveloped' sites offer only the most basic facilities – a long-drop toilet and a braai (barbecue) stand while the 'developed' sites have running water and an ablution block, though no electricity. ZPWMA facilities often tend to be in need of refurbishment, but all of the numerous parks' sites where we have stayed have been clean and well tended.
Most towns have a municipal campsite but, apart from Victoria Falls, Mutare, Bulawayo and Masvingo, many have fallen into disrepair and are not recommended