January
Birders' paradise
With midsummer rains – usually short, heavy showers – Zimbabwe becomes a mecca for birdwatchers as the summer migrants boost the species count. A game drive in this 'off-season' can also be surprisingly rewarding with animals that are fit, fat and content.
February
Visit Gonarezhou National Park
In winter Gonarezhou National Park in Zimbabwe is dry, parched and hot but now it's a totally different park – lush and verdant with pumping rivers and brilliant birdlife.
March
Get your raincoats out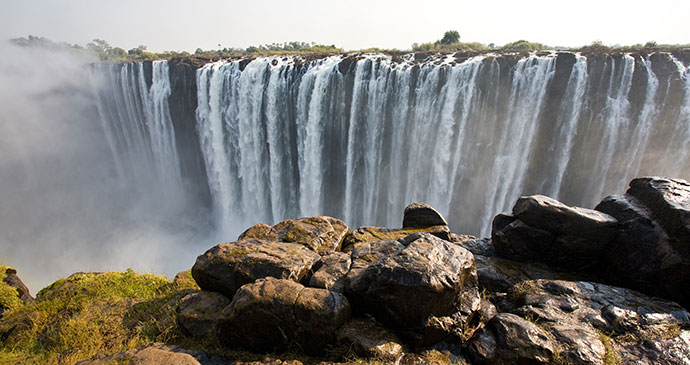 Victoria Falls on the boarder of Zambia and Zimbabwe has it's very own tiny rainforest – but it's a genuine ecosystem with locally rare vegetation and birds. There's continual drenching rain here even though the sun's blazing a few hundred metres away so don't expect to see the waterfall beyond the thundering clouds of spray while the river approaches peak flow.
April
High fives for HIFA
Harare's six-day International Festival of Arts draws a huge array of performances from the whole region, not just Zimbabwe.
May
Two-wheelers roar in
Victoria Falls Wildlife Trust (www.vicfallswildlifetrust.org) hold an annual motorbike enduro fundraiser in zimbabwe around Zambezi's rugged and challenging gorge landscapes attracting riders from all neighbouring countries.
June
Spoil yourself at the ruins
Warm sunny days are a great time to walk around the magnificent Khami Ruins in Zimbabwe, and the other stone-age sites around Bulawayo and Gweru. Don't forget Great Zimbabwe, of course.
July
Dust off your binoculars
As the best game viewing season in some of Africa's finest national parks begins right through to December. Zimbabwe is no exception.
August
For the energetic
Kariba Half Marathon was established in 2006 and is now the toughest in Zimbabwe at 21km, but there's also a 10km fun run. Beautiful lakeside scenery with the distinct possibility of meeting elephants and zebra, etc along the way. Check it out at https://karibahouseboats.com.
September
Tackle 'Devil's Toilet Bowl' and 'The Muncher'
Low-water rafting in the Vic Falls Zambezi gorges in Zimbabwe/Zambia starts in September and it's about the toughest in the world! Good luck! This is the time to come – the low water gives the best views of the waterfall's dramatic geology.
October
Seen the Big Five? But what about the tigers?
Head off to the mid Zambezi region for the best tiger fishing you'll find anywhere. Kariba hosts the annual international tiger fishing tournament (KITFT). Spectacular blue jacaranda and flaming flamboyant tree blooms line the boulevards in springtime Bulawayo.
November
Take it easy
At this time of year, Zimbabwe is hot and humid especially in low-lying areas so maybe go fishing or play golf in the cool Eastern Highlands – a delightful relief after a game viewing in the hot, dry parks.
December
Rock the New Year in Victoria Falls
This annual three-day carnival gets bigger and bigger every year as revellers from around the region rock up for this International rock/pop festival (www.vicfallscarnival.com). But don't arrive in town hoping to find accommodation during the carnival – the place is chock full!