Authors' take
Zanzibar is a magical, evocative African name, like Timbuktu, Casablanca or Kilimanjaro. For many travellers, the name alone is reason enough to come. Yet although expectations run high, awareness of the reality on Zanzibar and its neighbouring islands is often rather hazy.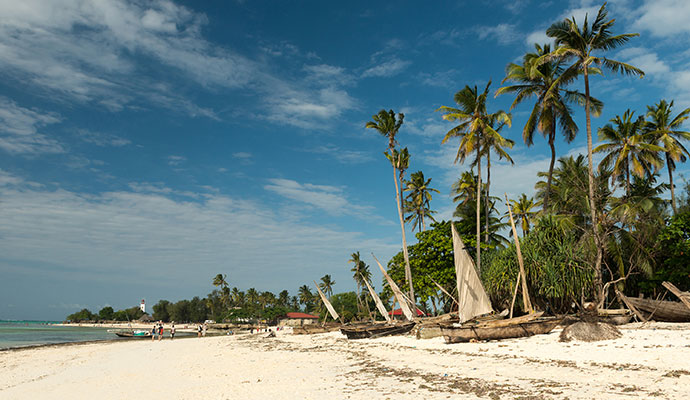 Handmade wooden fishing boats © Tatyana Vyc, Shutterstock
Having travelled and lived in Africa for many years, we had many friends who had sailed from mainland Tanzania to Zanzibar decades ago, and returned eulogising about the intoxicating aroma of spices, the amazing beaches, and just how cheap it was – but somehow neither of us made it there at the time.
When we eventually visited at the start of the new millennium, Zanzibar was beginning to evolve. Stylish lodges were flourishing alongside backpackers' beach hideaways, and flights round the islands were becoming easier. On that first trip we also discovered Mafia – a smaller and quieter archipelago to the south, with fewer visitors and spectacular diving.
It's now coming up for 15 years and many trips since our first Spice Islands encounters, and a tremendous amount of change has taken place: good, bad and unexpected. It remains impossible not to be enchanted as you approach from the air, looking down on sparkling turquoise waters, darkened only by patch reefs, and punctuated by the billowing triangular white sails of passing dhows. We still smile as we step off the plane, to be enveloped by the exotic blend of warmth, humidity and aromatic spices.
For many, the islands offer a quintessential Indian Ocean experience: palm-lined stretches of powder-white coral sand line the coast for miles, while below the waves, reef fish flit amongst colourful coral gardens, overshadowed only by the occasional pelagic looming out of the blue. From the nesting turtles on Juani to the whalesharks seen annually off Mafia, there is always something unexpected awaiting the diver and snorkeller. On land, too, these islands can enthral. Kirk's red colobus monkeys can be seen in the forest, Arabian architecture provides an exotic urban backdrop, and village life remains steeped in tradition. Yet, despite the stunning raw material and depth of culture, aspects of Zanzibar have the potential to disappoint.
Development along huge swathes of Zanzibar's coastline, by both foreign and local investors, has been astonishingly fast, and much of it is lamentable. In general, there appears to be scant regard for environmental impact and a disturbing lack of real community development. The islands are also handicapped by a largely autonomous government which, at best, has combined inefficiency at regulating development with ineffectiveness at providing even the most basic of public services. At worst, and in stark contrast to the more positive situation in Tanzania, it seems to conform to the most negative stereotypes of African governance.
Despite these issues, we have found much to hearten us on recent research trips, mostly due to a sprinkling of dedicated, forward-thinking individuals who are determined not to give up on the islands and their people, and to a core of truly good islanders within the islands communities. Some really special, ethically run hotels and lodges have been established, even if they need to be carefully sought out in advance of visiting, and there are a few brilliant marine conservation projects blossoming in Mafia's waters, where close encounters with turtles and whalesharks are simply awesome. There are doggedly determined individuals pushing forward with creative projects to recycle, to train, to educate and to empower, all of which are making small, positive inroads.
For those who want to escape to intimate lodges with great diving and snorkelling, the lodges on Mafia are firm personal favourites and less visited simply because the island is less well known. Trailblazing models of responsible tourism, like Zanizbar's Chumbe Island and Mafia's Chole Mjini, continue to force the pace.
Away from hotels and lodges, opportunities for visitors to enrich their holidays whilst also making a positive impact on the people, range from original and high-quality souvenir shopping, which also happens to be fair trade, to local village restaurants with impressively high standards of cuisine, and the eclectic island tours run by both Zanzibar Different and Eco+Culture, who are dedicated to funding community development. We love these primarily because they're all very good indeed – but also because these initiatives are responsible in their approach. If you take time to look beyond the gaze of most visitors, and vote with your feet to support them, you might find your trip taken to a whole new level.
Authors' story
Holidays in Africa have long concentrated on game-rich safaris on the mainland. Visitors since Livingstone have travelled from across the globe for great wildlife spectacles set in vast tracts of wilderness, sometimes accompanied by strange and fascinating traditional cultures. Many find themselves bitten by the Africa bug, returning as frequently as possible, but it is only recently that Africa's islands have been viewed as final destinations in their own right.
For us, the transition from bush to beach followed a similar pattern. We have both lived in southern Africa: Chris teaching in rural Zimbabwe and pioneering Bradt's travel guides to Namibia, Botswana and Zambia; Susie spending a happy childhood in Zambia's northern reaches. Our early experiences were concentrated in the heart of Africa; any travel focused heavily on the national parks and wildlife wonders of neighbouring countries.
Years later and still hooked on the continent, Chris used his experience to establish Expert Africa, a UK-based tour operator. Slowly, an opportunity became clear to offer exotic beach hideaways as a relaxing end to more traditional safaris. Keen to understand the options, we explored all the archipelagos from southern Mozambique to Tanzania's Pemba. Our first trip took us to Zanzibar and its idyllic neighbour, Mafia – we were enchanted! So when the opportunity arose to take on the Bradt guide to these islands, we leapt at the chance to research in more depth, and get a deeper understanding of these islands.