Visas
Getting there and away
Getting around
Visas
Zambia's visa rules appear, on reading them, to be very complex, so it is probably essential to ask at your nearest Zambian embassy or high commission, as they will know the latest news and how the rules are generally being interpreted.
Most visitors, including nationals of Great Britain and the USA, require a visa to enter Zambia. The current fee is US$50 for single entry and US$80 for a double entry, regardless of nationality. However, those staying for less than 24 hours – for example in transit to Botswana from Livingstone Airport – pay just US$20.
Most visas can be obtained on arrival at border posts (including international airports) on payment of the correct fee in US dollars cash. They are also available overseas from your local Zambian diplomatic mission, but applications for multiple-entry visas (also US$80pp) must be made in advance at the nearest Zambian embassy or high commission. You must have at least six months left on your passport, and at least three blank pages. You may also be asked to show an onward ticket, or at least demonstrate that you can support yourself as you pass through the country (credit cards are invaluable), but this is unusual.
In 2014 it became possible for travellers to both Zambia and Zimbabwe to obtain a dual visa, known as the KAZA Univisa, with 40 countries being eligible to receive one on arrival for a cost of US$50. The visa is available from Livingstone, Lusaka, Harare and Victoria Falls airports, and also from the land borders at Kazungula (with Botswana), and Victoria Falls, although acquiring one is less reliable here. The visa lasts for 30 days, provided that you stay within Zambia and Zimbabwe, and also allows 24 hours in Botswana. The visa was continued after a six-month trial, and has made cross-border travel between the two countries much easier and cheaper, ideal for those who want to see both sides of the Victoria Falls. There are long-term plans to extend it to include all southern African countries.
Getting there and away
By air
However, you get to the subcontinent, if you don't fly directly to Lusaka then do book your flight to Africa and any scheduled internal links between countries (eg: Nairobi–Lusaka or Johannesburg–Lusaka flights) at the same time. Booking the whole trip together is almost certain to save you money. Sometimes the airline taking you to Africa will have cheap regional flights within Africa; for example Johannesburg–Lusaka with South African Airways is usually much cheaper if booked with a SAA flight from London to Johannesburg, than it is if booked alone. At other times the tour operator you book through will have special deals if you book all the flights with them. And most importantly, if you book all your flights together then you'll be sure to get connecting ones, so you have the best schedule possible.
Overland
Most overland border posts open from about 06.00 to 18.00, although this is less rigidly adhered to at the smaller, more remote posts. The paperwork required can be lengthy and time consuming, so allow plenty of time – and in some cases, such as at Kazungula on the border with Botswana, several hours.
Getting around
By air
For those who want to fly internally in Zambia, the number of possibilities is increasing. Although only Proflight operates a scheduled service, offering internet booking with payment by credit card, several other local companies provide very reliable charters. None of the others is featured on any of the global flight reservations systems, so outside of Zambia (and even inside sometimes) most travel agents won't have a clue about the intricacies of Zambia's internal flights. You are strongly advised to book your internal flights through an experienced tour operator, who uses them regularly. (As an aside, this means that if the airline goes bust the tour operator loses money; you don't.)
By rail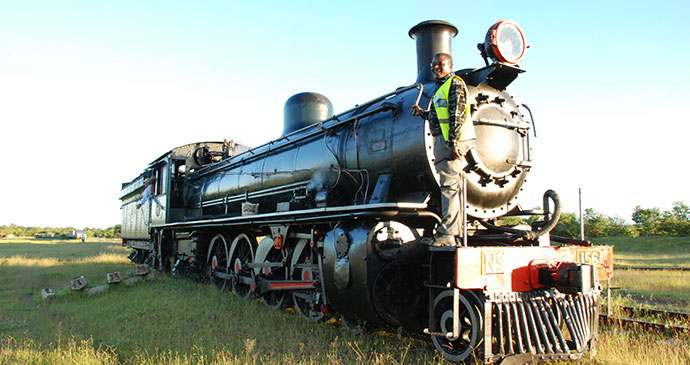 Livingstone Express © Tricia Hayne
There are two totally separate rail systems in Zambia: ordinary trains and TAZARA (Tanzania Zambia Railway Authority) trains. Zambia's ordinary rail network was privatised in 2003 and is now run by RSZ (Railway Systems of Zambia) on a 20-year contract – but only now is the system beginning to show indications of improvement. Passenger trains run on only one line, linking Livingstone Lusaka; the journey north to the Copperbelt has for now been discontinued. Once painfully slow, and rarely used by travellers – one local described the journey as 'like signing a death warrant' – it is now a weekly overnight service and is relatively competitive with buses on the same route.
In contrast, the TAZARA service is very popular with backpackers. It connects Kapiri Mposhi with the Indian Ocean, at Dar es Salaam in Tanzania. This is a reliable international transport link which normally runs to time and is by far the fastest way between Zambia and Tanzania with the exception of flying.
By bus
Zambia's local buses are cheap, frequent and a great way to meet local people, although they can also be crowded, uncomfortable and noisy. In other words they are similar to any other local buses in Africa, and travel on them has both its joys and its frustrations. In the main bus stations, there are essentially two different kinds: the smaller minibuses, and the longer, larger 'normal' buses. Both will serve the same destinations, but the smaller ones tend to go faster and stop less. They may also be a little more comfortable. Their larger relatives will take longer to fill up before they leave the bus station (because few buses ever leave before they are full), and then go slower and stop at more places. For the smaller, faster buses there is usually a premium of about 20% on top of the price. Be aware, too, that even buses said to be running to a timetable may not depart until they are full, so check carefully what service you can expect – and ideally take a look at the bus on which you'll be travelling too. A broken windscreen hints at poor overall maintenance.
By car
Driving in Zambia is on the left, based on the UK's model. However, the standard of driving is generally poor, matched only by the quality of the roads. Most roads in the cities, and the major arteries connecting these, are tar. These vary from silky-smooth recently laid roads, to pot-holed routes that test the driver's skill at negotiating a 'slalom course' of deep holes, whilst avoiding the oncoming traffic that's doing the same. Inconveniently, the smooth kind of road often changes into the holed variety without warning, so speeding on even the good tar is a dangerous occupation. Hitting a pot-hole at 40–60km/h will probably just blow a tyre; any faster and you risk damaging the suspension, or even rolling the vehicle.