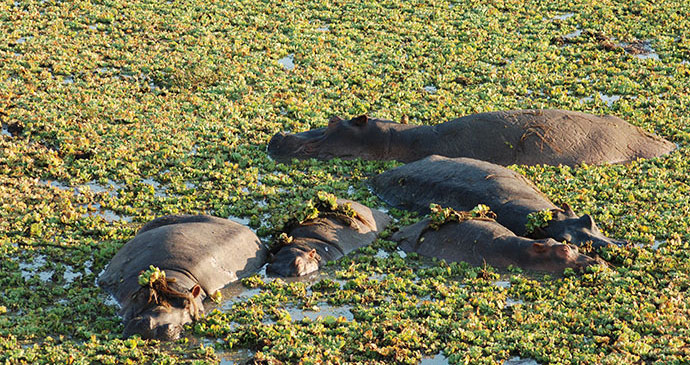 Hippos wallowing in a lagoon in South Luangwa © Tricia Hayne
With both high-quality guiding and exceptional wildlife sightings, this isolated national park is surely a top contender for the prize of Africa's best game park.
There are many contenders for the title of Africa's best game park. The Serengeti, Amboseli, Ngorongoro Crater, Etosha, Kruger, Moremi and Mana Pools would certainly be high on the list. South Luangwa has a better claim than most. Some of these other areas will match its phenomenally high game densities. Many others – the lesser known of Africa's parks – will have equally few visitors. One or two also allow night drives, which open up a different, nocturnal world to view, allowing leopards to be commonly seen and even watched whilst hunting. However, few have South Luangwa's high quality of guiding together with its remarkable wildlife spectacles, day and night, in the isolation of a true wilderness. These elements, perhaps, are how the contenders ought to be judged, and on these the South Luangwa Park comes out as one of the highest on the list.