Eating and drinking
Accommodation
Eating and drinking
Food
Zambia's native cuisine is based on nshima, a cooked porridge made from ground maize. (In Zimbabwe this is called sadza, in South Africa mealie-pap.) Nshima is usually made thin, perhaps with sugar, for breakfast, then eaten thicker – the consistency of mashed potatoes – for lunch and dinner. For these main meals it will normally be accompanied by some spicy relish, perhaps made of meat and tomatoes, or dried fish. Do taste this at some stage when visiting. Safari camps will often prepare it if requested, and it is always available in small restaurants in the towns. Often these will have only three items on the menu: nshima and chicken; nshima and meat; and nshima and fish – and they can be very good.
Camps, hotels and lodges that cater to overseas visitors will serve a very international fare, and the quality of food prepared in the most remote bushcamps amazes visitors. Coming to Zambia on safari your biggest problem with food is likely to be the temptation to eat too much. If you are driving yourself around and plan to cook, then get most of your supplies in Lusaka or one of the larger towns. Supermarkets have revolutionised what's available, and really have all that you will need. In the smaller towns, supplies are usually limited to products that are popular locally. These include bread, fl our, rice, soups and various tinned vegetables, meats and fish, though locally grown produce such as tomatoes, bananas or sweet potatoes will be available in season. This is fine for nutrition, but you may get bored with the selection in a week or two.
Drink
Alcohol
Like most countries in the region, Zambia has two distinct beer types: clear and opaque. Most visitors and more affluent Zambians drink the clear beers, which are similar to European lagers and best served chilled. Mosi, Castle and Carling Black Label are the lagers brewed by South African Breweries' Zambian subsidiaries. They are widely available and usually good.
Less-affluent Zambians usually opt for some form of the opaque beer (sometimes called chibuku, after the market-leading brand). This is a commercial version of traditional beer, usually brewed from maize and/or sorghum. It's a sour, porridge-like brew, an acquired taste, and is much cheaper than lager. Locals will sometimes buy a bucket of it, and then pass this around a circle of drinkers. It would be unusual for a visitor to drink this, so try some and amuse your Zambian companions. Remember, though, that traditional opaque beer changes flavour as it ferments and you can often ask for 'fresh beer' or 'strong beer'. If you aren't sure about the bar's hygiene standards, stick to the pre-packaged brands of opaque beer like Chibuku, Chinika, Golden, Chipolopolo or Mukango.
Water
Water in the main towns is usually purified, provided there are no shortages of chlorine, breakdowns or other mishaps. The locals drink it, and are used to the relatively innocuous bugs that it may harbour. If you are in the country for a long time, then it may be worth acclimatising yourself to it – though be prepared for some days spent near a toilet. However, if you are in Zambia for just a few weeks, then try to drink only bottled, boiled or treated water in town – otherwise you will get stomach upsets. Bottled water can be bought almost anywhere, although if you want it cold you may often find it's frozen! Expect to pay around US$0.60/K7 for a half-litre in a supermarket, more in a smaller outlet or garage.
Out in the bush, most of the camps and lodges use water from boreholes. These underground sources vary in quality, but are normally free from bugs so the water is perfectly safe to drink. Sometimes it is sweet, at other times a little alkaline or salty. Ask locally if it is suitable for an unacclimatised visitor to drink, then take their advice.
Accommodation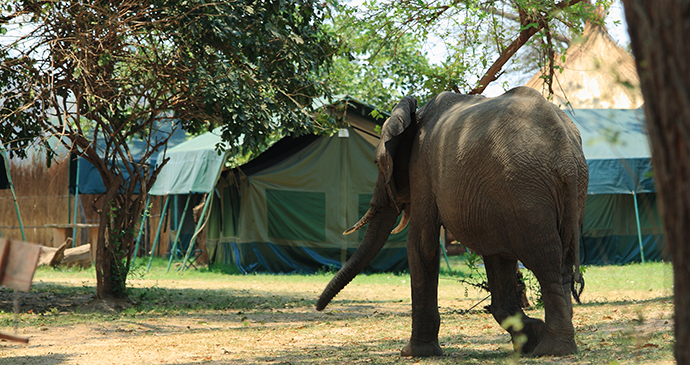 National park campsites are rife with game-viewing opportunities © Bob Suir, Dreamstime
Zambia boasts the full range of accommodation, from top-class safari lodges and international hotels to simple guesthouses and campsites, with an equally diverse range of standards and prices. Pricing can appear complex at first, since many of the better establishments have a two- or even three-tier structure. Typically, there will be two rates: one for local visitors, the other for international guests. In some cases, the 'local' rate will be further divided into Zambian citizens and Zambian residents; in others, these two may be lumped together, but a further category introduced: visitors from within southern Africa.
Hotels
Traditionally, hotels in Zambia have tended to fall into two categories, all geared to the business market: large concrete blocks with pretensions to an 'international' standard, or small, run-down places catering to Zambians who are not very particular about quality. They're a very uninspiring bunch on the whole, and most visitors spend as little time in them as possible. Things started to change when Sun International opened two hotels near Victoria Falls in Livingstone in 2001, and since then other investors have seized the initiative. The South African Protea chain is gradually increasing its presence in Zambia and such influences are impacking on standards nationwide.
The larger hotels are found mostly in Lusaka, Livingstone and the Copperbelt. They generally have clean modern rooms, good communications and all the facilities that international businesspeople expect. Their prices (increasingly dynamic) reflect this, at around US$140–325/£95–215 for a double room. Most still have little to distinguish them from each other, but again, this is changing, and in Lusaka, the odd specialist boutique hotel is adding to the mix.
Guesthouses
In the last few years Zambia's larger towns, and especially Lusaka, have seen a proliferation of small guesthouses of varying quality spring up throughout the more spacious suburbs. These are not very practical if you need a courtesy bus to the airport, room service, or a telephone beside your bed – but they are oft en full of character and can be good value. Expect them to cost US$$65–100/£45–65 for a double room, or upwards of US$40–60/£25–45 for a single. Typically rates will include a continental breakfast, which is usually just a roll or a couple of slices of bread and a cup of tea, but could be a substantial meal complete with eggs.
Lodges and bushcamps
Zambia's lodges and bushcamps are a match for the best in Africa. As befits a destination for visitors who take their game viewing and birdwatching seriously, the camps are very comfortable but concentrate on good guiding rather than luxury per se. En-suite showers and toilets are almost universal, the accommodation is fairly spacious, the organisation smooth and food invariably good to excellent. However, a few forget that their reputations are won and lost by the standards of their individual guides. Aside from a few larger lodges, you can usually expect a maximum of ten to 18 guests, and close personal care. But beware: if you seek a safari for its image, wanting to sleep late and then be pampered in the bush; or expect to dine from silverware and sip from cut-glass goblets … then perhaps Zambia isn't for you after all.