Climate
When to visit
Highlights and itineraries

Climate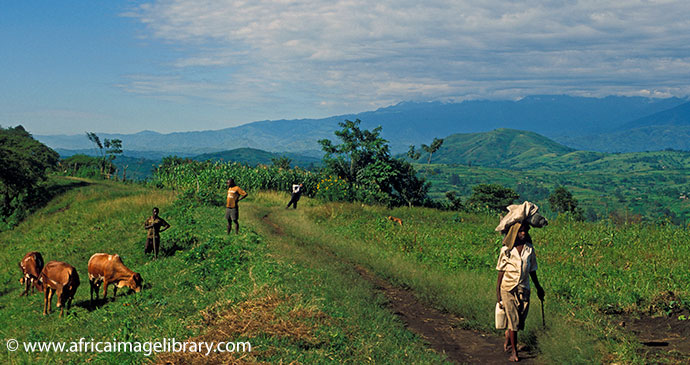 Between the Rwenzori and the forest of Kibale National Park, the landscape is one of lush vegetation © Ariadne Van Zandbergen, Africa Image Library
Uganda's equatorial climate is significantly tempered by its elevated altitude. In most parts of the country, the daily maximum is between 20°C and 27°C and the minimum is between 12°C and 18°C. The highest temperatures in Uganda occur on the plains immediately east of Lake Albert, while the lowest have been recorded on the glacial peaks of the Rwenzori. Except in the dry north, where in some areas the average annual rainfall is as low as 100mm, most parts of Uganda receive an annual rainfall of between 1,000mm and 2,000mm. There is wide regional variation in rainfall patterns. In western Uganda and the Lake Victoria region it can rain at almost any time of year. As a rough guide, however, the wet seasons are from mid September to November and from March to May.
When to visit
Equator-straddling Uganda has a warm to hot climate all year through with limited temperature variations but a strongly seasonal rainfall pattern. The wettest months in most parts of the country are April, May, October and November, when camping can be unpleasant and hiking on the Rwenzori is particularly miserable. Abundant rainfall also means that large wildlife tends not to congregate conveniently around water sources in the national parks. On the other hand, landscape photographers will revel in the haze-free skies of the rainy season.
For more itineraries see the Uganda gorilla and safari holidays on SafariBookings.
Highlights and itineraries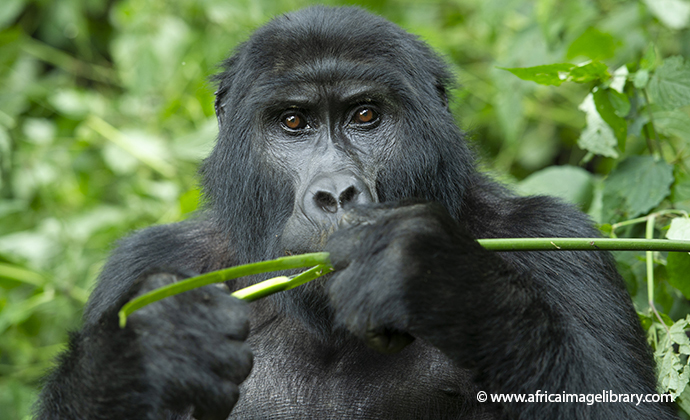 The iconic mountain gorillas live in tight-knit family groups that consist of at least one silverback male, a few females, and several youngsters © Ariadne Van Zandbergen, Africa Image Library
The highlight and focal point of many a visit to Uganda is tracking mountain gorillas in Bwindi Impenetrable National Park in the extreme southwest. Consequently, most formal itineraries follow an established circuit between Kampala and the southwest, an area blessed with a high density of natural attractions and a good tourist infrastructure. A typical tour heads west from Kampala (or the international airport at nearby Entebbe) to the scenic Fort Portal area, where the main attraction is chimpanzee tracking in forested Kibale National Park, followed by a two- to three-night visit to Queen Elizabeth National Park (QENP) at the foot of the Rwenzori Mountains. South of QENP, Bwindi now offers no fewer than four separate gorilla tracking locations. It's a long haul from Bwindi back to Kampala/Entebbe and many tour operators now offer their clients an overnight break at Lake Mburo National Park. It is possible to cover this itinerary in seven days (ten would be better) and many people do. However, those with time and flexibility to delay and detour will discover much more. Days can be spent exploring the Fort Portal and Rwenzori area, while Lake Bunyonyi and the Virunga volcanoes are worthwhile diversions near Bwindi.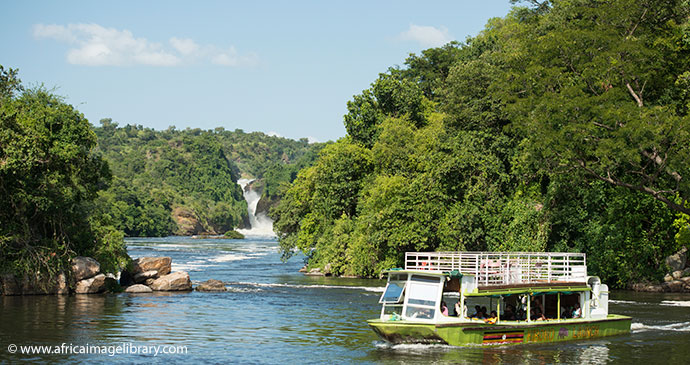 A trip along the Victoria Nile is one of the highlights of any visit to Murchison Falls National Park © Ariadne Van Zandbergen, Africa Image Library
Visitors intent on reaching true East African wilderness (a rare commodity in the densely populated south of Uganda) will want to head north to the Murchison Falls and Kidepo Valley national parks. These experiences do, however, incur a cost of increased travel time and expenditure. Visitors with time for a day trip at the end of their visit invariably head east from Kampala to visit the famed source of the Nile at Jinja. If this event represents a tick on a list rather than a life-affirming experience, the same cannot be said for Jinja's other main attraction: the menu of adventure sports offered along the Nile corridor north of the town. Activities such as white-water rafting, kayaking, bungee jumping and quad-biking attract a steady flow of the young and young at heart.