Visas
Getting there and away
Getting around

Visas
Nationals of most countries require a visa in order to enter Uganda. An e-visa can be applied for online at least five working days before the intended dates of travel, and will usually be approved within three working days of application. When the e-visa system was implemented in 2016, a statement was issued to the effect that it would completely replace the Visa on Arrival (VoA) system, but this has yet to happen. So as things stand, you can still buy a VoA at any overland border or at Entebbe International Airport, a straightforward procedure that usually takes no more than a few minutes, except perhaps when a couple of major airlines arrive within an hour of each other. These things can change, however, so check the situation before you travel, either with your travel agent or at a Ugandan diplomatic mission, or keep an eye on our updates site.
A standard single-entry visa, valid for 90 days, costs US$50. A 90-day East African Tourist Visa, valid for Uganda, Rwanda and Kenya, is also available on arrival for US$100. Multiple-entry visas cost US$100/150/200 for a period of 12/24/36 months.
Don't overstay your visa or the date of the immigration stamp in your passport, or you'll be liable for a hefty fine. And note that even though you hold a threemonth visa, immigration authorities may only stamp your passport for a period of one month or less. This can be extended to three months at any immigration office in Kampala or upcountry. Irrespective of what they might tell you, there is no charge for this. In Kampala, you may be asked to provide an official letter from a sponsor or the hotel where you are staying.
For security reasons, it's advisable to detail all your important information in one document, which you can then print out and distribute in your luggage, and/or store on a smartphone, and/or email to your webmail address and a reliable contact at home. The sort of things you want to include on this are travel insurance policy details and 24-hour emergency contact number, passport number, details of relatives or friends to be contacted in an emergency, bank and credit card details, camera and lens serial numbers, etc.
Getting there and away
By air
For obvious reasons, the most convenient means of reaching Uganda from Europe and North America is by air. An established specialist UK operator is Africa Travel, and reputable agents specialising in round-the-world tickets rather than Africa specifically are Trailfinders. Shortly before going to print in late 2019, the revived national carrier Uganda Airlines announced it intends to resume flights between Entebbe and several other cities in eastern and southern Africa.
Overland
Uganda borders five countries. Of these, many visitors cross in or out of Uganda overland from Kenya, Tanzania and Rwanda, but the DRC and South Sudan are largely off-limits to casual travel. Uganda's land borders are generally very relaxed, provided that your papers are in order.
Getting around
By air

Since few major urban centres lie more than 5–6 hours' drive from the capital, flying has never been an option for most people, though some more upmarket safaris now use flights to cut the driving time between Murchison Falls National Park and Queen Elizabeth or Bwindi Impenetrable national parks. The only destination in Uganda that is reached by air almost as often as it is by road is Kidepo Valley National Park, since the drive up from Kampala cannot be accomplished easily in one day.
The most useful airline to travellers is Aerolink, which runs a daily return flight from Entebbe west to Semliki, Kasese, Mweya (Queen Elizabeth), Kihihi (for Ishasha and Buhoma), Kisoro, and north to Bugungu, Chobe, Pakuba and Kidepo. Fly Uganda operates thrice-weekly flights from Kajjansi Airfield near Kampala to Kihihi.
Self-drive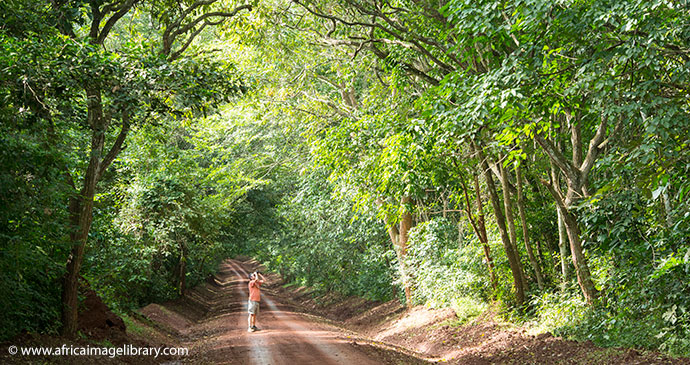 Budongo Forest Reserve is one of Uganda's key birdwatching destinations, with over 360 species recorded © Ariadne Van Zandbergen, Africa Image Library
By African standards, Uganda's major roads are in good condition. Decent surfaced roads radiate out from Kampala, running east to Jinja, Busia, Malaba, Tororo, Mbale and Soroti, south to Entebbe, southwest to Masaka, Mbarara and Kabale, west to Fort Portal, northwest to Hoima, north to Gulu, and northeast to Gayaza and Kayunga (and on to Jinja). Other surfaced roads connect Karuma Falls to Arua, Mbale to Sipi Falls, Masaka to the Tanzanian border, Mbarara to Ibanda, and Ntungamo to Rukungiri. Most other roads are unsurfaced and tend to be variable in condition from one season to the next, with surfaces being trickiest during the rains. Road conditions described in this guide are of necessity a snapshot of conditions at the time of research and should not be taken as gospel. When in doubt, ask local advice – if matatus are getting through, then so should any 4×4, so the taxi park is always a good place to seek current information.
The main hazard on Ugandan roads is the road hog mentality of, and risks taken by, other drivers. Matatus in particular are given to overtaking on blind corners, while coaches routinely bully their way along trunk routes at up to 120km/h, forcing drivers of smaller vehicles to keep an eye on their rear-view mirror and pull off the road to let them pass. Bearing the above in mind, a coasting speed of 80km/h in the open road is comfortable without being over cautious, and it's not a bad idea to slow down and cover the brake in the face of oncoming traffic. In urban situations, particularly downtown Kampala, right of way essentially belongs to (s)he who is prepared to force the issue – a considered blend of defensive driving tempered by outright assertiveness is required to get through safely without becoming too bogged down in the traffic.
A peculiarly African road hazard – one frequently taken to unnecessary extremes in Uganda – is the giant sleeping policeman, or 'speed bump' as it's known locally. A lethal bump might be signposted in advance, it might be painted in black-and-white stripes, or it might simply rear up without warning above the road like a macadamised wave. Other regular obstacles include weaving bicycles laden with banana clusters, as well as livestock and pedestrians blithely wandering around in the middle of the road. Piles of foliage placed in the road at a few metres' interval warn of a broken-down vehicle. Note too that indicator lights are not used to signal an intent to turn, but are switched on when approaching oncoming traffic to suggest that following drivers should not overtake. Ugandans also display a strong aversion to switching on their headlights except in genuine darkness. In rainy, misty or twilight conditions, don't expect to be alerted to oncoming traffic by headlights, or for that matter to expect drivers to avoid overtaking or speeding simply because they cannot see more than 10m ahead. It's strongly recommended that you avoid driving at night on main highways altogether, but if you do, be warned that a significant proportion of vehicles lack a full complement of functional headlights, so never assume a single glow indicates a motorcycle! Another very real danger is unlit trucks that have broken down in the middle of the road.
If you decide to rent a self-drive vehicle, check it over carefully and ask to take it for a test drive. Even if you're not knowledgeable about the working of engines, a few minutes on the road should be sufficient to establish whether it has any seriously disturbing creaks, rattles or other noises. Check the condition of the tyres (bald is beautiful might be the national motto in this regard) and that there is at least one spare, better two, both in a condition to be used should the need present itself. If the tyres are tubeless, an inner tube of the correct size can be useful in the event of a repair being required upcountry. Ask to be shown the wheel spanner, jack and the thing for raising the jack. If the vehicle is a high-clearance 4×4 make sure that the jack is capable of raising the wheel high enough to change it. Ask also to be shown filling points for oil, water and petrol and check that all the keys do what they are supposed to do – we've left Kampala before with a car we later discovered could not be locked! Once on the road, check oil and water regularly in the early stages of the trip to ensure that there are no existing leaks.
Ugandans follow the British custom of driving on the left side of the road, albeit somewhat loosely on occasions. The following documentation is required at all times: vehicle registration book (a photocopy is acceptable); vehicle certificate of insurance, and driving licence. Your own domestic licence is theoretically acceptable for up to three months, but in practice it's preferable to have an international licence.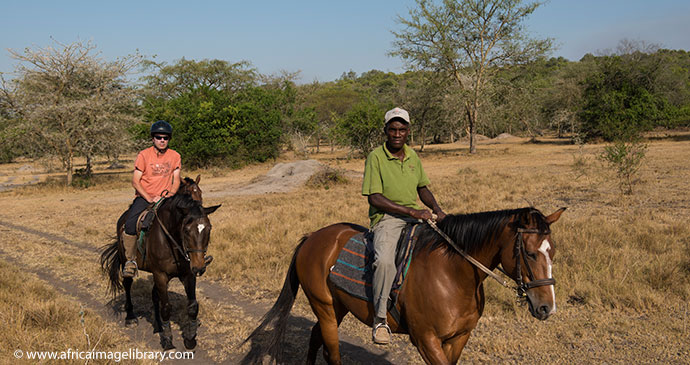 Horseback safaris are a great opportunity to get close to animals in Lake Mburo National Park, as they are far more relaxed around horses than cars © Ariadne Van Zandbergen, Africa Image Library
Mountain biking
Uganda is relatively compact and flat, making it ideal for travel by mountain bike. New-quality bikes are not available in Uganda so you should try to bring one with you (some airlines are more flexible than others about carrying bicycles; you should discuss this with your airline in advance). However, if you are prepared to look around Kampala, some decent secondhand bikes can be bought from a few private importers for as little as US$75: there's a huge choice in the basement of the Energy Centre building on Market Street near Nakasero Market. Main roads in Uganda are generally in good condition and buses will allow you to take your bike on the roof, though you should expect to be charged extra for this. Minor roads are variable in condition, but in the dry season you're unlikely to encounter any problems. Several of the more far-flung destinations mentioned in this book would be within easy reach of cyclists.
Public transport
Following the permanent suspension of most passenger rail and ferry services, public transport in Uganda essentially boils down to buses and other forms of motorised road transport. The only exceptions are the passenger/ vehicle ferry between Entebbe and the Ssese Islands and local boat services connecting fishing villages on lakes Victoria, Albert and Kyoga. It's worth noting here that overloading small passenger boats is customary in Uganda, and fatal accidents are commonplace, often linked to the violent storms that can sweep in from nowhere during the rainy season. 
Buses
Coach and bus services cover all major routes and, all things being relative, they are probably the safest form of public road transport in Uganda. On all trunk routes, the battered old buses of a few years back have been replaced or supplemented by large modern coaches that typically maintain a speed of 100km/h or faster, allowing them to travel between the capital and any of the main urban centres in western Uganda in less than five hours and generally at a cost of less than US$10.
Minibus-taxis (Matatus)
In addition to buses, most major routes are covered by a regular stream of white minibuses referred to locally as matatus or (rather confusingly) taxis. Generally, these have no set departure times, but simply leave when they are full. Matatus tend to charge slightly higher fares than buses, and the drivers tend to be more reckless, but they allow more flexibility, especially for short hops. It's customary on most routes to pay shortly before arriving rather than on departure, so there is little risk of being overcharged provided that you look and see what other passengers are paying. A law enforcing a maximum of three passengers per row is stringently adhered to in most parts of Uganda, and seat belts are now mandatory. All minibus-taxis by law now have to have a distinctive blue-and-white band round the middle, and special hire cars have to have a black-and-white band.
Boda
One of the most popular ways of getting around in Uganda is the bicycletaxi or boda (or boda-boda in full, since they originated as a means of smuggling goods from border to border along rural footpaths). Now fitted with pillions instead of panniers, and powered by foot or by 100cc engines, they are a convenient form of suburban transport and also great for short side trips where no public transport exists. Fares are negotiable and affordable – a fraction of a US dollar in most towns. If you're reliant on public transport it's inevitable that you'll use a boda at some stage, but before hopping aboard you should be aware of their poor safety record. Boda riders are invariably lacking in formal training and road safety awareness, and many also seem to be in short supply when it comes to commonsense. As a result, accidents – often fatal – are commonplace.
By all means use bodas, but do try to identify a relatively sensible-looking operator, ideally of mature years. Older riders are generally better than 16-year-old village kids with no comprehension of traffic. Tell your driver to go slowly and carefully and don't be afraid to tell him to slow down (or even stop for you to get off) if you don't feel safe. Officially, helmets for boda drivers and their passengers have been mandatory since 2005 but the law is rarely enforced.
Though boda muggings are largely confined to Kampala, we have heard reports of similar incidents at night in Fort Portal. Presumably it could happen elsewhere, too, so keep your wits about you.