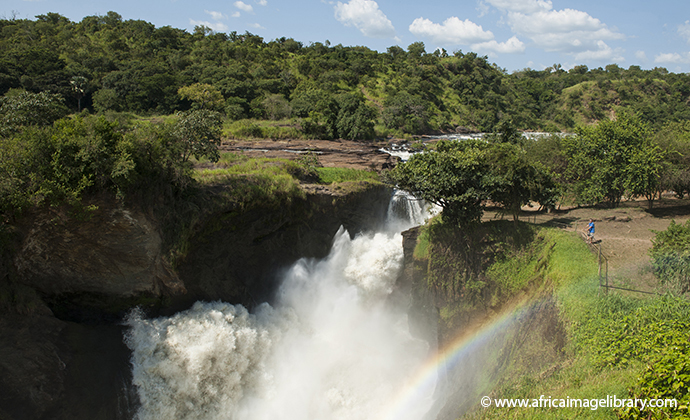 At Murchison Falls, the Nile explodes through a 6m-wide gorge to form the most dramatic feature along its 6,650km course © Ariadne Van Zandbergen, Africa Image Library
See, hear and feel the Nile explode through a chasm just 6m wide at Murchison Falls.
Flanking the 100km stretch of the Victoria Nile that arcs west from Karuma Bridge towards Lake Albert, the 3,840km² Murchison Falls National Park (MFNP) is the largest protected area in Uganda, and one of the most exciting. Its centrepiece Murchison Falls is the most electrifying sight of its type in East Africa, with the fast-flowing but wide Nile being transformed into an explosive froth of thunderous white water as it funnels through a narrow cleft in the Rift Valley Escarpment. MFNP offers some superb terrestrial and boat-based game viewing, with lion, elephant, hippo, buffalo and Rothschild's giraffe being particularly common along the north bank of the Nile. The park is the largest component in the greater Murchison Falls Conservation Area (MFCA), which also incorporates the collectively managed 750km² Bugungu and 720km² Karuma wildlife reserves to its south.
From a visitor's perspective, the most important feature of Bugungu and Karuma is the Kaniyo Pabidi Forest, which harbours a chimpanzee community that's been habituated for tourists, as well as a number of localised forest birds. For most birders, however, the star attraction among the 550-plus species recorded in the MFCA is the shoebill, an elusive and bizarre waterbird frequently seen in the delta where the Nile empties into Lake Albert.
MFCA offers a diverse selection of activities to visitors. Most popular, and best undertaken in the afternoon with the sun in the west, is the atmospheric and all-but-obligatory return boat trip that follows the Nile from Paraa to the base of Murchison Falls. This is closely followed in the must-do stakes by a morning game drive on the Buligi Circuit, a network of game-viewing tracks traversing the 10km-wide peninsula that separates the Victoria and Albert Niles as they course in and out of Lake Albert. For those with more time and/or deeper wallets, other highlights include early morning hot-air balloon safaris out of Paraa, chimpanzee tracking or forest birding at Kaniyo Pabidi, the spectacular Top of the Falls Viewpoint and associated Honeymoon Track on the south side of the river, the boat trip downriver from Paraa to the bird-rich Lake Albert Delta, and the oft-neglected game-viewing road running northeast of Paraa towards Wankwar Gate.