Eating and drinking
Accommodation

Eating and drinking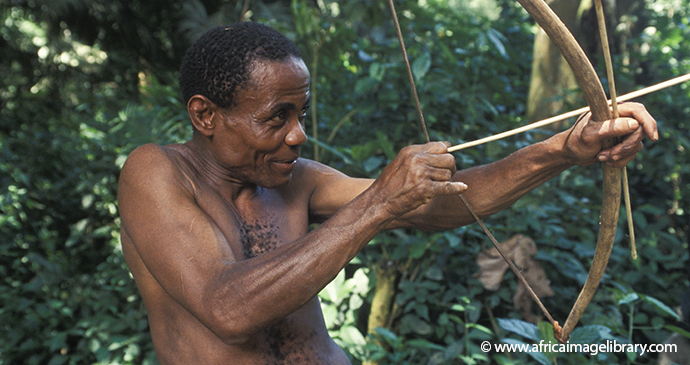 The Batwa are one of Africa's oldest hunter-gatherer groups, and still inhabit villages around Lake Bunyonyi © Ariadne Van Zandbergen, Africa Image Library
Eating out

If you are not too fussy and don't mind a lack of variety, you can eat cheaply almost anywhere in Uganda. In most towns numerous local restaurants (often called hotelis) serve unimaginative but filling meals for under US$2. Typically, local food is based around a meat or chicken stew eaten with one of four staples: rice, chapati, ugali or matoke. Ugali is a stiff maize porridge eaten throughout sub-Saharan Africa. Matoke is a cooked plantain dish, served boiled or in a mushy heap, and the staple diet in many parts of Uganda. Another Ugandan special is groundnut sauce. Mandazi, the local equivalent of doughnuts, are tasty when they are freshly cooked, but rather less appetising when they are a day old. Mandazi are served at hotelis and sold at markets. You can often eat very cheaply at stalls around markets and bus stations.
Cheap it may be, but for most travellers the appeal of this sort of fare soon palls. In larger towns, you'll usually find a couple of better restaurants (sometimes attached to upmarket or moderate hotels) serving Western or Indian food for around US$5–8. There is considerably more variety in Kampala, where for US$10–12 per head you can eat very well indeed. Upmarket lodges and hotels generally serve high-quality food. Vegetarians are often poorly catered for in Uganda (the exception being Indian restaurants), and people on organised tours should ensure that the operator is informed in advance about this or any other dietary preference.
Cooking for yourself
The alternative to eating at restaurants is to put together your own meals at markets and supermarkets. The variety of foodstuffs you can buy varies from season to season and from town to town, but in most major centres you can rely on finding a supermarket that stocks frozen meat, a few tinned goods, biscuits, pasta, rice and chocolate bars. Fruit and vegetables are best bought at markets, where they are very cheap. Potatoes, sweet potatoes, onions, tomatoes, bananas, sugarcane, avocados, paw-paws, mangoes, coconuts, oranges and pineapples are available in most towns. For hikers, packet soups and noodles are about the only dehydrated meals that are available throughout Uganda. If you have specialised requirements, you're best off doing your shopping in Kampala, where a wider selection of goods is available in the supermarkets.
Drinks
The usual brand-name soft drinks are widely available in Uganda and cheap by international standards. You can buy imported South African fruit juices at supermarkets in Kampala and other large towns. Tap water is reasonably safe to drink in larger towns, but bottled mineral water is widely available if you prefer not to take the risk.
Locally, the most widely drunk hot beverage is chai, a sweet tea where all ingredients are boiled together in a pot. In some parts of the country chai is often flavoured with spices such as ginger (an acquired taste, in the author's opinion). Coffee is one of Uganda's major cash crops, but brewed locally it almost invariably tastes insipid and watery, except at upmarket hotels and restaurants, and specialist coffee shops.
The main alcoholic drink is lager beer, and several brands are available. Most come in 500ml bottles, which cost around US$1.50 in local bars and up to US$4 in some upmarket hotels. Nile Special is probably the most popular tipple with locals and travellers alike, though after a few experiments, many opt for the milder Club and Bell. If you've never been to Africa before, you might want to try the local millet beer. It's not bad, though for most people once is enough.
A selection of superior plonk-quality South African wines is available in most tourist-class hotels and bars, as well as in some supermarkets, generally starting at around US$10–20 per bottle. Local gins can be bought very cheaply in a variety of bottle sizes or in 60ml sachets – very convenient for hiking in remote areas or taking with you to upmarket hotels for an inexpensive nightcap in your room. These are known by the rather endearing term 'tot pack', though the African fondness for tacking an additional vowel to the end of a noun has actually resulted in 'totter pack'; you may appreciate this inadvertent irony if you overindulge.
Accommodation
The number of hotels in Uganda has grown enormously in recent years. Indeed, wherever you travel, and whatever your budget, you'll seldom have a problem finding suitable accommodation. Most towns have a good variety of moderately priced and budget hotels, and even the smallest villages will usually have somewhere you can stay for a couple of dollars. Upmarket accommodation, on the other hand, is centred on major towns and tourist centres such as national parks.
Note that most East African hotels in all price ranges refer to a room that has en-suite shower and toilet facilities as self-contained. Several hotels offer accommodation in bandas, a term used widely to designate detached rooms or cottages. Be aware that Ugandan usage of the terms single, double and twin is inconsistent with Western conventions. A room with one double bed is often referred to as a single room, while one with two beds is termed a double rather than a twin. For this reason, couples should make a habit of looking at a 'single' room before assuming they need to pay extra for a double or twin.