Climate
When to visit
Highlights and itineraries

Climate
Tanzania on the whole has a pleasant tropical climate, but there are large regional climatic variations across the country, influenced by several factors, most significantly elevation. The hottest and most humid part of the country is the coast, where daytime temperatures typically hit around 30˚C on most days, and are often higher. The high level of humidity exaggerates the heat on the coast, and there is little natural relief at night except from sea breezes – for which reason town centres often feel a lot hotter than nearby beaches.
Low-lying areas such as the Rift Valley floor, in particular the Lake Nyasa and Lake Tanganyika areas, are also hot, but far less humid, and thus more comfortable. At elevations of 1,000m or higher, daytime temperatures are warm to hot, and above 2,000m moderate to warm. Most parts of the interior cool down significantly at night, and montane areas such as the rim of the Ngorongoro Crater or Marangu on the foothills of Kilimanjaro can be downright chilly after dark. Alpine conditions and sub-zero night-time temperatures are characteristic of the higher slopes of Mount Meru and especially Kilimanjaro.
Tanzania is too near the Equator to experience the sort of dramatic contrast between summer and winter experienced in much of Europe or North America. The months between October and April are marginally hotter than May to September. In Dar es Salaam, for instance, the hottest month is February (average maximum 32˚C; average minimum 23˚C), and the coolest month is July (28˚C; 18˚C). Insignificant as this difference might look on paper, the coast is far more pleasant in the cooler months, while highland towns are far chillier.
Virtually all of Tanzania's rain falls between November and May. The rainy season is generally split into the short rains or mvuli, over November and December, and the long rains or masika from late February to early May. This pattern of two rainy seasons is strongest in coastal areas and in the extreme north around Arusha, where there is relatively little rainfall in January and February. Even then, there are years when the rain falls more continuously from November to May than is indicated by average rainfall figures. In many other parts of the country, figures suggest that rain falls fairly consistently between mid November and mid April.
When to visit
Tourist arrivals to Tanzania are highest during the northern hemisphere winter, but the country can be visited throughout the year, since every season has different advantages, depending strongly on which parts of the country you plan to include in your itinerary.
Northern safari circuit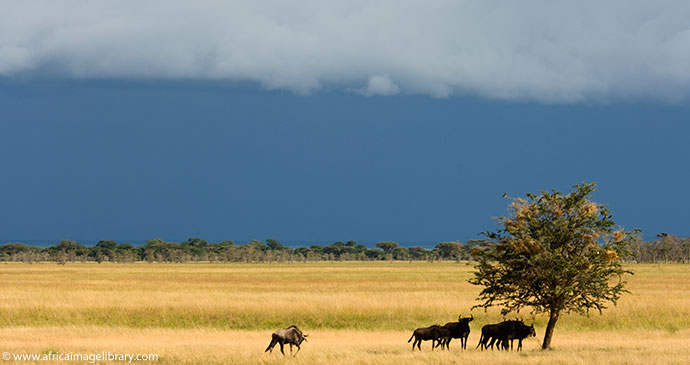 You've got a good chance of spotting wildebeest on the plains of the Serengeti © Ariadne Van Zandbergen, Africa Image Library
April and May are usually the wettest months in northern Tanzania, and thus the quietest time of the year in touristic terms. This has its advantages. For one, most lodges and camps offer significantly cheaper low-season rates, which can greatly reduce the cost of a safari. And there is nothing wrong with the game viewing: plenty of wildlife can be seen in the south-central Serengeti over April and May, while the Ngorongoro Crater and Lake Manyara, which are incorporated into most northern safaris, are not so strongly seasonal in terms of wildlife movements, but they are far less crowded with 4x4s and more enjoyable to visit outside of peak tourist seasons.
Southern safari circuits
The parks of the south and west have a more clearly defined seasonal character than their northern counterparts. The best time to visit Selous, Ruaha, Mikumi and Katavi is during the long dry season, which runs from June to October or early November. This is when wildlife is most easily spotted as it congregates around perennial water sources, and also when road conditions are best, and the risk of contracting malaria is lowest.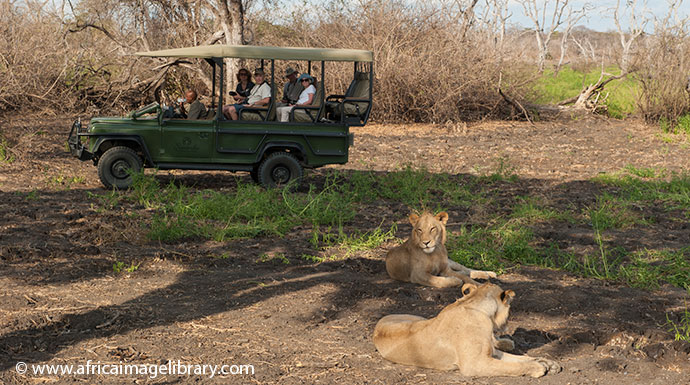 The Selous is the biggest game reserve in Africa © Ariadne Van Zandbergen, Africa Image Library
Late November to early March sees showers, especially in the first two months. This makes wildlife more difficult to locate, but the scenery tends to be greener and avian activity peaks as migrant birds arrive from the northern hemisphere and resident birds go into breeding plumage. Late February to the end of May is best avoided, and roads are often washed out – indeed many camps and lodges in the south close for some or all of this period. Chimp tracking in Mahale and Gombe is also best during the dry season, though Gombe in particular could be visited at any time of year.
Mount Kilimanjaro and Meru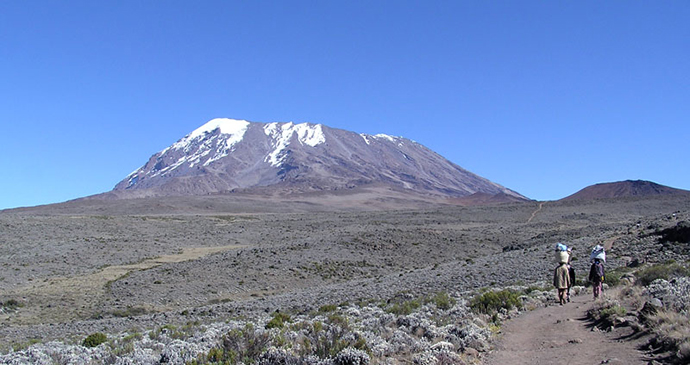 Dry season is the best time for trekking Mount Kilimanjaro © Yosemite, Wikimedia Commons
Trekking conditions are best in the dry seasons, which run from January to early March and from August to October. There are several advantages to the period January to early March. The first is that it tends to be quieter in terms of tourists, an important consideration if you are following one of the more popular routes. The second is that it is probably the most beautiful time of year to climb, with the best chance of clear skies at higher altitudes. On the downside, it is also the coldest time of year on the mountain, though this does mean the snow cap tends be more extensive than in warmer months. The worst months for climbing in terms of weather are November and December.
Zanzibar and the coast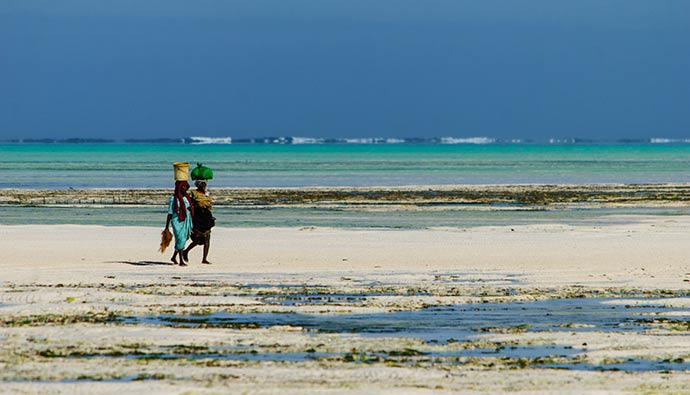 Jambiani beach, on the southeast of Zanzibar © David Min, Shutterstock
The coast can be visited throughout the year. However, the most pleasant time to be there is the long dry season, which runs from June to October. Th is is when temperatures are most comfortable (though still hot by European standards) and the humidity is lowest. Th ere is also less chance of your holiday being disrupted by rain, and it is considerably safer than the wet season in terms of malaria and other mosquito-borne diseases. The wettest months of April and May are best avoided, while January to March, though drier, tend to be hot.
Suggested itineraries
Tanzania has a well-defined tourist circuit. It would be no exaggeration to say that as many as 90% of visitors divide their time in the country between the northern safari circuit and the island of Zanzibar. If this is what you plan on doing, then any suitably experienced tour operator or safari company will be able to put together a package to meet your requirements. You can find a directory of tour operators and Tanzania safari holidays on SafariBookings. This comparison website lists tours offered by both local and international tour operators and features a host of company reviews.
A ten- to 14-day trip is ideal for the Zanzibar/safari combination. With Zanzibar, the main decision you need to make in advance is whether you want to be based at a hotel in the old Stone Town, or out on one of the beaches, or a combination of the two. For a short trip to Tanzania, it is advisable to fly between Arusha (the springboard for safaris in northern Tanzania) and Zanzibar. If you are really tight for time, you'll get more out of your safari by flying between lodges. A fly-in safari will also be less tiring than the more normal drive-in safari.
After the northern safari circuit and Zanzibar, Tanzania's main tourist attraction is Kilimanjaro, which is normally climbed over five to seven days. A Kilimanjaro climb is one of those things that you either do or don't want to undertake: for a significant minority of travellers, climbing Kilimanjaro is the main reason for visiting Tanzania, but for the majority it is of little interest. If you want to do a Kili climb, it can be organised in advance through any number of tour operators and safari companies, and there is a lot to be said for arranging the climb through the same operator that organises your safari. SafariBookings is also a good place to start if you want to view and compare Kilimanjaro climbing tours. As with budget safaris, it is generally possible to get cheaper prices on the spot. To combine a Kili climb with a few days on safari and a visit to Zanzibar you would need an absolute minimum of two weeks in the country, and even that would be very tight, allowing for no more than two nights on Zanzibar.
An increasingly popular alternative to a northern safari is the southern and/or western safari circuits. The national parks and reserves in these parts of the country cater mainly to the upper end of the price spectrum, and generally feel more untrammelled than the Serengeti and Ngorongoro, though game viewing isn't consistently in the same class.
The most popular destinations in the south are Selous Game Reserve and Ruaha National Park, but for those who truly want to get away from the beaten track, the combination of Katavi and Mahale Mountains national parks (the latter best known for its chimp tracking) would be a great choice. For independent travellers, Mikumi, Udzungwa and Gombe Stream national parks are relatively easy to visit affordably.