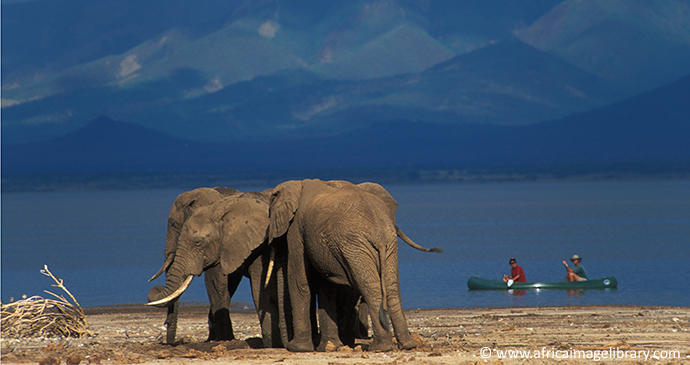 Embark on a canoe safari at Lake Manyara © Ariadne Van Zandbergen, Africa Image Library
Despite its small size, Lake Manyara is a superb birding reserve, with around 400 species recorded, ranging from flamingos to eagles.
A popular first port of call on any northern Tanzanian safari, Lake Manyara National Park is named after its dominant geographic feature, a shallow, alkaline lake set at the base of the tall wooded cliffs of the western Rift Valley Escarpment. This scenic sanctuary protects the lake's northwestern shore, along with a diversity of terrestrial habitats that seems truly remarkable considering that water comprised up to twothirds of the park's surface area of 330km² (prior to the recent incorporation of the largely inaccessible 250km² Marang Forest Reserve). Lake Manyara National Park has long been touted as the best place in Tanzania to see tree-climbing lions, an accolade that now more accurately belongs to the Serengeti, but more reliable highlights include the large habituated baboon troops, often accompanied by blue monkeys, that inhabit the groundwater forest close to the entrance gate, and a hippo pool that also offers some great aquatic birdwatching. Only one (very exclusive) permanent lodge stands within the park boundaries, but several decent upmarket lodges run along the escarpment overlooking the lake, while a selection of cheaper lodgings and campsites is centred on the village of Mto wa Mbu near the entrance gate. Although Manyara and its well-defined game-viewing circuit kick off a high proportion of safaris through northern Tanzania, it gets mixed feedback: some find it rather low-key and boring compared with the Serengeti and Ngorongoro, while others relish the opportunity to see several species that are less common or shyer elsewhere in the region. Certainly, those with strong time or budgetary restrictions might want to consider passing over Manyara in favour of spending more time in other reserves.