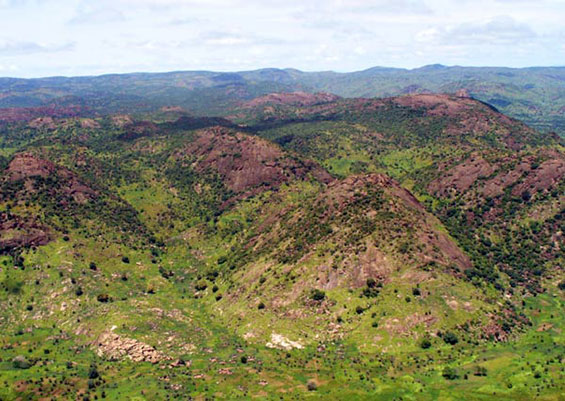 © Andreas31, Wikipedia

The Nuba Mountains are green and lush in many places, a mix of hills and rocky crags rising out of the plain.
Heading south from El Obeid, the flat plains of Kordofan are suddenly and startlingly interrupted by the broken hilltops of the Nuba Mountains. It's some of the most fertile and picturesque land in the whole of the country, inhabited by the Nuba, a conglomeration of proud, culturally diverse Black African farmers. The Nuba Mountains cover around 50,000km2, and have an estimated population of 1.5 million people – mostly Nuba but with a significant minority population of Baggara (cattle-raising Arabs). At the geographical centre of Sudan, the Nuba sit neither fully in Sudan nor South Sudan, which has made their land a major battleground in the civil war, and as such it has been largely inaccessible for the best part of two decades.
In 2002, the Sudanese government and the SPLM/A signed a ceasefire agreement in the Nuba Mountains; it was one of the breakthroughs that eventually led to the Comprehensive Peace Agreement reached in January 2005. The Nuba Mountains continues to have a large military presence, numerous refugees, and an unpredictable security situation. It is not recommended to travel within 50km of the border at this time. The Nuba Mountains is an area of continued tension, so if you do plan to visit, a travel permit is required. Permits cover the main towns – Dilling and Kadugli – rather than the region in its entirety, and you should request any exceptions when applying in Khartoum. Nevertheless, it should be fine to explore the areas and villages close to the towns, without further permissions. That said, registration with the police is also a must, and should be the first thing you do on arrival in each town.
The Nuba Mountains are green and lush in many places, a mix of hills and rocky crags rising out of the plain. The landscape seems ideal for trekking and scrambling, but there is a landmine risk in many parts of the region. The UN Mine Action Service has made road clearing a priority and is being assisted by government forces. The banks of irrigation channels, unused paths, and the areas around abandoned garrisons are regarded as unsafe areas. Stick to well-worn paths where the locals walk and always remember that mines are laid to be invisible.
Nuba villages, with their neatly tended fields and thatched mud huts (jutiya), are very picturesque, but they are also poor. Sudanese hospitality means that you may be offered tea or food, so make sure you do not take advantage of your hosts. Small gifts of coffee or sugar are appropriate as practical tokens of your gratitude. Visitors to an area that has been isolated for so long have a special responsibility to ensure that they treat their hosts with particular respect and leave good impressions behind them.