Getting there and away
Getting around
Accommodation
Visas
All visitors over the age of 12 years disembarking at St Helena must pay a landing fee of £17, which allows a stay of up to 183 days on the island.
You must have a valid passport with at least six months to run, adequate medical insurance (see below), proof of confirmed accommodation and adequate funds for the duration of your stay, and an onward ticket from St Helena. Your travel insurance policy must cover you for all medical and repatriation expenses. Cancellation insurance is also strongly advised.
Getting there and away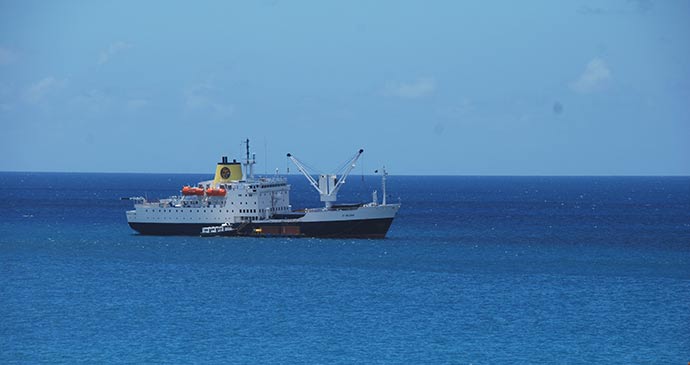 Until the airport is open, the time that visitors spend on the island – whether they come via Ascension or Cape Town – is limited by the schedule of the RMS St Helena. As a result, most have traditionally come for eight days – during which time the ship has continued its voyage to Ascension and is on the return trip to Cape Town.
A few just drop in for a couple of days when the ship is in harbour en route to Ascension, while some stay longer by flying to Ascension and transferring onto the ship, then returning (after two weeks) on the same route, or (after three) via Cape Town.
Although the introduction of weekly flights will add a degree of flexibility, the loss of the RMS will create its own difficulties, not least of access to Ascension from St Helena. During peak season, and particularly at Christmas, it makes sense to reserve tickets and accommodation as far in advance as possible as space fills up quickly with Saints returning from abroad for the holidays.
For updates on the airport, keep an eye on our St Helena updates page.
Getting around
There is a skeletal scheduled bus service and a reasonable number of taxis, but most St Helenians get around by car. For those staying in Jamestown, a combination of walking, taxis and buses can work well, especially if you are into water-based activities, which all start from Jamestown.
For those staying 'in the country', or interested in hiking, having your own transport is almost essential. If you don't have a vehicle and start walking along the road, you may well be offered a lift – but don't bank on it.
There are as yet no bicycles for hire, and cycling is currently illegal on some roads, including both of those leading out of Jamestown. Although this restriction may be lifted in the near future, once you've seen the terrain, you'll understand why it was imposed in the first place!
Accommodation
It's a condition of entry to St Helena that all visitors have confirmed accommodation prior to their arrival, as options are limited. During high season, which is winter in Europe, demand for accommodation is high, so it's important to make reservations well in advance, and to be flexible; the opening of the airport is likely to exacerbate the situation in the short term.
Tour operators will of course make accommodation arrangements for you with one of their preferred hotels or guesthouses. If you choose to book for yourself, do remember that you must do so before you set sail. Few places to stay have their own website, but the tourist office website features pretty comprehensive details of all types of accommodation, and reservations may be made through them.
Jamestown itself is certainly the most convenient place to stay, especially if you're not planning to hire a car, and/or if you're planning to spend time on the water. Those who would prefer to get away from it all might prefer to look inland at St Paul's, Longwood and Alarm Forest, where tranquillity and sea views are the norm, while Half Tree Hollow is something of a halfway option, relatively close to Jamestown but often with a good vantage point out to sea.
Although Jamestown is normally no more than a 20-minute drive from any of these, it's best to hire a car if you're staying out of town. It's also worth noting that rain and fog are more prevalent inland than in Jamestown or Half Tree Hollow, and that the temperatures in outlying districts tend to be cooler.