Visas
UK passport holders do not need a visa. If you hold a different passport, check whether you need to apply for a visa here. E-visa applications can be made in advance of arrival on the same website.
Visitors are normally granted a stay of up to 183 days. Those wishing to stay longer may apply for an extension for up to a year from the police station. Given that almost all visitors will be coming to the island via South Africa, do also check whether or not you will need a South African visa, as these cannot be issued on St Helena.
Travel to St Helena
The long-awaited airport finally opened in mid 2016, just four years after work started, meaning that for the first time visitors to the island are greeted not by the cliffs that tower over Jamestown, but by the no-less dramatic volcanic landscape of Prosperous Bay Plain as the plane lands beneath the sheer drop of Great Stone Top as it looms over the sea. It would be hard to imagine a more scenic location for an airport.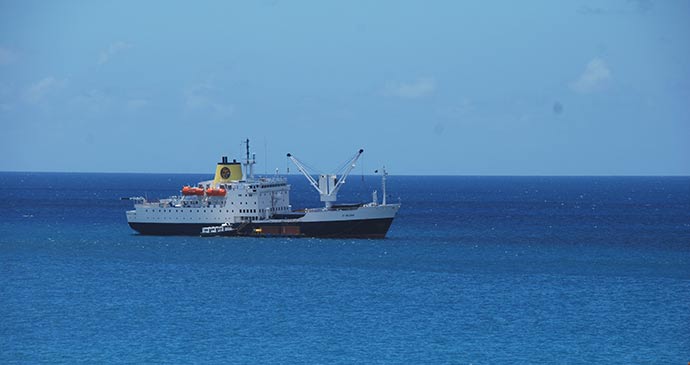 At the moment, visitors can fly to the island from the South African cities of Johannesburg and Cape Town. From Johannesburg, Airlink flights leave every Saturday and take just over 6 hours, returning the same day (except for once a month, when the flight continues to Ascension and returns to St Helena and on to Johannesburg on Sunday). Flights from Cape Town run every Tuesday between early December and late February; they also take around 6 hours.
RMS St Helena was ceremonially decommissioned in 2018 after 27 years' service to St Helena and Ascension. Following this, a new cargo ship, MV Helena, was commissioned to bring supplies to the island. It has been trialling a passenger service since November 2019, with one four-berth en-suite cabin.
The monthly service sails between Cape Town and St Helena, with an overnight stop in Ascension four times a year.
Getting around St Helena
There is a skeletal scheduled bus service and a reasonable number of taxis, but most St Helenians get around by car. For those staying in Jamestown, a combination of walking, taxis and buses can work well, especially if you are into water-based activities, which all start from Jamestown.
For those staying 'in the country', or interested in hiking, having your own transport is almost essential. If you don't have a vehicle and start walking along the road, you may well be offered a lift – but don't bank on it.