Climate
When to visit
Highlights and itineraries
Climate
For a country that basically has two seasons – wet (May to October) and baking (November to April), it's extraordinary that Sierra Leone rivals the UK as far as conversations about the weather go. Perhaps that's because the tiniest deviation from this binary seasonal experience is such a shock to the system, and can so easily affect agriculture for its many farmers, that every nuance counts.
Umbrellas can be seen year-round – acting as a shield first from the unyielding sun, and then the thrashing rain, but both elements are so extreme that they don't do much good. Hot and dusty months come during the stretch between November and February (worst during December and January), when the harmattan winds arrive full of Saharan sand, blotting the sky, and carpeting the land with dust. Coughs and sore throats increase, and people can usually only manage a whisper of 'harmattan', by way of explanation. The sizzling months come in March and April, when temperatures can reach 38°C. Most of the time the temperature deviates little from 27°C to 30°C, although in some inland areas such as Kabala, temperatures can drop at night.
Despite the lack of rain in these six months, it's a bit of a cheek to call it the 'dry' season. Sweaty season is more like it: do nothing but breathe, and you can expect to be drenched. In Graham Greene's Heart of the Matter, which is set in Sierra Leone, characters are forever writing with blotting paper under their hands to prevent the ink from smudging. While air temperatures only hug the 30°C mark, humidity upwards of 75% (ranging from 69% in January to 82% in August) makes the going pretty excruciating. If you're on the coast, the sea breeze does provide some respite, particularly in the evenings, but you have to be on the beach to derive much benefit.
When to visit
Common advice is that November and December are the best months to visit, because of the welcome combination of very little rain and less fearsome heat. The disadvantage towards the end of this period is the haze created by the harmattan – the desert wind that picks up sand and dust as it comes in over the Sahara – in December and January, sometimes until March. The effect is less choking than countries nearer the desert, but you won't see crystal blue skies. February and March are also good months to visit, warm and dry, while April and May see the hottest weather before the rain arrives around June.
During the wettest months of July and August and for some while after, access to more remote rural areas becomes almost impossible, as dirt roads are turned into mud pie by torrents of water. Rains arrive with spectacular force, but not every day is wet or overcast. Between downpours, with the dust bedded down, the water washes the light clear and strong and the skies blue, making the beaches their beautiful best at the end of the season, around September and October.
Highlights and itineraries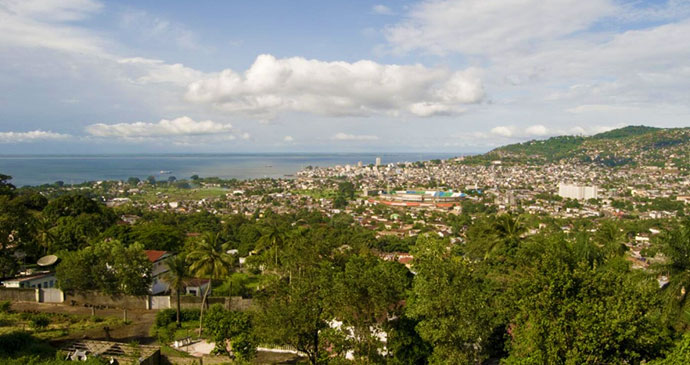 Set amid jungled mountains and a sweep of beach, Freetown has among the most improbable layouts of capital cities © National Tourist Board of Sierra Leone
Whether you want one of the world's most stunning beaches to yourself; to clamber up a mountainside steeped in rare plants, buffalo and monkeys; to step onto a former slave island; to swim with turtles around a distant island; or walk in a dwindling rainforest – it's all there. The following gives some ideas of what's possible in various timeframes, but we don't pin you down to a strict programme. It's best to stay flexible.
Four days
Yes, some people really have managed a long weekend in Sierra Leone. In a GMT time zone, and six hours by plane (if all goes well), European visitors don't really have much to jetlag to adjust to. For a short trip like this, stick to the beaches on the Peninsula and combine them with a trip to the Tacugama Chimpanzee Sanctuary, a tour of Freetown's Krio houses, crafts market and trade stalls downtown, as well as a beer or two by night, and dancing by early morning.
A week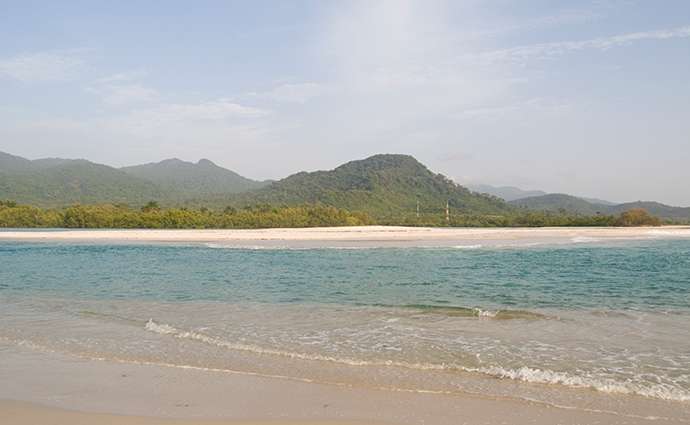 Visitors could spend a whole week beach-hopping from one cove to the next around Sierra Leone's coastline © National Tourist Board of Sierra Leone
Beaches
Head for the Peninsula via the mountain road. Have lunch at Charlotte Falls, make the 16.00 visit at Tacugama Chimpanzee Sanctuary and stay the night. Then to the beaches. After lunch at Kent take a boat across to Banana Island for one or two days of fresh-cooked lobster with only the stars for company. Take a tour of the island; go snorkelling. Next up is camping at Bureh or John Obey with food cooked on the shore, followed by a night of luxury at Florence's or The Place. Then spend a playful day at River Number Two before heading back to the capital. Enjoy a final day of souvenir shopping for bedspreads, leather shoes, hand-woven hammocks and more, followed by a fancy dinner at Country Lodge, Radisson Blu or Lagoonda and some partying in nightclubs, and you're ready for your flight home.
Birdtastic
Hook up with local bird experts and plan the ultimate twitcher trip. Head for River Number Two along the Peninsula in search of the white-necked picathartes (and several others) for a few days, and then on to Bumbuna and the Mamunta-Mayosso Wildlife Sanctuary looking for migratory water birds, before diving deep into the rainforest at Gola (home of the Gola malimbe and seven more species in danger of global extinction). Finally make your way back to the wader-rich shores of the Sierra Leone River estuary for a last spree with the binoculars.
Step back into history
Head for the rundown slave fort at Bunce Island, which exported more than 50,000 slaves to North America and is therefore a key site for African Americans today. Wander Freetown and take in its brightly painted wooden bod os (board house) relics and other key Krio sites; visit the hilltop towns of Regent, and Leicester, where recaptured slaves set up home as free men once again. Career down the coast, from the Peninsula to Plantain Island, Sherbro Island and, weather permitting, Turner's Peninsula for a sense of where the trade once thrived.
Ten days to two weeks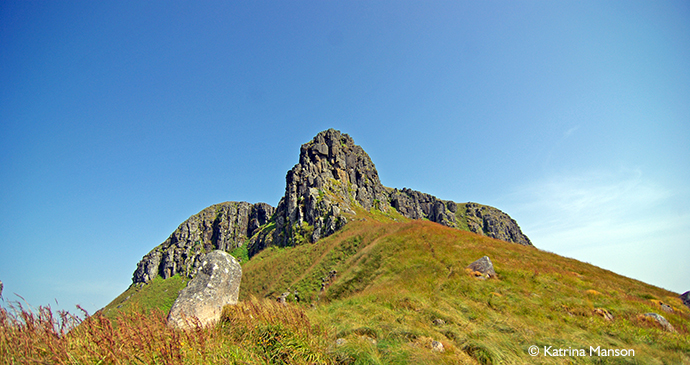 Scale Mount Bintumani, west Africa's highest peak © Katrina Manson
Ten days is the ideal minimum length for a short visit – enough time to pack in all the fun of the Peninsula, and head out of Freetown to sample the wildlife. The birdlife is good enough to keep twitchers in clover for two or even three weeks.
Jungle fever
Rare chimps and monkeys guaranteed. Head first for Outamba-Kilimi National Park to canoe with hippos, then down south for Tiwai Island and its nine primate species. End in the Gola Rainforest National Park for trekking in one of the last remaining patches of rainforest in west Africa. At each destination, camp out surrounded by the calls of the wild. Pack your binoculars and your sense of adventure.
Misty-eyed for mountains
Allow a week to climb Mount Bintumani, West Africa's highest peak; then lose yourself in the cool hills of Kabala for some lighter walking to recover. Or (we'll let you off), head straight for the beach.
Coastal colossus
Beach, beach and more beach. OK, plus an island or two. Hire a speedboat and travel to Plantain Island and on to Sherbro, for a stay at Bonthe and some fishing. Transfer to the remote Turtle Islands to sleep on the beach under the stars, with bathtub-perfect waters.
Three weeks and more
Camp out on Tiwai Island for the chance to spot the elusive pygmy hippo © Vladimir Wrangel, Shutterstock
Start combining – pick your favourites from the options above and stitch them together. For a little extra spice, try adding some of the following. They're demanding in terms of time and effort, so enjoy the journey as much as the anticipation of success at the end.
Animal magic
Turn night-owl and camp out at Tiwai Island until finally you catch a glimpse of the shy and secretive nocturnal pygmy hippo. Also track Sierra Leone's rare and endangered bird species.
Big fish
For fishing enthusiasts, line and spear fishing are both possible, as well as exploring the waters by motor launch. The world's biggest catches of the ever-spirited tarpon happen right here, off Sherbro Island.
Beyond the call of duty
• Walk 100km of unbroken beach at Turner's Peninsula, the stretch of coast reaching along the mainland from the tip of Sherbro Island all the way south to Sulima, just before the Liberian border.
• Climb and camp in the Tingi Hills, the double-mountain peak in the east.
• Take a peek into the shadowy world of diamond digging, buying and trading in Kono and Kenema districts in the east of the country.
• Head north of the Freetown Peninsula by boat along the coast up towards Guinea, taking in tiny fishing islands such as Yelibuya, before heading upriver to Kambia.
• Stop off at Rogbonko Village Retreat or in other remote villages upcountry, staying in mud huts courtesy of the chief, tasting local food traditionally prepared, and experiencing the best of rural Salone.